Makers Empire's 3D Software
Makers Empire 3D is the world's easiest to use 3D design software.
K-8 students can start designing, exploring and sharing in minutes – no CAD or computing experience necessary!
When used as part of a Makers Empire School Subscription, Makers Empire 3D helps K-8 teachers learn how to develop their students' Design Thinking skills and implement maker pedagogy in the classroom.
"After having tried several softwares, I can say hands down that Makers Empire has been the easiest for my students in grades 3-5 to access and manipulate,"

Christopher Burdman, STEM Teacher
Joseph P Tynan Elementary School, USA
Download Makers Empire 3D
Click the appropriate button below to begin your download.
Installing Makers Empire at your school? Check out our installation guide. For installation on Chromebooks, please check out this handy guide.
Now Better than Ever
We worked with teachers and students for months to develop the latest version of Makers Empire 3D.
Improved navigation makes it easier to find your way around Makers Empire 3D while a refined interface makes it easier for teachers to interact with students in the app. Find designs, review students work and leave feedback to push students' learning. Plus, Makers Empire 3D now supports Google Classroom, Schoology and Clever logins as well as the usual QR code and class and individual login options.
"I love Makers Empire software. It is great to use with elementary age students… I love teaching students how to design for 3D printing. It's so fun watching them problem solve to create a certain shape by adding or taking away."
Karen Owen, Technology Teacher
Grace Christian Academy, Tennessee, USA
Get started with fun challenges
New users begin in the Challenges area, which guides them through a series of bite-sized challenges of escalating difficulty designed to help them learn how to use the app. Challenges present students with exciting problems to solve and inspires their creative thinking. Plus, their efforts are rewarded with tokens and level ups that allow students to unlock new design items and enter our monthly design competitions.
"After having tried several softwares, I can say hands down that Makers Empire has been the easiest for my students in grades 3-5 to access and manipulate,"
Christopher Burdman STEM Teacher
Joseph P Tynan Elementary School, Massachusetts, USA
Join our global network of designers
Students love the ability to connect with their fellow designers in Makers Empire 3D. Students can follow their favourite designers, leave feedback on designs, like and even 'buy' creations. Plus, as a teacher, you have control over the size of your design community and the scope of your students' interactions: choose from worldwide, your school or your class.
"The software is easy to use and kid friendly… When we end our day I may about 20 designs that were created, but when we start the next day I see that number increase to about 50. They are even designing at home,"
Irene Barry-Philord, Teacher
Eneida M. Hartner Elementary, Florida, USA
Are your students future design champions?
Every month, Makers Empire runs a global design competition, providing an exciting chance for students to compare their skills and creativity with thousands of peers. The competitions are both a lot of fun for students, and a great resource for teachers. Every competition is designed to introduce key concepts from the Makers Empire Curriculum and provides opportunities for teachers to introduce a variety of design concepts in an exciting way.
"I've been astounded at how much the students using (Makers Empire) have developed over the last 18 months. The kinds of design they're doing now are very sophisticated. I give them a design brief and the extent to which they take it always surprises me. Using (Makers Empire) has really accelerated their learning." 
Kate Tyrwhitt, R-7 Visual Arts & Student Services Teacher
St Michael's School, South Australia, AUSTRALIA
The Makers Empire Difference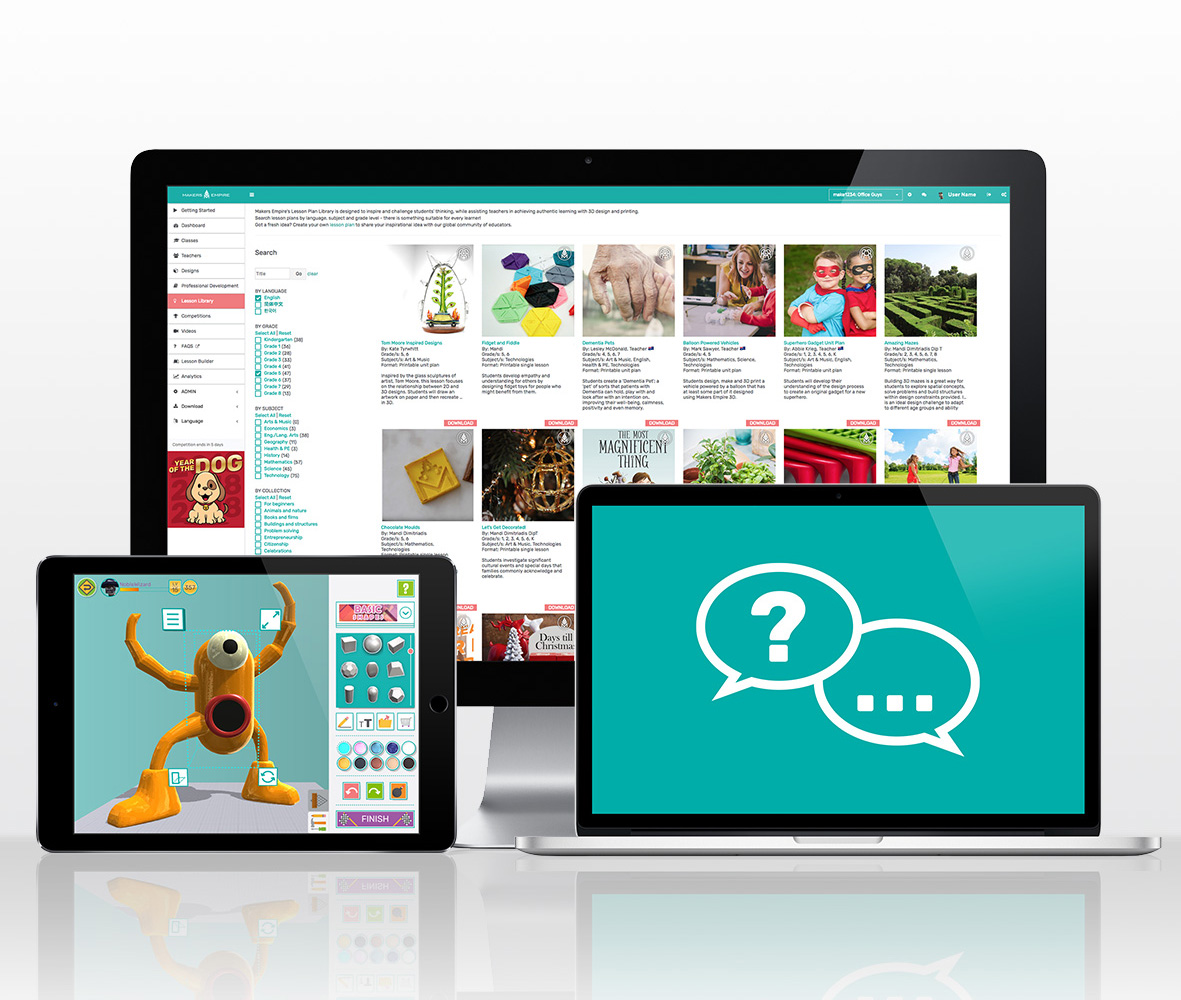 The Makers Empire 3D app is just one component of our innovative 3D solutions for schools. To deliver genuinely transformative learning outcomes a Makers Empire School Subscription includes access to:
Makers Empire Teacher's Dashboard – for easy class management
Makers Empire Curriculum – aligned to American Common Core standards, Next Generation Science standards and the Australian Curriculum
2 hours of accredited professional development for every teacher at your school
Ongoing support
But don't just take our word for it: Common Sense Education recently awarded Makers Empire School Subscription a 5-star review and 2018 Top Pick for Learning badge.
"This has been a wonderful new way to teach and motivate my students…The overall enthusiasm towards school and learning has increased tremendously. Students who are typically reluctant learners have come to life,"
Robin McGinnis, Teacher
North Elementary School, USA
Tell us a little more about your school or group of schools so we can generate your personalized quotation.
We promise never to share your information – see our privacy policy.