At Makers Empire, we spend hours each week testing our 3D products in classrooms with teachers and students, reviewing feature requests and issues, and figuring out the best way to deliver products that genuinely excite and engage students and make teachers' classroom lives easier.
Unlike many other 3D modelling software products around, Makers Empire 3D is designed specifically for K-8 students so it can be used by students as young as four years old. Makers Empire 3D is a powerful but easy to use tool that is scaffolded to provide student users with the support they need at each step of their 3D design journey.
With the latest release of Makers Empire 3D software, we're happy to announce three new, much-requested features. So head to your app store or download the new version of Makers Empire 3D now and try out these new features:
1. New Precision Controls For Greater Accuracy
A common request from upper elementary/primary and middle school teachers has been "more precise controls" so that their older students have the ability to make more accurate designs. This precision is important when creating designs that solve a real-world purpose as 3D printed prototypes often need to be a certain size to fit exactly with other items.
So we're thrilled to announce the launch of new precision tools in Makers Empire that allow students to move, rotate and resize objects with great accuracy in the Shaper design module. Click on the links below for help articles explaining how to use the new tools:
We've designed Precision Tools to allow greater levels of accuracy and control for those who want it while retaining Makers Empire's unique user-friendly appeal for those who don't need that level of precision just yet.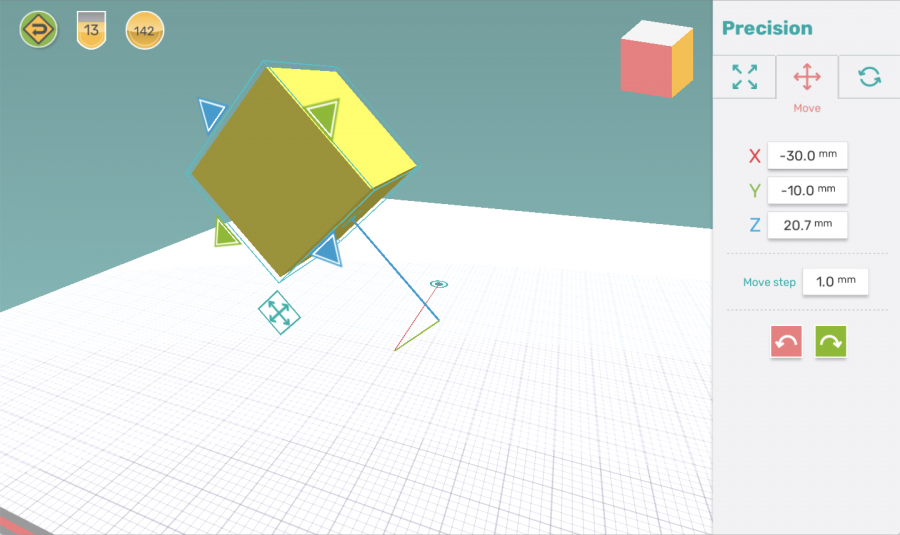 2. Notification Centre
Have you or your students ever missed a (fleeting) in-app notification? Well, no more! You can now keep track of all notifications in the Makers Empire 3D app. That includes assignments and assessments from teachers, likes and comments on designs, rewards, news and messages from Makers Empire.
To keep track of your notification history just log in, go to your profile and click on the envelope icon. Double click on the envelope icon to view all the possible filters of notifications, including teacher messages, Makers Empire messages, likes, comments, invitations, sales and follows.
Please note that Makers Empire is committed to ensuring a safe and positive digital environment. In Makers Empire 3D teachers can control their students' level of interaction. There is no private messaging and all comments go through a bad word filter and sentiment analysis.  See our Acceptable Content Policy.
This slideshow requires JavaScript.
3. Teacher Assigned Missions
Teachers being able to set design missions for their students in Makers Empire isn't new. But what is new is that teachers can now assign work for their class(es) in the Teacher's Dashboard and the work will appear in Makers Empire 3D as playable missions. Previously, design missions could only be set by teachers from within the app. With this new option, students will receive a pop-up notification in the Makers Empire 3D app when their teacher has assigned them as mission. Plus, with the new notification history, students can never 'lose their homework'. Wink, wink!
Creating your own playable design missions is super easy and it is a very fun way to engage with your students. Visit Class Management > Teacher Missions to create the perfect mission to challenge for your young designers.