At Makers Empire, our tech, user experience and learning teams are always working to deliver a better app experience for students with improved learning outcomes. Most new app features are based on feedback provided during user testing sessions in classrooms or via emails sent to us by passionate Makers Empire users.
In the latest update of Makers Empire's 3D design app, we're happy to announce the launch of some exciting new features, as well as improvements to our existing features and user experience. We're especially excited to release Replayer, which makes it possible for students to replay the creation of a design.
Rhys Lindsay, Makers Empire's Software Developer, says, "I often see complex designs in the gallery, and ask myself how exactly they got made. By watching a design replay with Replayer you can learn exactly how a design was made, from start to finish. You get to see all the 'mistakes' and changes a user made before arriving at their final design – it's kind of like every design has its own story."
The app update also introduces a useful new Text-to-Speech tool to support learners with mixed literacy levels.
Matt Stuckey, Makers Empire's Director of User Experience, says, "I love Text-to-Speech because it makes Makers Empire 3D more accessible. It means that younger learners who are just learning to read can fully understand the context of the challenges and instructions. It means older students can get some help with words or phrases they don't understand without having to ask a teacher. I have a friend whose son struggles with dyslexia. I'm really proud that we can help reduce the barriers that he, and other students like him, face in their education."
Learn more about these new tools and other app improvements:
Replayer
It will be possible to replay any design created with this version of the app (and subsequent updates in the future). Just click the Replay button on a selected design and the Replayer will launch. Users can:
Play or Pause the replay
Fast Forward or Rewind using the slider
Turn 'Spin' on or off (view spins around by default)
Adjust the replay speed from tortoise (slow) to hare (fast)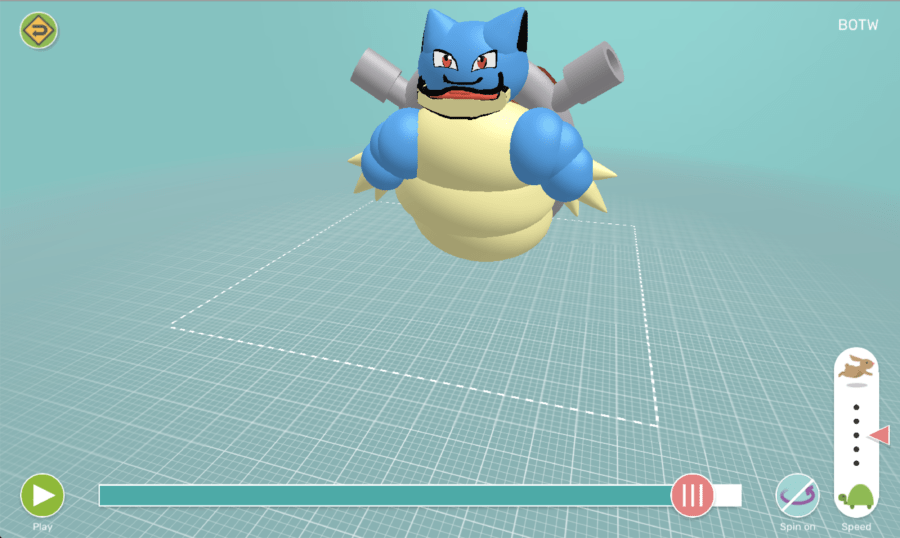 Text-to-Speech
To support learners with mixed literacy levels, we have introduced a text-to-speech feature. When a user clicks the audio icon, the corresponding section of text will be read for them.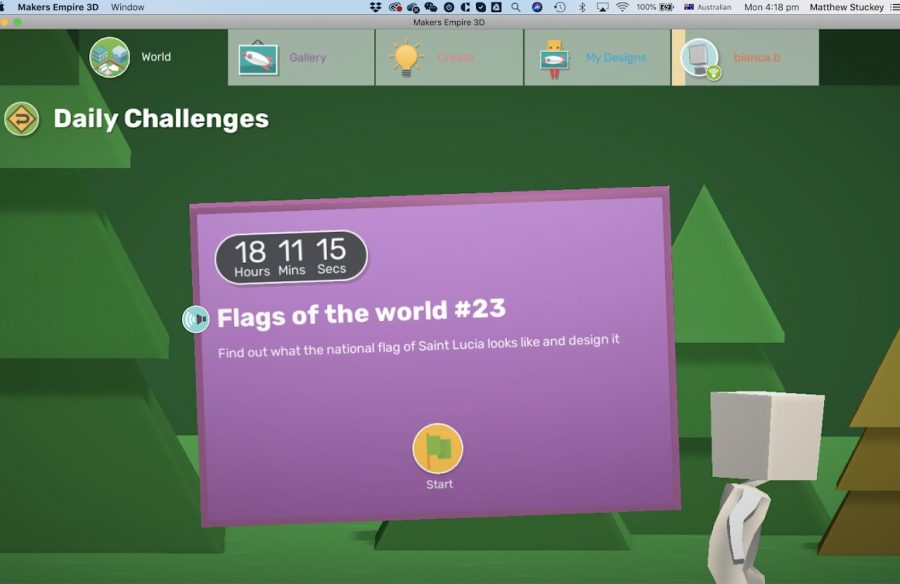 Delete Comments
Users can now delete comments from their own designs if desired. For a student it can be really empowering to 'self police' their experience in Makers Empire. This new tool gives students the opportunity and responsibility to be part of creating the kind of positive, respectful environment which we want Makers Empire to be.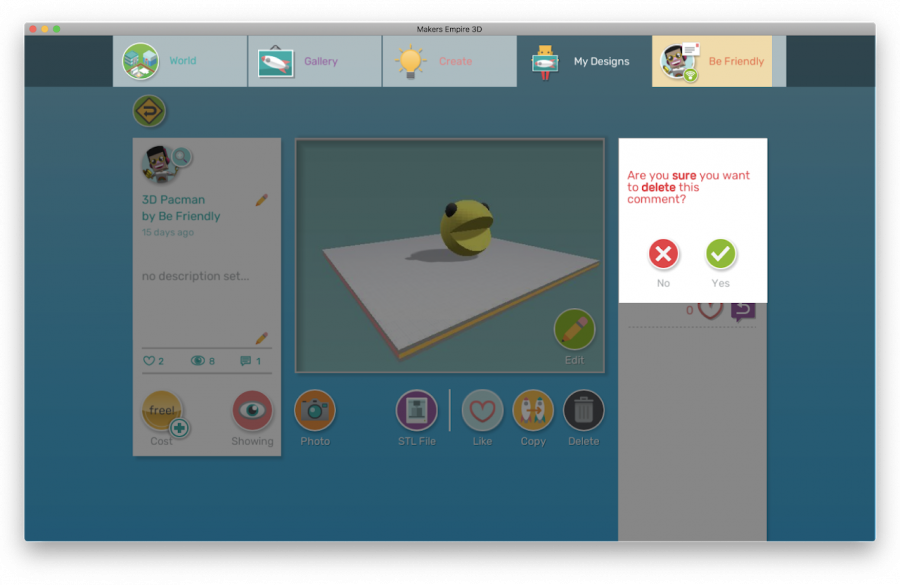 Send Messages to Students In-App
In addition to remotely assigning students design missions within the app, admins (teachers) can now send a message directly to a user (student) within the app. This, and teacher feedback, are the only forms of private communication in Makers Empire 3D. Users can not respond to admins directly from the app.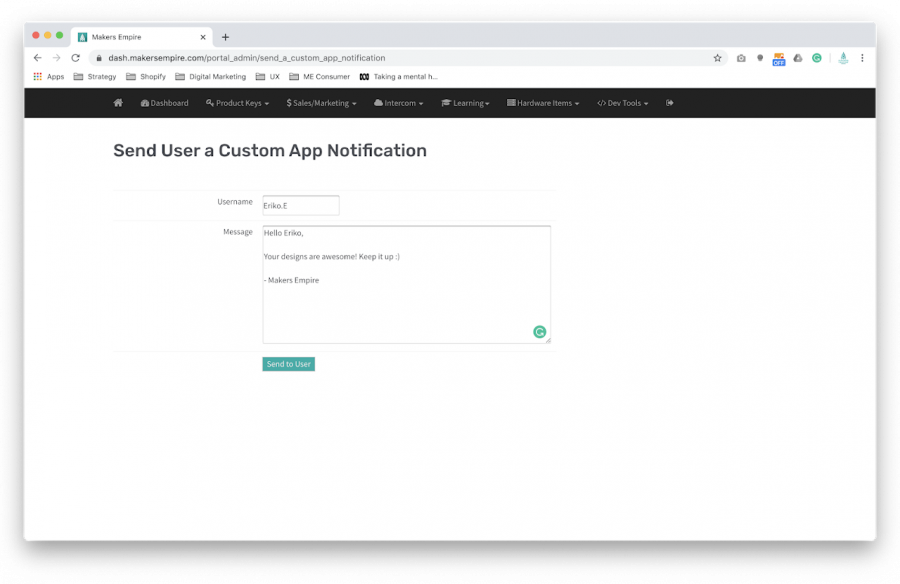 Advanced Tool Panel UI
We've taken some of the trickier tools and redesigned the interface to make it clearer to users how they work. Rather than kind of pushing buttons and figuring out how these tools work by trial and error, users now see a side panel which explains, in plain language, how to use the tool.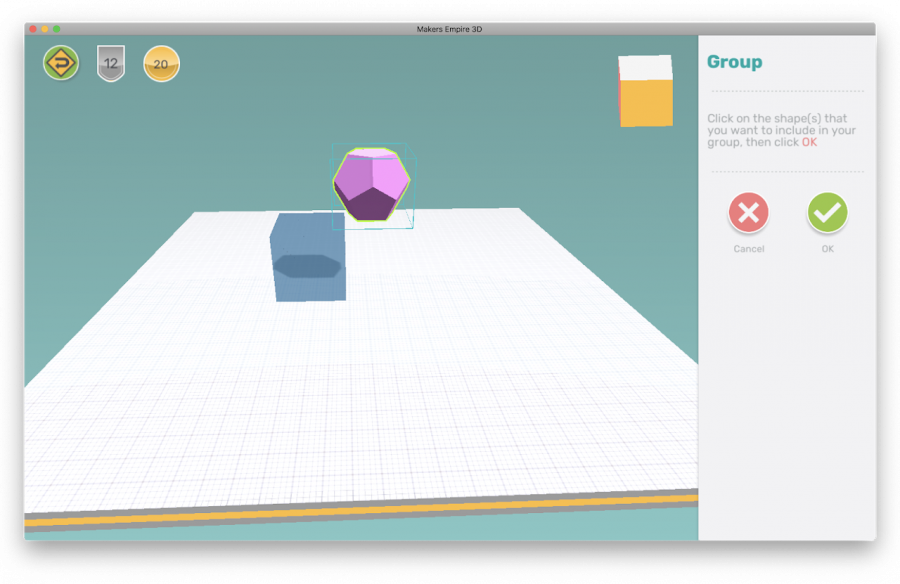 Grouping Tool
The Grouping tool functionality is unchanged, but the OK and Cancel buttons have moved to the new Advanced Tool Panel.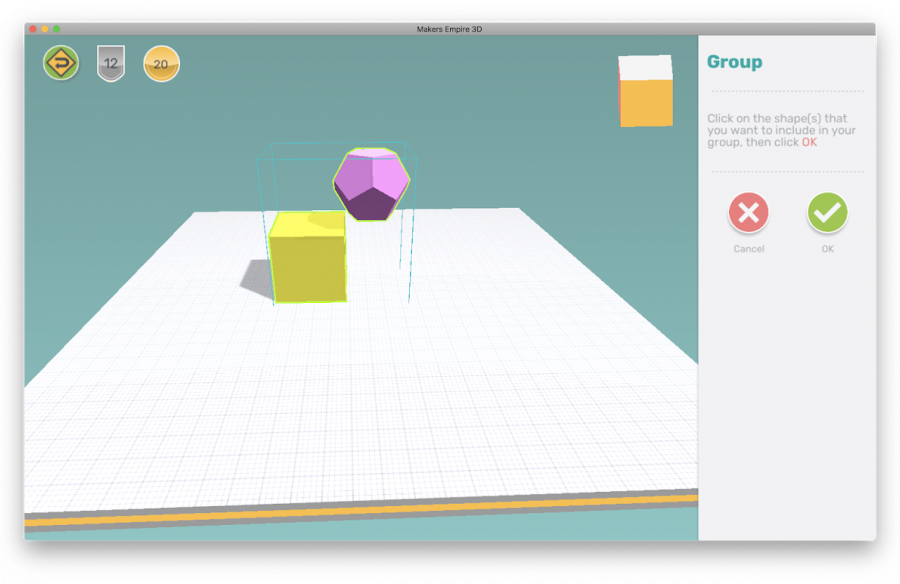 Boolean is Now Known as Cut
After much consideration and user feedback, the Boolean 'cutting out' tool is now known as 'Cut,' Subtract is now 'Hole', and Intersect is now 'Overlap.'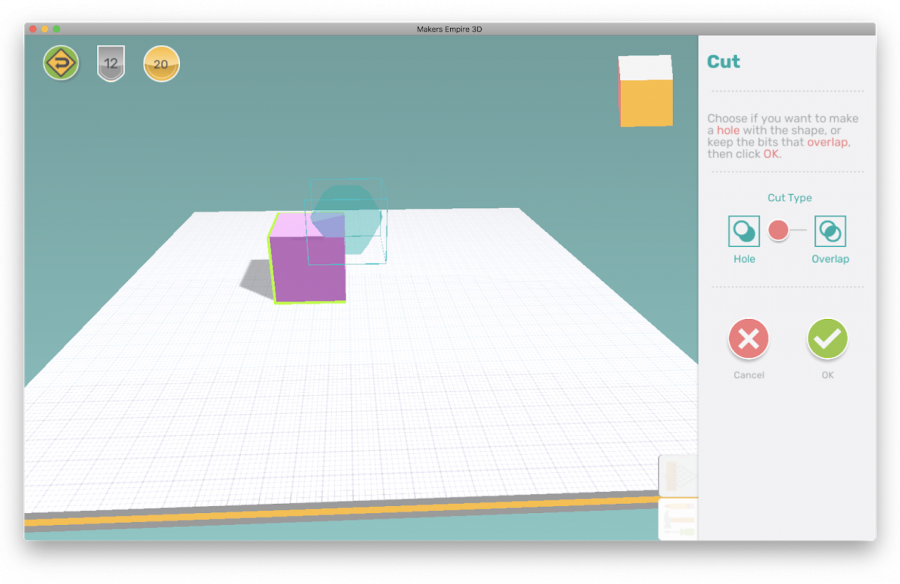 Magnet
The usability of the Magnet tool has been vastly improved. Users can adjust "Join depth" which is the amount that the shapes overlap. 0mm = the shapes will be exactly flush, 1mm = the shapes will overlap by 1mm (good for printability), -1mm = there will be a 1mm gap between the shapes (i.e. the opposite of joined).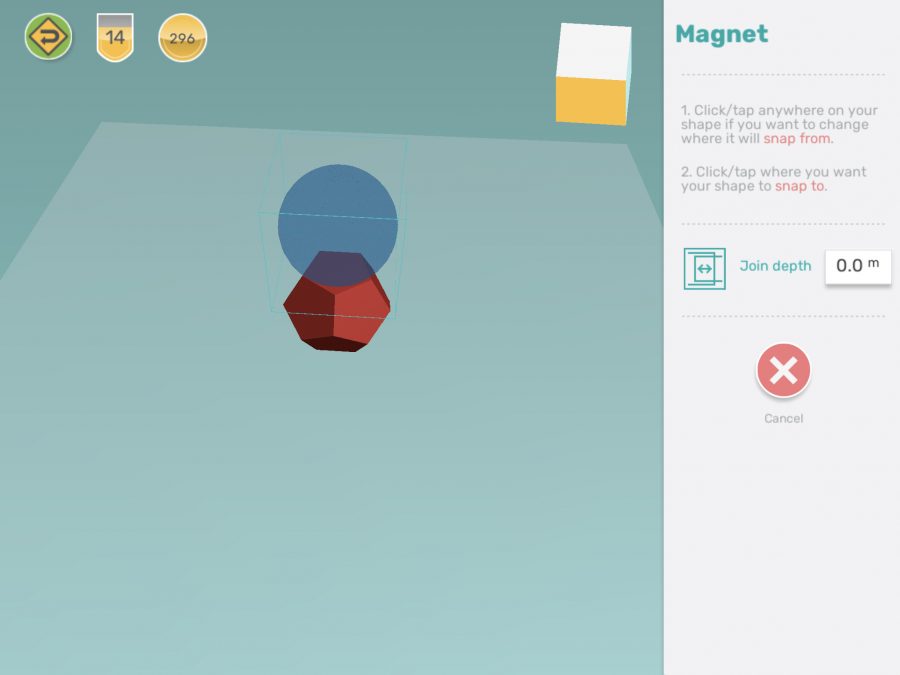 Game Zone is now Maze Mania
Game Zone has been retired and replaced by Maze Mania, our popular maze creation/playing game. When we added Game Zone, our intention was to add a series of educational 'mini-games' which each focused on an aspect of the design thinking process. However, Maze Mania proved to be so engaging that teachers found students getting distracted by it when they were supposed to be doing other work within the app. So Maze Mania will only be unlocked when a user reaches level 3 in the app and teachers can also disable Maze Mania if they wish.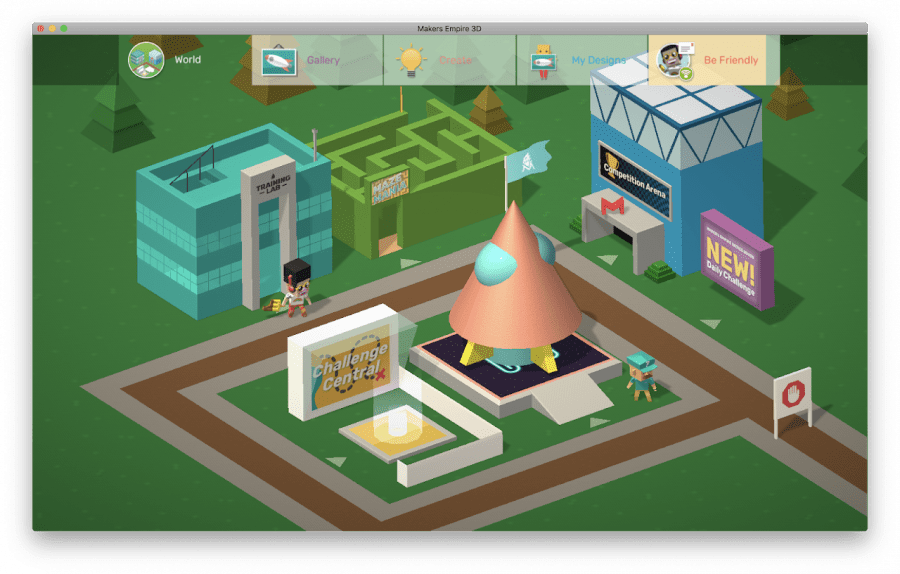 New look for 'Create'
Shaper and Blocker are most commonly used to create designs so the other design modules have been moved to a expandable menu underneath them.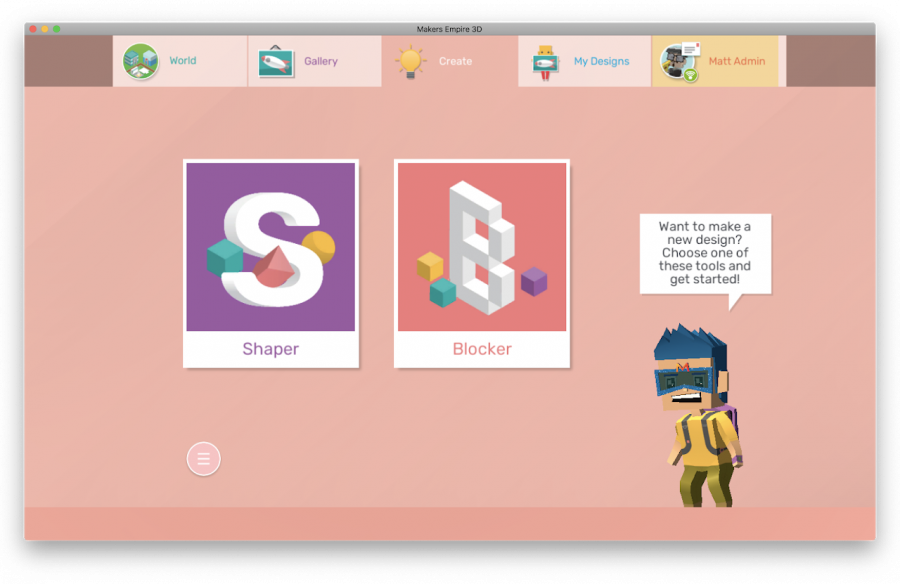 Keen to have your students exploring these new features? Get the latest version of Makers Empire 3D in your usual app store (iOS, Googleplay) by searching for 'Makers Empire' in the app store and then clicking 'install' or 'update'. Alternatively, you can download Makers Empire (Window users) and then install it on your computer or device.