There is a lot of talk about the negative impact the COVID-19 crisis might have on our children's' education. So I have been focussing on how we can minimise the damage and turn the situation into an opportunity to engage students in real-world problem-solving through resources like our free Learning at Home course and the other resources listed below.
For all of us, the impact that COVID-19 has on our wellbeing will largely be determined by our attitudes towards the imposed restrictions and how we view the situation. So I think this is an ideal time to encourage children to reflect on the mindsets they bring to their learning and to support them in developing more helpful and positive mindsets. This could well be a time where our children develop skills and dispositions that they may not have otherwise had the opportunity to acquire.
In this post, I want to explore how we can help develop our students' mindsets during COVID-19 and introduce the concept of an Innovation Mindset. This post was inspired by this helpful graphic spotted on social media (if anyone knows the original creator please let us know so we can credit them properly).
I believe any article about mindsets should acknowledge the work of Carol Dweck whose thirty years of research identified two specific ways of thinking that characterise the way we view ourselves and define our own personalities. Dweck defines these ways of thinking as having a fixed or growth mindset. A recent article outlines how Carol Dweck believes we can nurture students' Growth Mindsets through protest and pandemic.
At Makers Empire, we talk a lot about children being able to identify, define and solve real-world problems by developing an Innovation Mindset. To summarise these three mindsets:
Fixed Mindset is the belief that our intelligence, personality and creative abilities are static. A person with a fixed mindset believes that they cannot change their characteristics or get smarter no matter how hard they try.
Growth Mindset is the belief that intelligence can be developed, and characteristics are malleable. A person with a growth mindset believes that can improve their characteristics and become smarter if they put in the effort and challenge themselves. I've written previously about growth mindset in 10 Growth Mindset Questions To Ask Students and Levelling up a Growth Mindset.
Innovation Mindset is the belief that we can use our skills, intelligence, and characteristics to improve whatever situations we find ourselves in. A person with an innovation mindset has creative confidence in their abilities to solve problems and find better ways to do things.
Now let's look at how our students might apply these mindsets to the real-life scenarios people are currently experiencing. You can download the above graphic as a printable PDF at the bottom.
Problem 1: COVID-19 is making people sick all over the world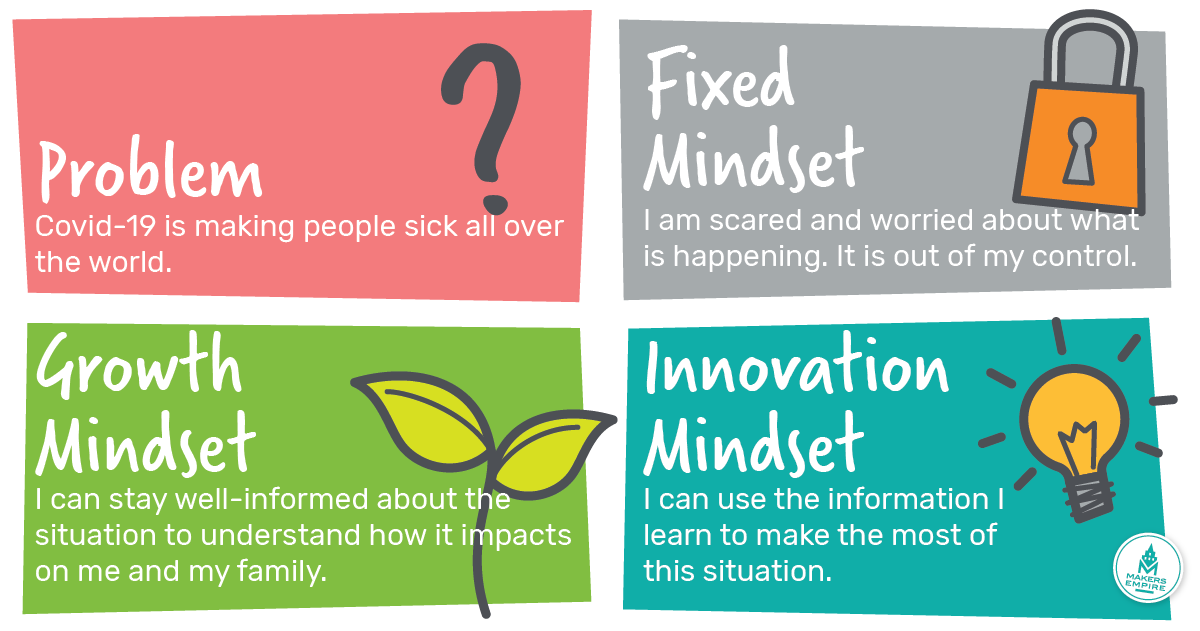 Almost every school-aged child on the planet has been in some way affected by Covid-19. Besides the restrictions on their daily lives, it is worrying to think about so many people getting sick. An innovation mindset can help children to feel empowered and to feel that they have some level of control over the situation. With Makers Empire as a tool, children might design a new type of face mask, a way to greet each other without physical contact, or a timing device to assist with good hand-washing habits. See 10 Coronavirus Design Challenges for ideas.
Problem 2: We Can't Do Activities in Groups

When our daily routines and contact with other people are disrupted, it is easy to feel like a victim of the Covid-19 crisis. A shift to an innovation mindset helps reframe this problem as an opportunity to connect with other people in new ways. With the help of technology, children might not only be able to continue communicating and interacting with their friends but also find new groups of people and new activities to engage in. Perhaps they will start a regular catch-up with friends from school to play a favourite game, or connect with other designers to create something amazing in Makers Empire as a collaborative project.
Problem 3: We Are All Being Asked To Practice Social Distancing

Most of us have never needed to practice social distancing before. It's a new concept for us to get or heads around. Social distancing brings with it new behaviours, new expectations, and changes to our accepted social norms. All of this can be very unsettling and people are looking to others for advice and tips on how to live happily within these new rules. Through the lens of an innovation mindset, this means that there is an authentic audience waiting to test and try innovative ideas children come up with. What, for example, might we invent that helps us keep our distance from others while shopping or out walking the dog? See more ideas at 10 Social Distancing & Self Isolation 3D Design Challenges.
Problem 4: Schools Are Closed and Children Are Learning from Home

Teachers and schools all over the world are currently using an innovation mindset to find creative new ways for children to learn at home. Children actually have a great opportunity to think about their learning outside the four walls of the classroom. Can they use online resources to start learning a new language or coding program? What about learning to use a new construction set, decorate an amazing cake, or assemble flat pack furniture? We are seeing an increase in amazing designs in Makers Empire and entries in our monthly design competition as innovative young designers seize this opportunity to challenge themselves and improve their skills.
Problem 5: There are Many Problems Caused by COVID-19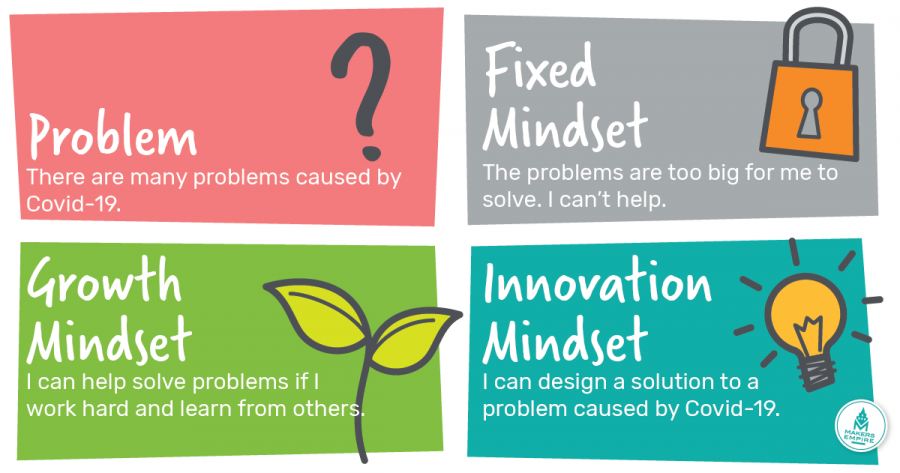 It is not realistic to believe that any of us are going to breeze through the global pandemic without facing any challenges or problems. We, of course, need to reassure our children that things are going to be okay and that we will get through this together. However, rather than telling children that there is nothing to worry about, I think a more helpful mindset is to prepare children to expect problems and support them to use their innovative thinking to focus on finding solutions. For example, festivals and carnivals are being cancelled all over the world. These are the types of events children look forward to each year, save their pocket money to attend, and plan the rides and show-bags they are going to buy. If children face this disappointment with an innovation mindset they might create their own mini-carnival at home, design an exciting show ride on Makers Empire, or start planning for an extreme carnival experience with double the spending money for 2021.
As with any crisis, COVID-19 and its associated restrictions is a temporary situation. Although we don't know how long it will last, we do know that it will eventually be over and we will be able to get back to our usual activities. In the meantime, let's focus on helping our children develop growth and innovation mindsets that will bring some positive outcomes to their COVID-19 experience, and place them in a really good position to hit the ground running when regular life resumes.
Download What Kind of Mindset Do I Want To Have During COVID-19?.PDF
PS If you do use this post/graphic with your students, please let us know! We'd love to hear how you got on.
AUTHOR BIOGRAPHY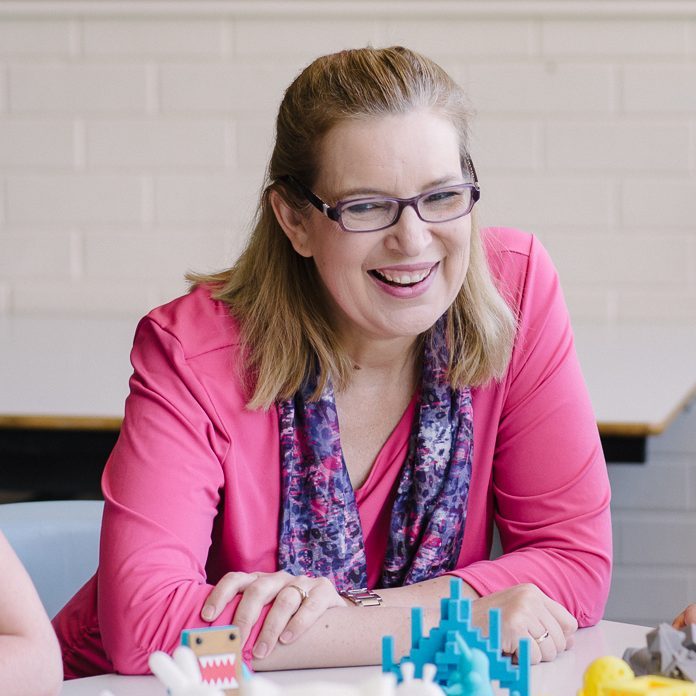 Mandi Dimitriadis, DipT. is the award-winning, highly regarded and passionate Director of Learning at Makers Empire. She is an experienced classroom teacher who recognises the power of technology to enhance teaching and improve educational outcomes. Mandi has extensive experience with curriculum development and learning, having previously developed programs for the Australian Government's Department of Education, and having created custom curriculum for Makers Empire schools in the USA, China and the UAE. She is passionate about Design Thinking and how best to prepare today's students for the future.
More Learning at Home Resources
The Makers Empire team has been working hard to create new resources to support teachers and schools faced with current or upcoming school closures. Check out related posts:
Makers Empire helps K-8 teachers teach Design Thinking, STEM and 21st-century learning skills using 3D printing. Our pioneering 3D solutions for schools include 3D modelling software, over 150 lesson plans aligned with international standards and professional development. With Makers Empire, engaged students learn how to solve real-world problems and make their world better.