Makers Empire School Subscription
At Makers Empire, we believe every child can make their world better.
A Makers Empire's School Subscription includes all the tools, resources, curriculum and support primary and elementary teachers need to effectively and efficiently cover Design & Technology curriculum, develop students' Design Thinking skills, teach STEM and integrate maker pedagogy into their teaching practice.
Makers Empire 3D – world's easiest to use 3D software
Start designing in 3D in minutes – no CAD experience necessary! Makers Empire 3D works on all devices and can be used by students as young as 4 years old.
"I have worked with several design software but Makers Empire is the easiest to use… One of the best things students learned is that it is okay to not get the "right" answer the first time, or second time. Students know that "failing" is part of the design process and problem solving,"
Casey Corn, STEM Teacher Chesnee Elementary School, USA
Makers Empire Teacher Dashboard
Makes organising students and classes a breeze! Monitor your students' progress, leave feedback on their designs and reward their good work.
"We loved the Teacher (Dashboard) with its support, ideas and integration of the Australian Curriculum. A great way to expose our students to this rapidly emerging technology that will have a significant impact on their lives"
Stephen Corcoran, Director of Digital Learning St Stephen's School, AUSTRALIA
Two hours Accredited Professional Development
Gain a deeper understanding of the exciting field of Maker Pedagogy. Learn how to meaningfully integrate 3D design and printing in your classroom. Be inspired by the transformative power of Design Thinking. Our self-paced, on-demand, 13-part professional development series designed for teachers by teachers makes it easy – and it's available to every teacher at your school !
"This was the best PD that I have been involved in for ages… This whole project has been inspiring for teachers and students in empowering students to become changemakers. Our students were so engaged and excited about solving a real-world problem… The fact that they could see they could help someone through their own design, meant their learning was authentic and valued,"
Bianca Laister, Deputy Principal Birdwood Primary School, AUSTRALIA
Expert Guidance and Unrivalled Support
You shouldn't need to be a tech expert to be able to utilise 3D design and printing in your classroom. Our friendly support team provides ongoing and timely support whenever you need it so you can keep doing what you do best – teaching!
"Thanks… really appreciate your time. I'm now looking forward to getting the kids stuck into some serious design projects!"
Joe Grabin, 3rd Grade Teacher North Melbourne Primary School, Victoria, AUSTRALIA
Learn more about ongoing support
Get a Quotation for a Makers Empire School Subscription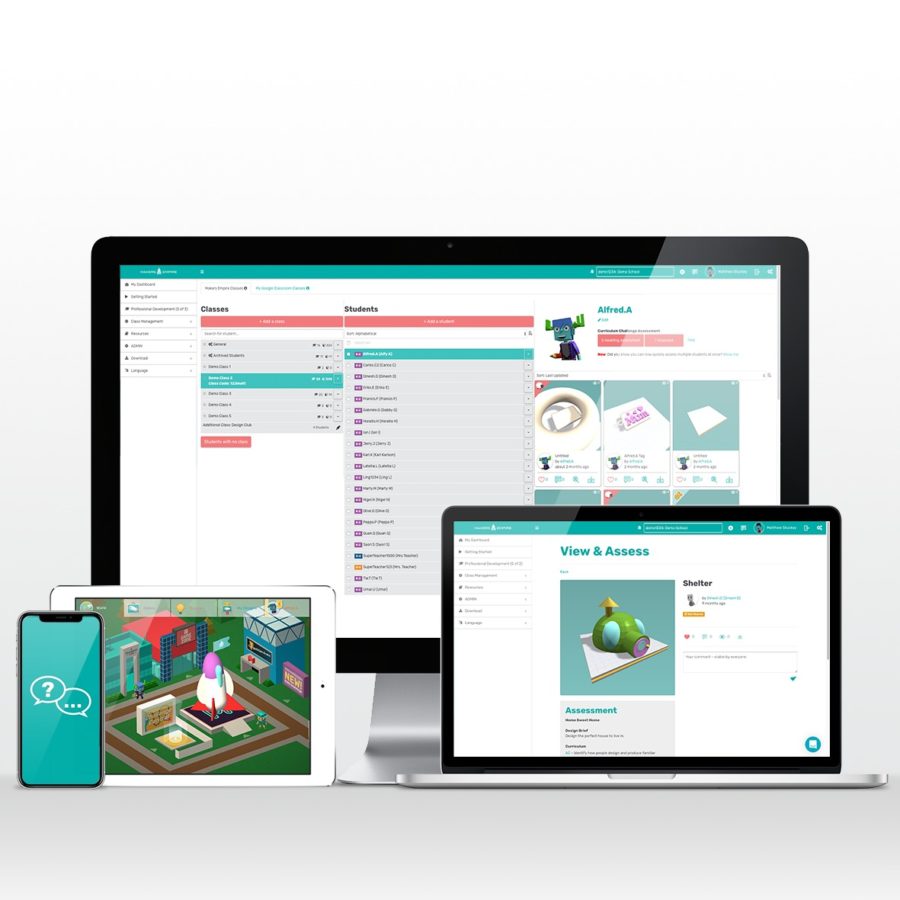 Makers Empire School Subscription
$1,999/yr
Includes:
Makers Empire 3D – world's easiest to use 3D modelling software
Makers Empire Teacher Dashboard – for easy class management
Makers Empire Curriculum
Professional development
Ongoing support
Ready to purchase? You can also buy online with a credit card.
Join thousands of educators teaching hundreds of thousands of students Design Thinking, STEM and 21st-century learning skills with Makers Empire.