3D printing in education
At Makers Empire, we work with thousands of teachers and hundreds of thousands of students to integrate design thinking and 3D printing into the K-8 classroom. We've seen first-hand the amazing things K-8 students can do when presented with an intuitive design interface and a supportive learning environment.
BE INSPIRED BY THESE SCHOOL VIDEOS
7 benefits of 3D printing in education
1. Creating Inventors
3D printing technology positions students as creators. Instead of consuming the creations of someone else they become the inventors. Have a look at a boy named William Graeme, a diabetic who invented a world-first device for storing used blood testing strips. What genius inventions are your students waiting to create?
2. Bring Art Back
Although art is already making a bit of a comeback with the advent of STEAM education, 3D printing will help catapult it to the top. With 3D printing, students use cutting edge technology to visualize and create their own imaginations. Not to mention the growth students will have in their spacial reasoning skills and 2D to 3D conversion understanding.
3. Engaging Reluctant Learners
3D printing is still a very new technology that is not readily available to your average consumer. It has a 'wow factor' that can engage students who would otherwise have nothing to do with their learning. 
4. Creating Responsible Digital Citizens
Using 3D printing in the classroom will allow your students to become a part of the growing online community dedicated to 3D printing. Specifically, with Makers Empire students have the ability to like and comment on their peers designs. Inspiring insightful discussion about online activities and how to be a responsible digital citizen.
5. Making Everything Hands On
Seriously, everything can be hands on. Learning about ancient societies? Design and print a model of a mummy or a pyramid. Learning about land forms? Design and print a peninsula or a mountain range. Learning about natural disasters? Design and print tools to protect you during a disaster. 
6. Building School Camaraderie
Build ties between grade levels at your school by partnering up a younger and an older student to work on a 3D printing challenge together. A friendly school-wide 3D printing competition is also a great way to build school morale. Perhaps challenge your students to create a 3D designed printed mascot for your school?
7. Solving Real World Problems
3D printing is a technology that scientists and engineers are using to change the world. Put that same technology into the hands of your students and introduce them to some of the challenges facing your community. They will learn empathy, teamwork, and problem solving as you set them loose on a real world problem. 
Over 100 3D Printing Lesson Plans
Looking for 3D printing lesson plans and project ideas for your K-8 classroom? We have over 100 lesson plans in our library of curriculum-aligned lesson plans, developed by Makers Empire professional learning team.
Lesson plans are searchable by grade, subject, theme and language. The full lesson plan library is accessible to schools who invest in one of our complete 3D printing solutions – Makers Empire 3D Learning Program or Learning by Design course.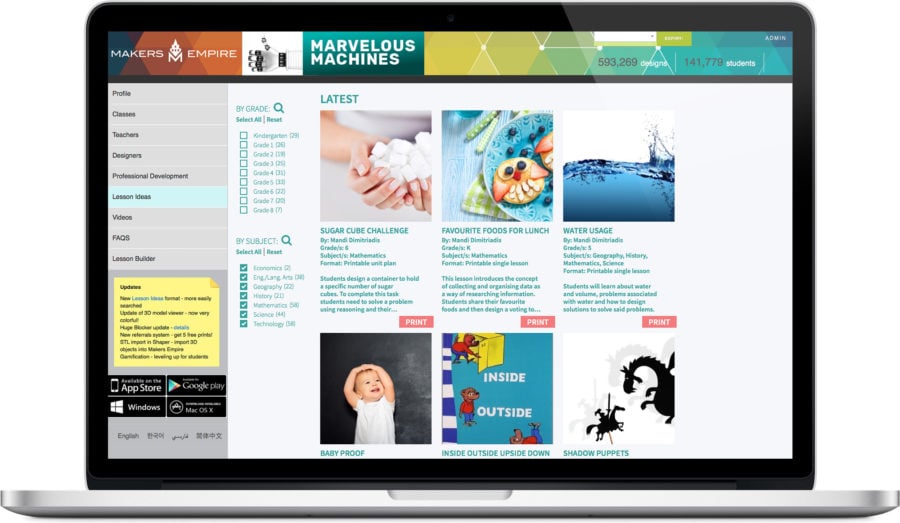 Keen to check it out? Click the report below to download your FREE, curriculum-aligned 3D printing lesson plan: Colourful Bubbles
Request a quote
Ideal for those who are short on time and those wanting to learn more about integrating 3D design and printing into the K-8 classroom.
Ideal for those budget planning, those who want to learn if Makers Empire is a good fit and those who have lots of questions.
Ideal for those ready to make a decision about Makers Empire's suitablity for their individual school. For district deals, please choose Book Demo.