Challenges Faced By School Districts
Preparing students for future careers – 85% of jobs in 2030 have not yet been invented
Teaching students how to identify and solve real-world problems with Design Thinking
Developing students' STEM skills – encouraging an interest in and love of STEM subjects
Engaging ALL students in learning, especially reluctant learners
Building students' resilience by teaching kids how to fail well – helping children to normalise mistakes and encourage persistence
Providing differentiated instruction – letting kids succeed at their own skill level and at their own pace

Help administrators better integrate technology into the curriculum and improve learning outcomes
How Makers Empire Can Help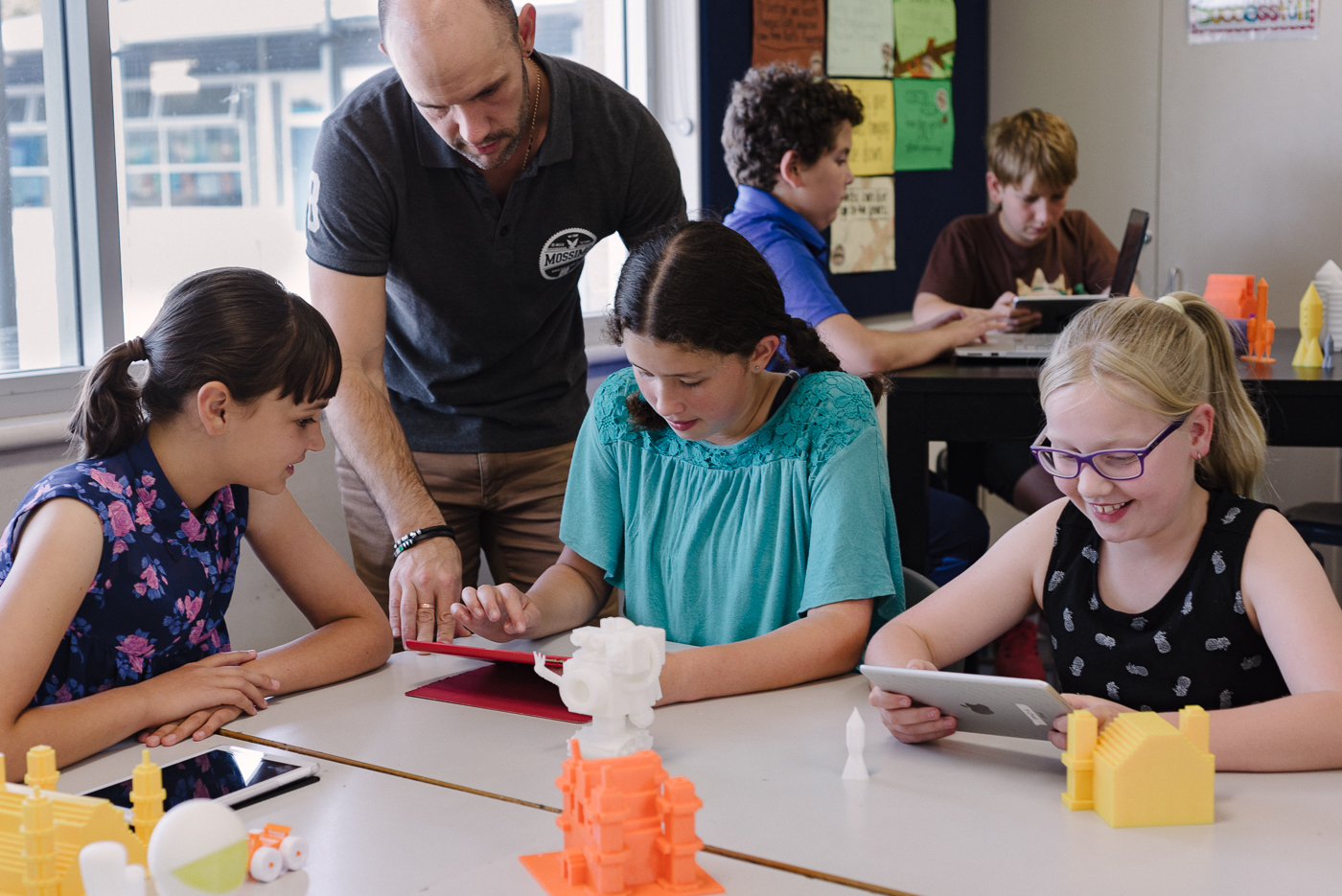 Makers Empire helps K-8 educators solve the above challenges via our custom programs for districts. Our complete solutions are tailored to suit individual needs and objectives and can include:
Easy to use 3D design software – works on all computers and devices, including touch devices
Curriculum – 150 lesson plans aligned to Common Core Standards, Next Generation Science Standards and ISTE Standards.
Professional Development for Teachers – blended and online professional development to ensure success
Class Management Tools – our products are designed for teachers
Built-in Student Assessment – to make life easier
Resources – 3D printer tips, case studies, lesson ideas, videos etc
With multi-school or district-wide programs, Makers Empire can deliver significant, systemic change and help equip your students with the skills and attitudes they'll need to thrive in the future.
What Teachers Say about Makers Empire
"This has been a wonderful new way to teach and motivate my students. They are so eager and excited to learn in this new way!... They are beginning to see real-life implications to what they learning to do in class and how they could develop prototypes of objects that they could develop and then produce to sell... At first, I preferred Tinkercad because I knew this software better. However, now that I have had some time to work with Makers Empire it is so much better. It does a much better job of showing you how to build and create. The challenges help tremendously!...The overall enthusiasm towards school and learning has increased tremendously. Students who are typically reluctant learners have come to life. One student was chronically absent and has now improved his attendance. He asks me each morning if he can get on the computer!"

Robin McGinnis, Teacher, North Elementary School
Cincinnati, Ohio, USA
"Makers Empire has been a great tool for many of my students that find other CAD software difficult. Some students have difficulty visualizing in a 3D workspace; 3D modelling is great practice to build spatial sense... This is linked to a skill in our math curriculum, so it's great to give a real world application for students to practice... Originally I started with my whole class using TinkerCAD. However, when given the choice many of my students gravitated to Makers Empire. I'm not sure if they prefer using the touch screen on the tablets to manipulate their designs, the gamification, or something else, but many have been successful with it and have made some great designs! 3D printing tech lets my students see themselves as creators and how it can help others. They feel empowered by the possibilities of the technology and the leadership they are able to take in their school."

Jeff Hennigar, Grade 4/5 Teacher, BLT Senior Elementary School
Timberlea, Nova Scotia, Canada
Working With Districts to Implement 3D Technology
Makers Empire will work with your district to provide a seamless and easy transition. We know you have many demands on your time so we're here to make your life easier by equipping you with thoughtful and detailed guide, templates, support and advice at every step of implementation, including:
Needs Assessment – we'll work with you to identify operational and instructional needs of the district in terms of hardware, software, resources, professional development and training.
Technology Plan – we'll help you plan for both operational needs  and instructional (educational) needs) for 1, 3 and 5 year periods.
Budgeting and Prioritising – we'll work with you to stretch your budget as far as it can to deliver your priorities.
Implementation – we'll work with your employees to ensure that the technology is implemented in an effective and efficient manner.
Evaluation and Monitoring – we'll deliver real-time reporting so you can see how your district is tracking against expected KPIs.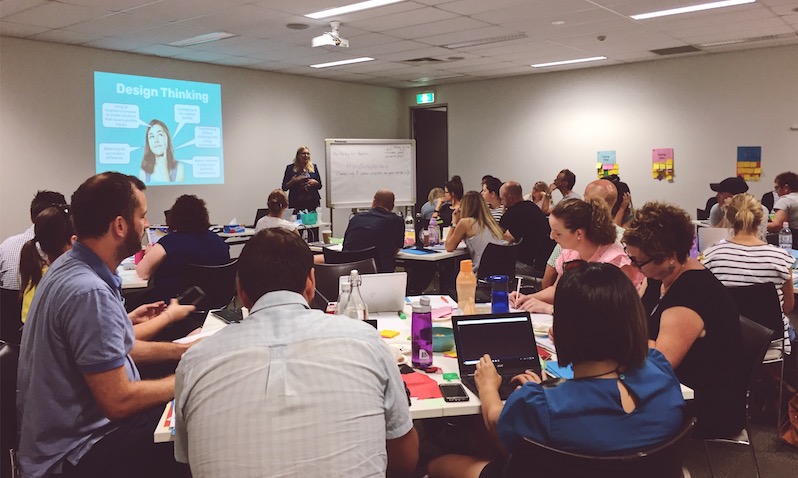 Watch Makers Empire in Action
Evidence Based Learning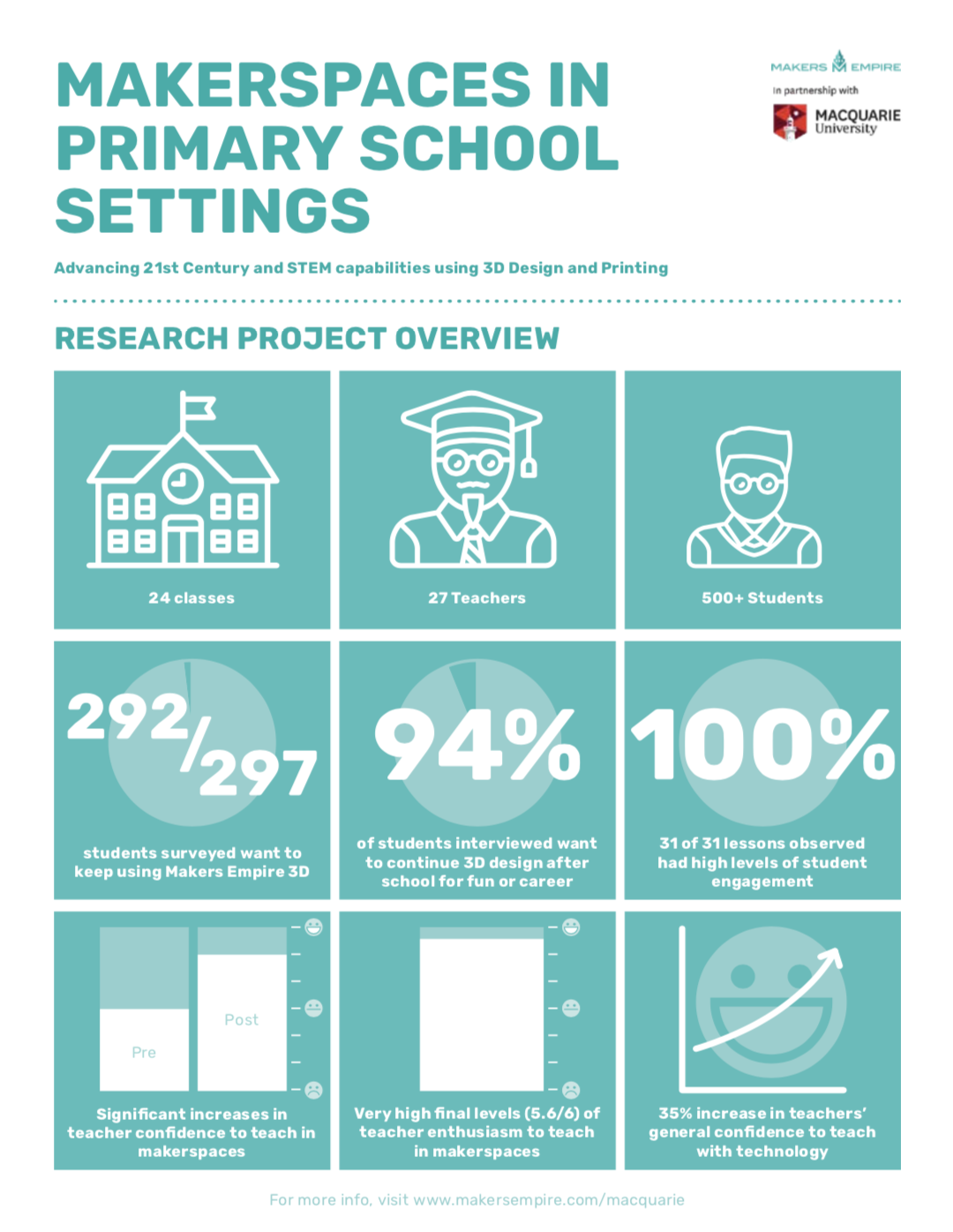 Data Driven Decision Making
Makers Empire has run a customised professional development learning program for the Department of Education (South Australia) for the past three years, for 170 primary schools.
To help measure the effectiveness of the program, pre and post surveys are distributed to all participating teachers and selected students. Of particular interest when comparing the data collected in the pre- and post- project surveys completed by teachers, was:
100% of teachers reporting in the post-project survey said that they are somewhat or very confident in their ability to teach STEM subjects, compared to 82.6% in the pre-project survey, where 17.3%
teachers said they were not at all confident.
Increasing familiarity of the Technologies Learning Area with 64.2% of teachers surveyed reporting a strong to extensive understanding in the post-project compared with 36.7% in the pre-project survey.
An increase in teachers' understanding of design thinking with 55.2% of teachers surveyed reporting a strong to extensive understanding in the post-project survey compared with 28% in the pre-project survey.
An increase in teachers who reported using the TfEL Learning Design model to design learning for their students.
A significant increase in teachers' technical knowledge to operate 3D printers and use Makers Empire 3D design software.
School Case Studies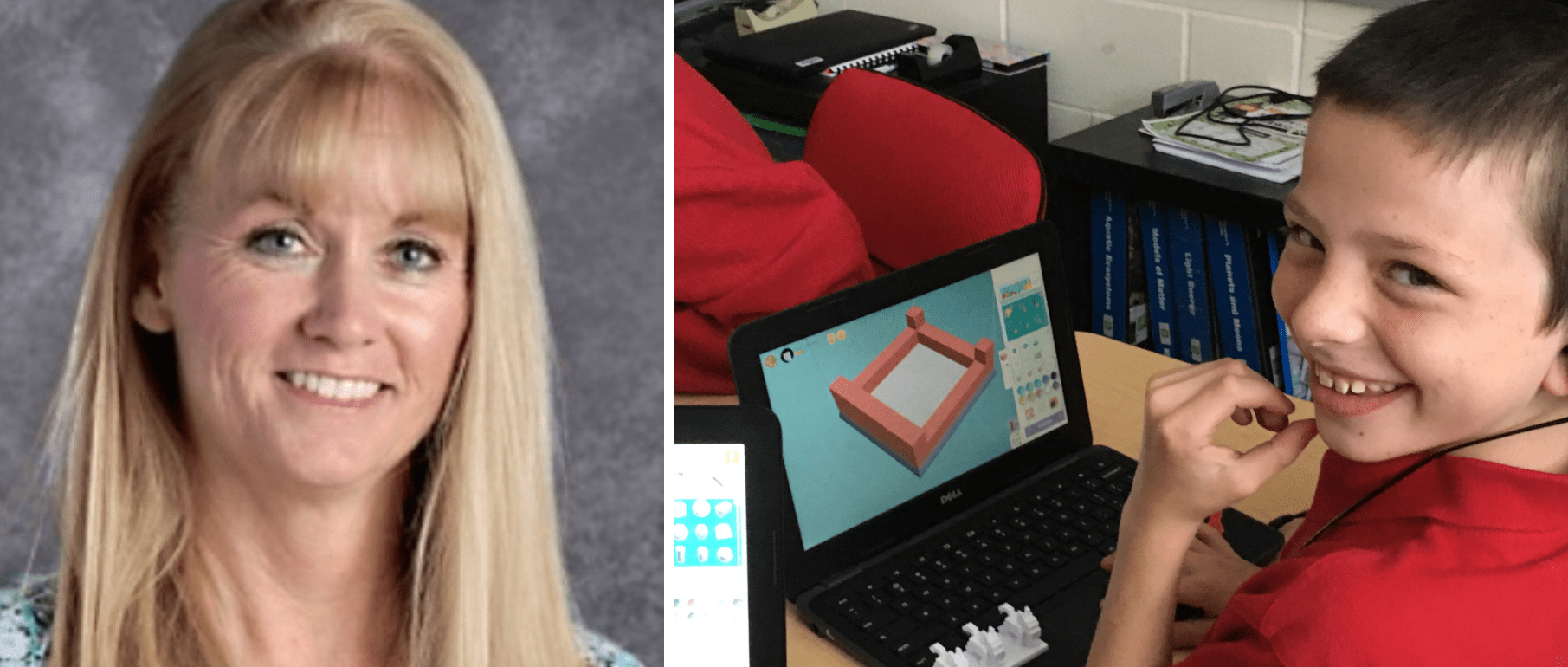 How a 30 Year Veteran Teacher Went From 3D Printing Novice to 3D Printing Guru
"The majority of my kids, when they started the school year, were more than a year and a half behind in reading and Maths. And (because of) what I've been able to do with Makers Empire and 3D design this year, many of my kids have grown more than a year and a half. With this program, I'm being able to close that gap for these kids."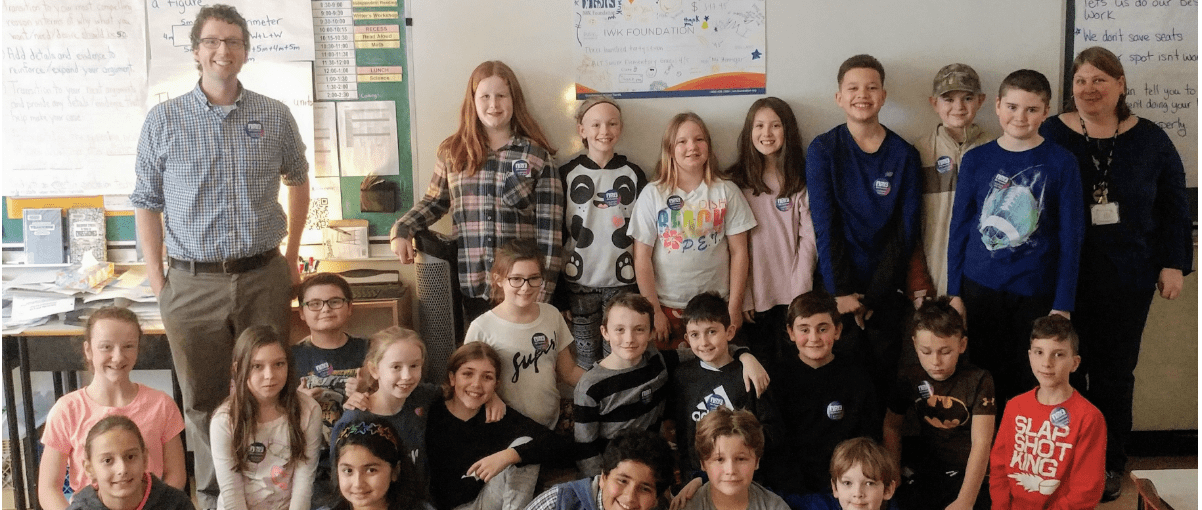 How 3D Printing United My Class and Helped Us Raise Funds for a Local Hospital
"We held a Make Sale at BLT Senior Elementary School's Christmas concert where we sold over 200 student-made 3D printed and Perler bead ornaments! All the proceeds from the sale were donated to the local children's hospital, the IWK Health Centre. We earned $347 for the hospital, a fantastic result!"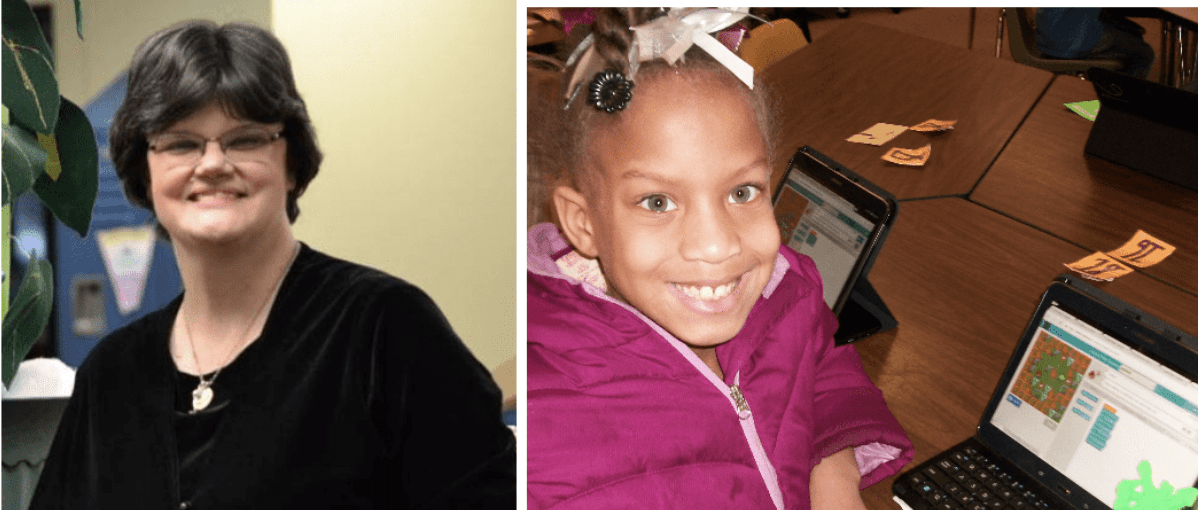 How 3D Printed Flat Stanleys Support Literacy at Woodsdale Elementary School
"The students' favorite part was going from the computer screen to something they can hold in their hand… It's always better if you can give students an authentic reason to communicate… From the beginning, the students had no trouble. They absolutely loved it."
As Seen In
This slideshow requires JavaScript.
Set Up A Consultation Today
Contact Makers Empire for a no-obligation consultation with one of our experienced team members.