On July 5th, 2018, over 500 teachers, students and invited guests attended the Department for Education (SA)'s and Makers Empire's 3D Printing in Primary Schools Showcase Day at the Adelaide Convention Centre.
Designed to celebrate the learning achieved during the 2018 3D Printing in Primary Schools Project (Phase 3: Part 1), the Showcase Day saw almost 50 schools come together to exchange ideas and feedback around the ways 3D printing and 3D design could be used to solve real-world problems in their schools and communities.
Check out some of the photos from the day:
This slideshow requires JavaScript.
The 3D Printing in Primary Schools Project has been an innovative partnership between the Department for Education (SA) and Makers Empire for three years now. The program started as a trial in 2016 when South Australian government schools with primary enrollments were invited to participate in a program with Makers Empire. Outcomes and learning from the initial trial were used to inform planning and activities for the program, which will see 3D printing technology implemented in 171 schools by the end of 2018.
Each year, Makers Empire provides the participating schools with easy to use 3D software, professional development for teachers, comprehensive curriculum searchable by grade, subject and theme, class management tools and ongoing support. This way, teachers learn how to integrate 3D design and 3D printing into their teaching practice effectively and efficiently, and to become confident teachers of Design Thinking, STEM concepts and 21st-century learning skills.
After the students and teachers had visited each other's stands and exchanged ideas and feedback, the Hon John Gardner, Minister for Education, spoke about the importance of students learning STEM and Design Thinking skills.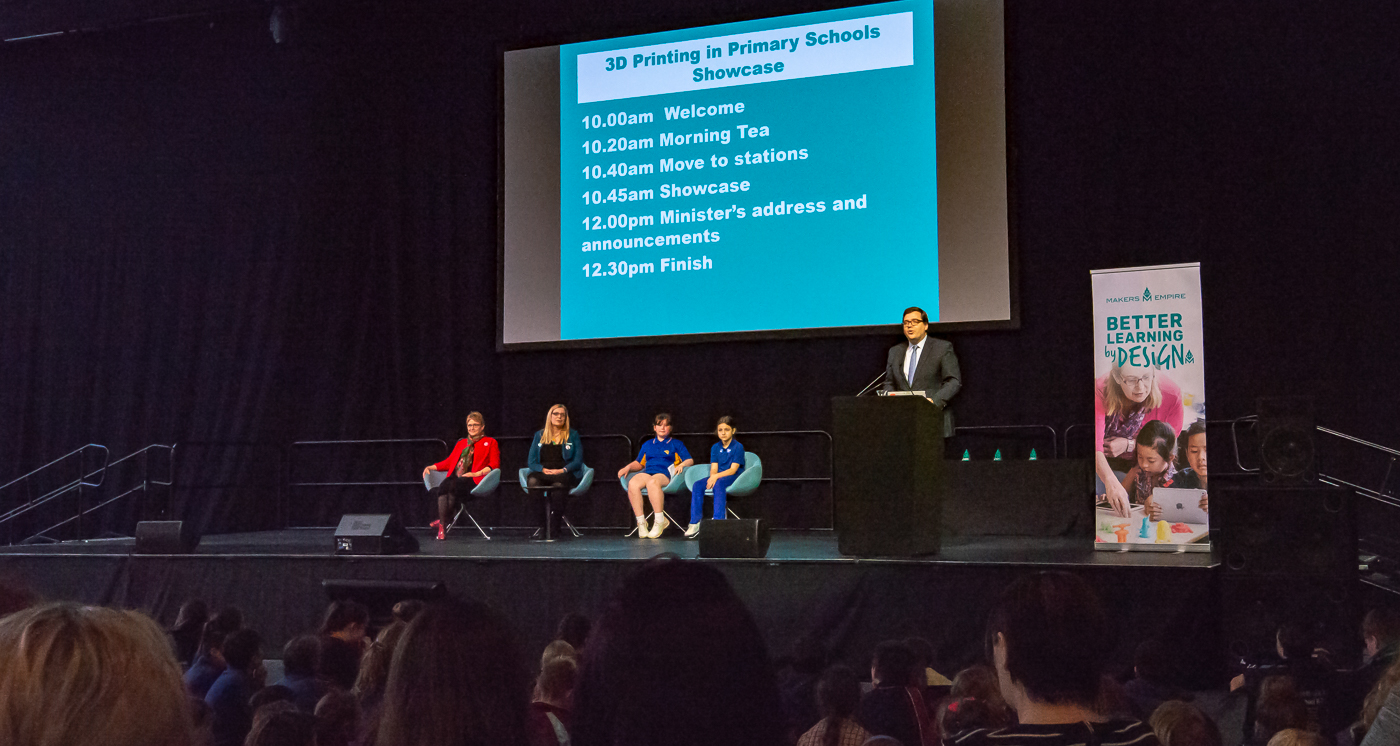 Afterwards, prizes were awarded to schools with winning videos. Of the almost 50 schools participating in today's celebration of learning, 13 schools had submitted videos to document the experiences of their teachers and students as they participated in the project. All of the videos submitted by schools were genuinely inspiring, which made choosing a winner challenging for the judges.
The Winner of Best Video was Woodville Gardens Primary School, whose inspiring video documented their students creating solutions to real-world problems experienced by senior citizens at a local nursing home.
Students first visited the nursing home residents to learn more about them and what issues they might be facing. They then designed solutions using Makers Empire 3D and printed them out using their school 3D printer. Solutions created by students using 3D design and 3D printing included a name badge for a woman who had trouble remembering her nurse's name, model planes for a gentleman who used to be a pilot in the Australian Air Force and a plant pot for a woman who loves gardening.
Woodville Gardens Primary School have won a Makers Empire Starter Package, worth $2,999 + GST. It contains a Makers Empire School Subscription, a 3D printer, 3D printing filament, training and support. Congratulations!
The Runner-Up was Reynella Primary School, whose engaging video documented their students creating a solution for their grounds person to keep his mobile phone safe and secure as he rode the school tractor. After learning about his problem, the students designed, prototyped and tested a mobile phone holder to rest on top of the tractor. Their first attempts didn't work so they went back to Makers Empire 3D to create a holder that would actually work.
Reynella Primary School has won an Inventor IIS 1 Printer Bundle, worth $1,499 + GST. Congratulations!
The People's Choice Award went to Morphett Vale Primary School, who created a short but dramatic video documenting how their students had developed entrepreneurship skills via this 3D printing project. Students had to create products and then pitch their ideas to possible 'investors' at an Enterprise Day just like the real-life entrepreneurs who go on TV's Shark Tank.
Morphett Vale Primary School has also won an Inventor IIS 1 Printer Bundle, worth $1,499 + GST. Congratulations!
You can watch all 14 of the excellent videos on Makers Empire's Youtube channel.
"Congratulations to all of the winners," said Mandi Dimitriadis, Director of Learning at Makers Empire.
"Woodville Gardens Primary School's project is a fantastic example of the power of 3D printing in schools. Through this project, which saw the students developing solutions for senior citizens in their community, the students have learned that they can identify and solve real-world problems and help make their world better."
Mandi reiterated the difficulty the judges faced in judging the video competition this year.
"The standard of videos submitted by schools documenting their progress was extremely high this year," said Mandi.
"All of the schools had developed such interesting 3D printing projects to solve real-life problems in their schools and communities. Congratulations to all of the teachers and students involved in this semester's 3D Printing in Schools project. You should all be very proud."
The 3D Printing in Primary Schools Project with the Department for Education (SA) will recommence in term 3 of 2018, with just over 50 new South Australian schools participating in the semester-long project.
The Showcase Day was a truly inspiring celebration of learning. With their skills in Design Thinking, STEM and 21st-century learning and a Growth Mindset, these kids are going to change the world!