Thinking about buying a 3D printer?
At Makers Empire we're always on the look out for 3D printers that we can recommend to the primary or elementary schools that use our 3D printing app and learning program. As we are looking for printers that would work well in a school setting we value reliability and durability over outright print quality. Safety and OHS issues are important to us, too.
Recently, we've been playing with the Cubicon Single 3D printer.
We bought the Cubicon Single after considering some great reviews online – especially this fantastic one from Makers Muse.
This is the box the printer came in. It is very big and quite heavy — about 60cm/22″ square and 23kg/53lbs — so you need two people to lift it.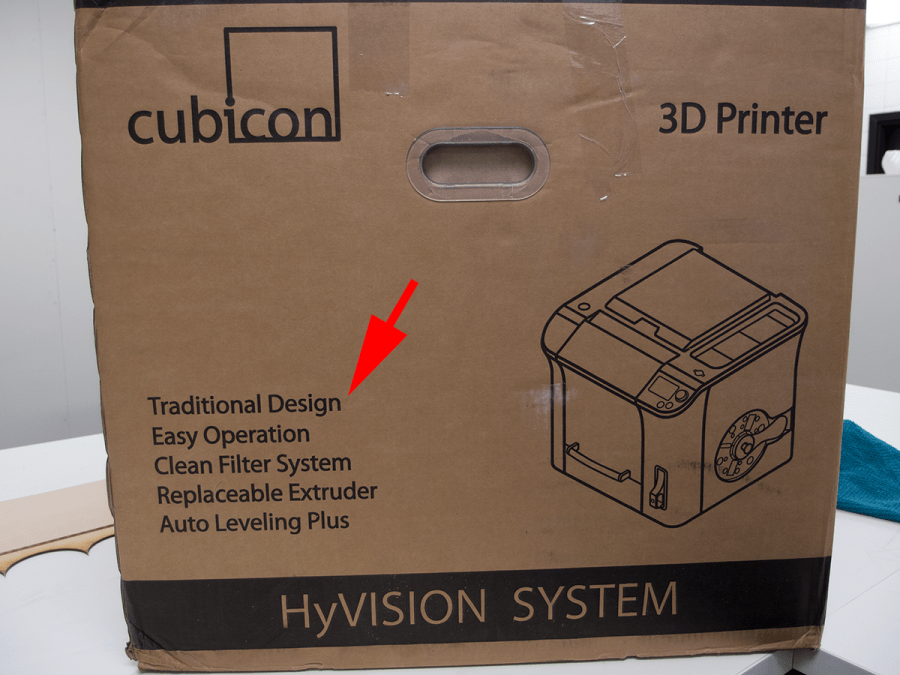 The first thing we noticed about the box was that it's labelled as "traditional design", which is a weird thing to say because who knows what a 'traditional' 3D printer looks like?
Inside, the 3D printer looks like this: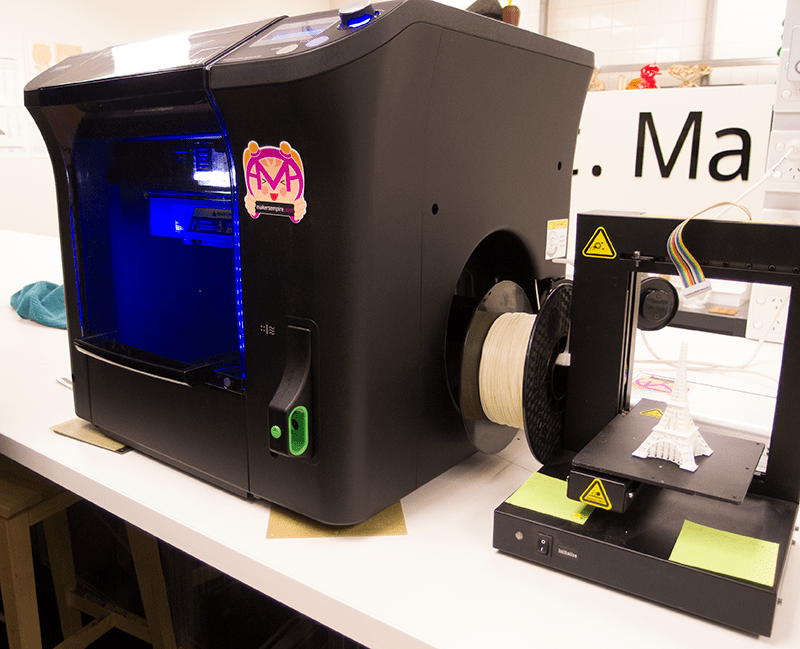 Note: Up Plus 2 for scale and spool holder (like the Up Box/Afinia H800, the Cubicon Single has an inbuilt spool holder that only holds certain sized spools – annoying!)
Pros
The Cubicon Single has some great features. We see all of the following as BIG pros:
Easily removed/replaced air filter.
Motorised bed – meaning the bed levels itself before every print. This is the first printer I've seen that has this.
Very well constructed – most "appliance-y" type printer we've tried.
SD card and LCD controls – I prefer SD card over USB and WiFi.
Spirit level device on the top to level the printer – adjustable feet to level it.
Actively heated chamber – to make sure things don't warp.
Easy opening drop down door – I'd never really thought about this before but the bottom of the most of our other printers (Zortrax, Up, Afinia, XYZ) are just a mess of filament dregs – we literally use a little handheld vacuum cleaner to empty the build chambers. Some of these printers have plastic over-hangs and lots of little nooks and crannies in their bases to hide and trap filament. This simple drop down door and smooth bottom is definitely a sign of things to come.
How did it print?
Now we'd heard the Cubicon works great with little support and we wanted to give this printer an 'out of the box' work out so we did not bother calibrating or tuning it. We set it on the table and loaded the Verbatim filament that came with it (I presume that means they don't make their own filament??) and set it to work printing something.
Here is what happened:
The printer heated up the bed, then the chamber, then the extruder – I think, in that order. 3D printing expert David Chan told me it can only heat up one at a time because of power supply constraints.
The extruder went to the corner and spat out (purged?) some filament.
The extruder began to touch different parts of the bed. The LCD helpfully informed me it was "tilt aligning" or something. We could hear the bed moving itself – wooOOWwooWoow!
It printed the two models.
We waited for the metal/glass-like bed to cool down.
We took the models off with the the lightest touch. This was incredibly impressive. I think at least 5 people in our team have had minor/major injuries with sharpened scrapers so this is valuable to clumsy people like us!
The prints looked like this:
Here he is… the printer didn't really like the big overhangs (90 degrees basically).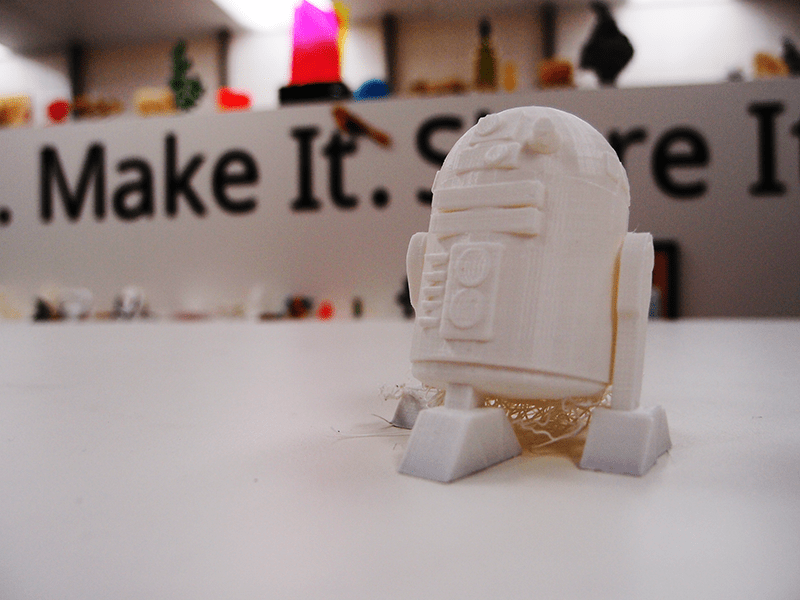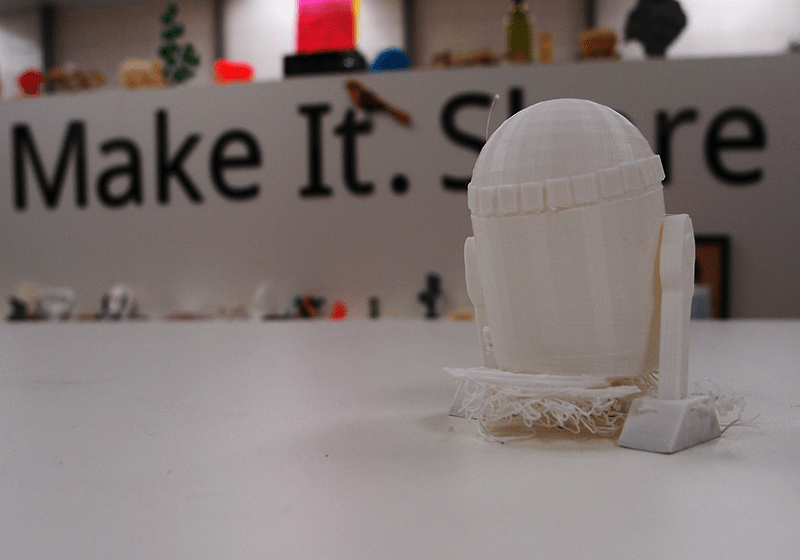 This R2 unit has a bad motivator…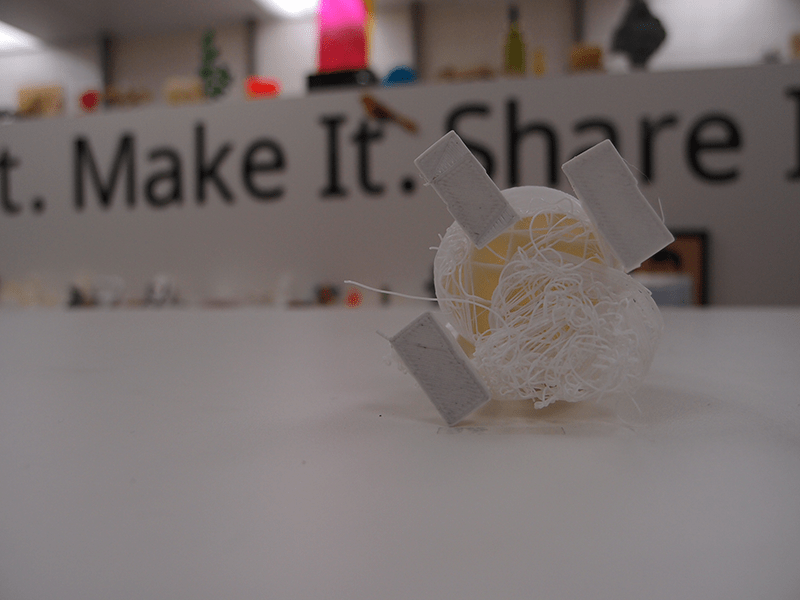 So Luke @ Fab Lab Adelaide decided to try to stress test the Cubicon with a 30+ hour marble run print. Things start well: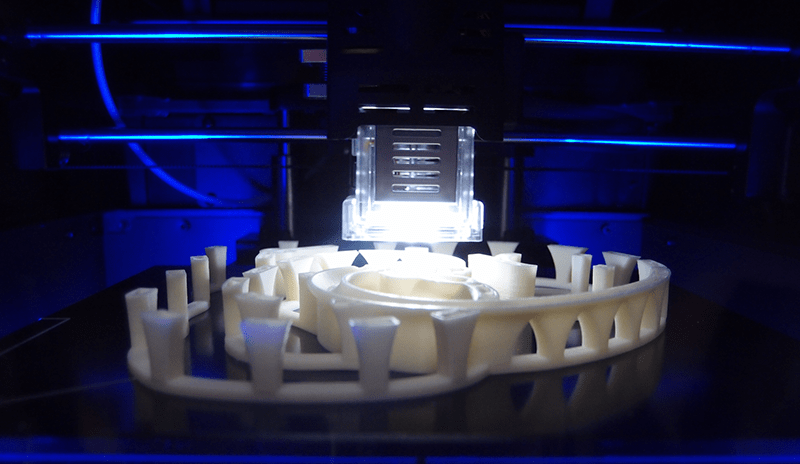 But wait… Oh no!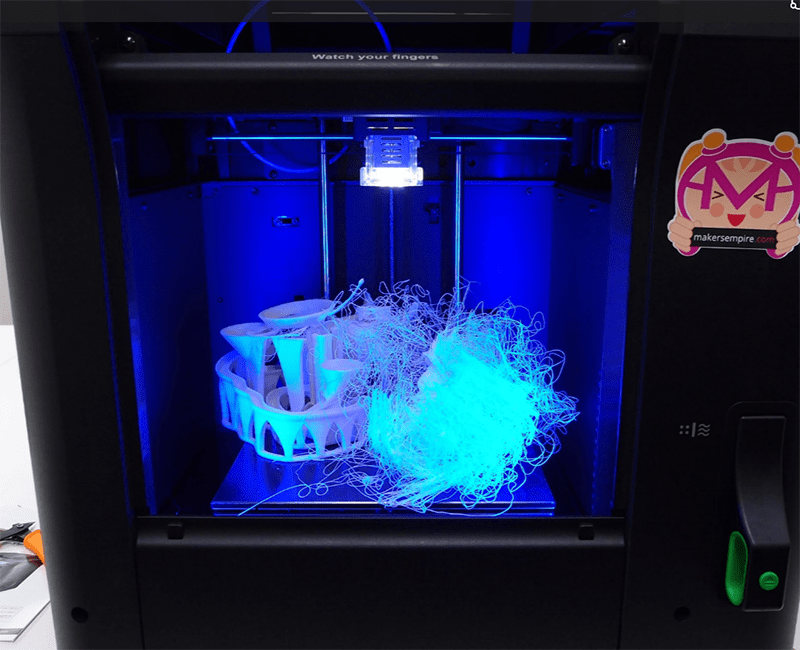 Oh dear.
The print quality on the walls is quite good, however.
To me, this printer is in same ballpark as Zortrax/Up/Afinia. You can see the print got to about 80% complete and then it must have come unstuck.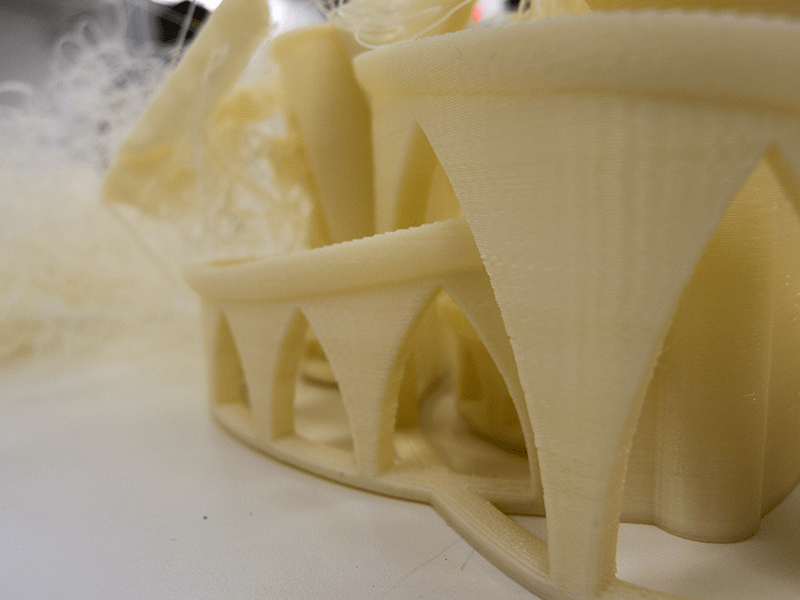 Another print showing the quality.. this was a little worse i think. You can see the "spirit level bubble" in this photo.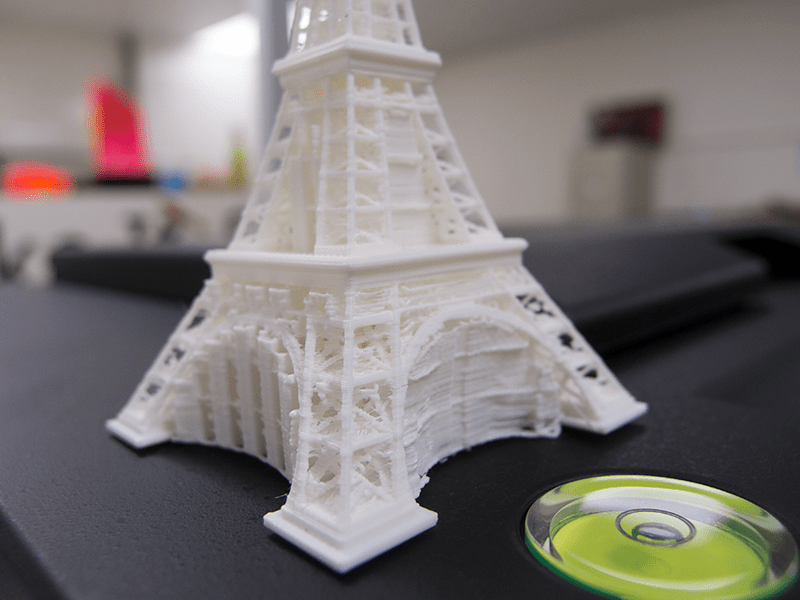 Cons
The "tilt align" auto levelling bed failed a few times after the first print and said it could not level. We were worried it was broken FOREVER, but a few minutes later it seemed to be fine.
The price is probably at least 50% more than a Zortrax / Up /Afinia with a similar size print bed and quality print.
The filament holder is built into the machine, like the Up Box/Afinia H800. I pretty much hate this.
We were hoping it could cope with no support better, given that it is a heated chamber.
Conclusion
So far we've been pretty impressed with the printer without being blown away. There are plenty of things to like — the drop down door, motorised bed, heated chamber, no scrapers! — and plenty of things we think all printers should have.
However, the prints were not trouble-free, as you can see above.
Update 1: the marble run did print quite well on the second try although one "column" did break. For a 30+ hour print it was quite impressive.
Update 2: we also have some "benchy" prints here. If you haven't heard of the 'benchy boat', it is a file that is printed as a 'benchmark' on different printers. It has attributes that stress a 3D printer (overhangs, smooth parts, thin spans etc).
To read more about our experiences, read our guide to the best 3D printers for American schools and best 3D printers for Australian schools.
trashed and redirected