3D printing resources for WA science laboratories in primary schools
This information has been created for Western Australia public primary schools that are successful recipients of the Western Australian Curriculum Support funds.
Each selected school will have a permanent classroom converted into a science laboratory and has been allocated $25,000 to purchase equipment and resources to support their whole-school science programs. This can include 3D printers and related resources.
Interested in integrating 3D printing into your school as an authentic learning tool? Follow the following guide for best results.
1. What are 3D printing equipment and resources?
To properly fit out your primary school's laboratory with 3D printers and resources, you will need the following:
Equipment – 3D printer(s). Budget $500 – $2000 per 3D printer.
Equipment – 3D printer consumables i.e. 3D printing filament. Budget $40-50 per a roll, which last about a month with normal use
Resources – 3D printer training and professional development for teachers
Resources – 3D printer support
Resources – 3D printer support material
Resources – 3D printing lesson plans and ideas for teachers to integrate 3D printing into the curriculum
Resources – 3D design software. 3D printers

do not

come with design software so your school will need seperate design software
2. Things to consider before purchase
There are many 3D printers on the market but not all are suitable for use in a primary school. Primary schools have different learning environment, younger students and dedicated primary school teachers.
It is a good idea to have:
Easy to use 3D design software that K-8 students can design on.
3D printers that are easy-to-use, reliable, enclosed and with air filtration
Filament – choose PLA which is a corn starch based consumable suitable for school environment
Provide teacher resources so teachers can integrate 3D printing into the curriculum rather than treat it as a once-off class activity
Provide training to teachers on how to use 3D printers and provide access to support
Provide professional development
3. Why Makers Empire?
Makers Empire understands what 3D printers and resources are needed to for schools to successfully integrate 3D printing into the curriculum. Backed by our learning team, we'll strive to ensure your implementation is a success. We delivered large scale implementation 3D printing school projects like our 50 school implementation with DECD in SA so you can be sure we have the learning expertise to help your school.
See school made videos of teachers using 3D printers in the classroom to teach STEM, design thinking, problem solving skills and project-based learning:
4. Purchase: Makers Empire WA Science Laboratory 3D printer and resources package
Makers Empire provides 3D printer and resources packages include hardware training and support via video call so no matter where your school is, help is on hand. Purchase the specifically packaged 'Makers Empire WA Science Laboratory 3D printer and resource package' here now for only $4,948.90 inc-GST (receive $999 bundle savings + $500 when purchased online).
3D Printers – 3 x Up Mini 2 – 3D printers with air filtration and filament will be shipped to your school. Training and support via video call and support.
Resources – Makers Empire's award winning 3D printing resources includes, lesson plans, teachers dashboard, 3D design software, teacher learning support and more. This is an annual subscription and schools are billed annually.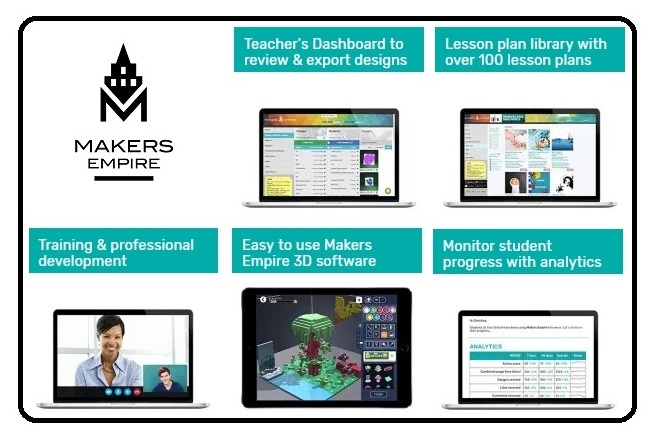 [simpay id="14763″]
(includes GST)
5. Next steps
After you have made your purchase, your order will be placed and delivered to your school.
Our team will contact you to organise a time to complete training via video call and also connect you with our learning team to support your school's implementation.
Need help?
If you have any questions you can start an online chat with us at the bottom chat circle or email us at info@makersempire.com, subject: "WA Science Laboratory – your school name".