Makers Empire's pioneering 3D design software and 3D printing learning programs for schools are designed to help educators teach Design Thinking, STEM and 21st-century learning skills to K-8 students using 3D technology. Our complete solutions include everything you need to effectively and efficiently integrate 3D technology into your classroom.
Now Makers Empire is making student assessment easier for teachers with the introduction of new assessment tools in the Makers Empire Teacher's Dashboard to complement the existing curriculum-aligned challenges within the popular Makers Empire 3D design app.
Find your students' work faster. Give feedback, assessment and rewards to students more quickly. Spend less time on marking and more time teaching.
The new assessment tools can be found within the Teacher's Dashboard included as part of a paid Makers Empire subscription. Check out this short introductory video:
What is the Makers Empire Design Curriculum?
The Makers Empire Design curriculum is based on design and technology, and engineering curricula from around the world including:
The Australian Curriculum: Technologies, Design and Technologies
The NSW Syllabus: Science K-10 (incorporating Science and Technology K-6)
Victorian Curriculum: Technologies, Design and Technologies
Next Generation Science Standards: Engineering Design (US)
ISTE Standards for Students: Innovative Designer
Learn more about the Makers Empire Design Curriculum.
How do students complete curriculum-aligned challenges?
Curriculum aligned challenges can be found in Challenge Central in the 3D World.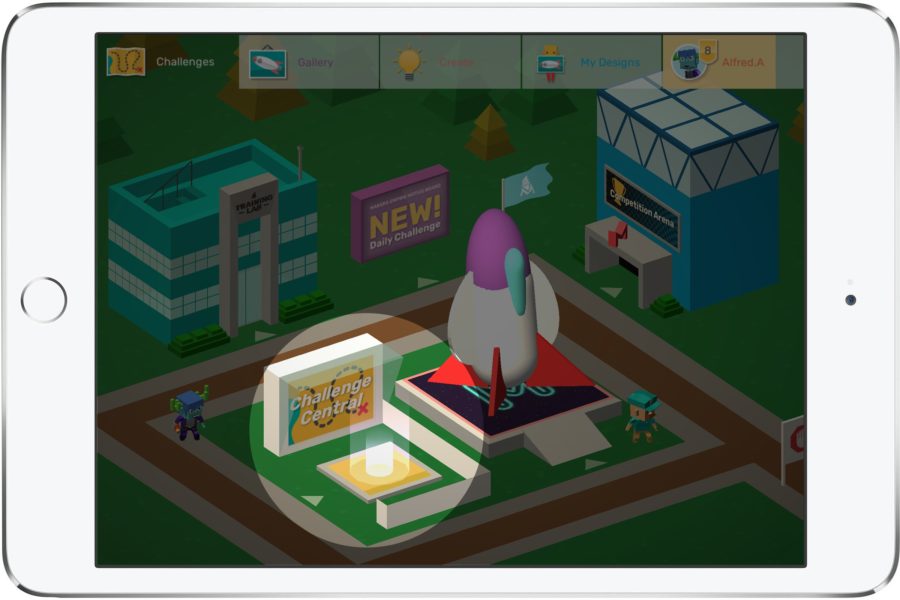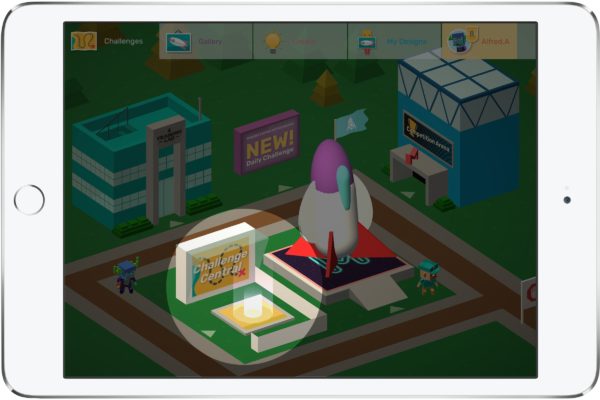 * NOTE Challenge Central is only available for users who have entered a Class Code and reached Level 3.
2. On entering Challenge Central, students will see a familiar challenge path. The first challenge will be available to try. Students cannot progress to the next challenge until they successfully complete the first challenge.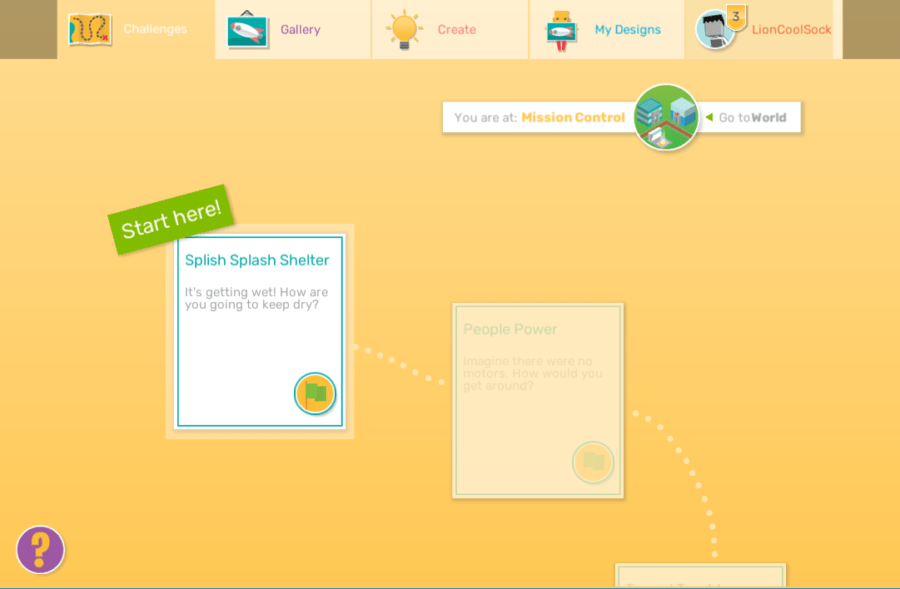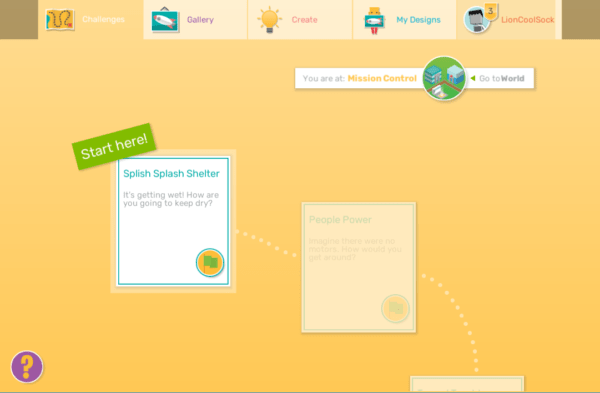 3. When your student clicks the green flag icon to begin a challenge they will see a short design brief outlining the context and goal of the challenge. K-2 challenges include a narrated video, making them accessible to learners of mixed literacy levels.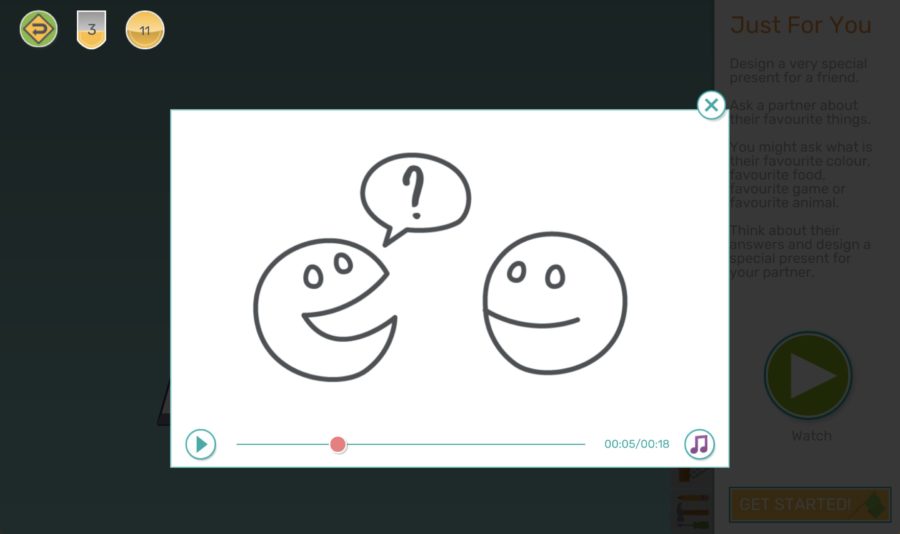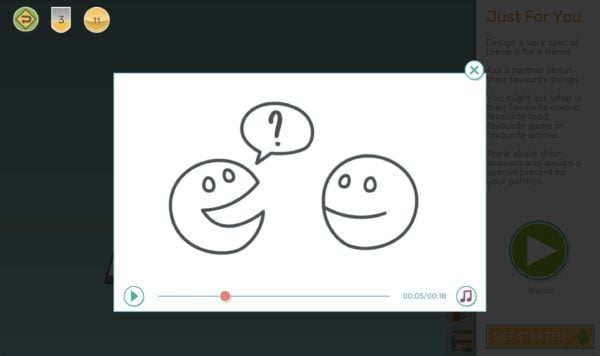 Learn more about curriculum-aligned challenges.
How do I Assess Curriculum-Aligned Challenges?
1. Once a student has submitted a challenge for assessment in Challenge Central, they will see an hourglass icon, meaning this challenge is awaiting assessment. Students cannot attempt the next challenge until they pass the current challenge.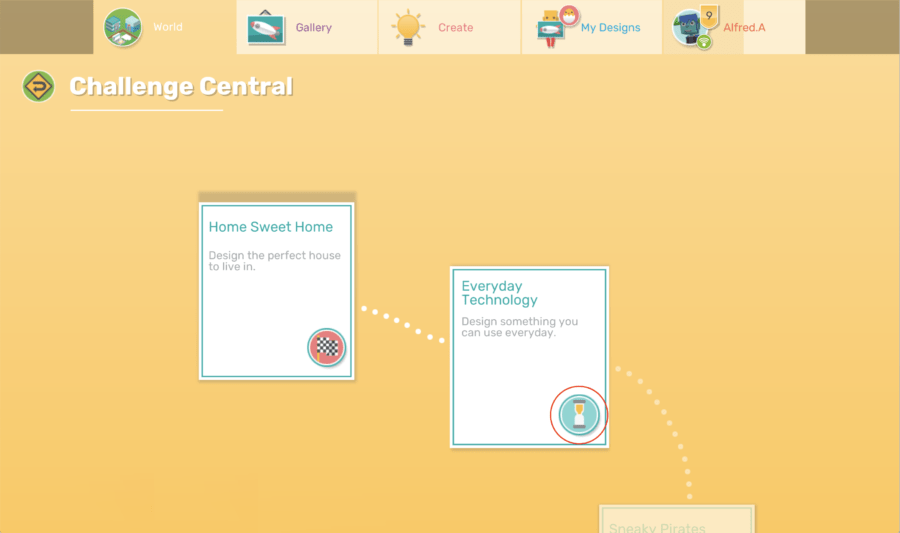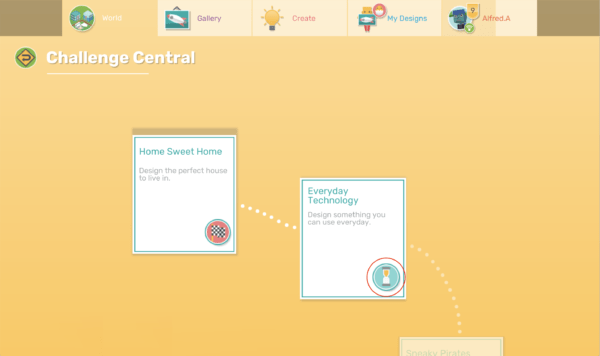 2. In the Teacher's Dashboard, go to Class Management > View and Assess.
There are two ways to assess your students' work: Quick Assessment or Individual Assessment.
But before we introduce these tools, please note that there are two ways to find and view students' work:
How Do I Assess Students' Work using Quick Assessment?
1. All designs which are awaiting assessment will have a tick box on the top left of the card.
2. Once you select a design by clicking the tick box, the Quick Assess options will appear onscreen.
3. Once you have selected the desired designs, simply choose the appropriate feedback and confirm that you want to send this assessment now.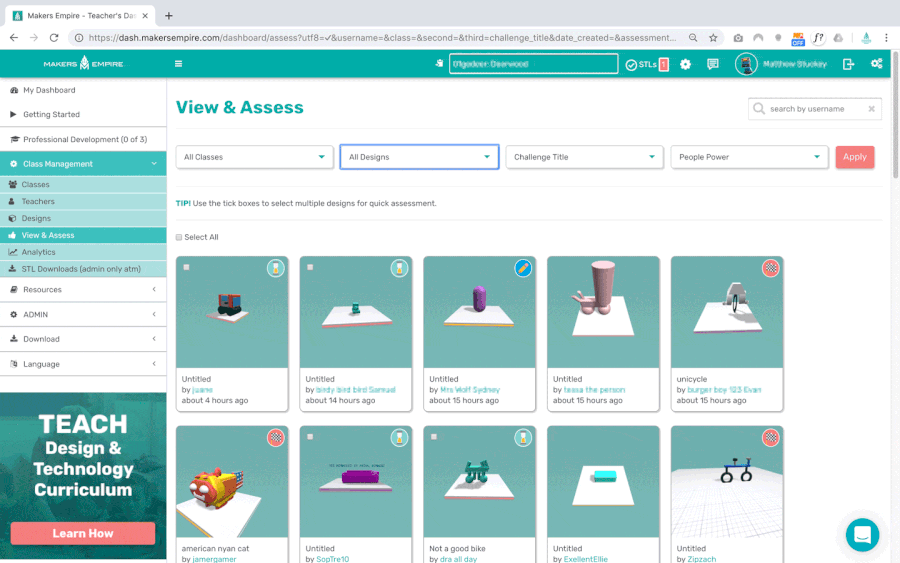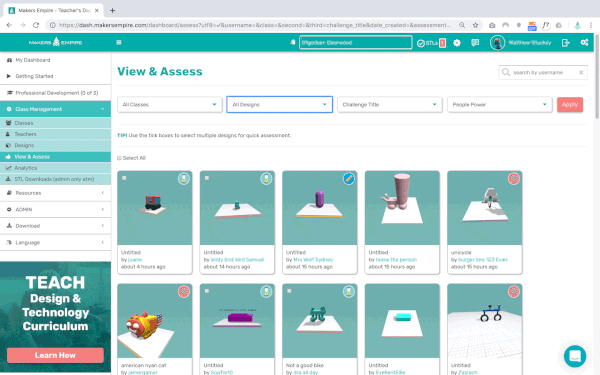 Learn more about quick assessment.
How Do I Assess Students' Work using Individual Assessment?
To give more detailed feedback and a more in depth assessment, you can still assess designs individually.
1. Simply click on the desired design to open the detailed design view. Stats and comments appear to the right of the design preview. If the design is assessable, the assessment tools appear below the design preview.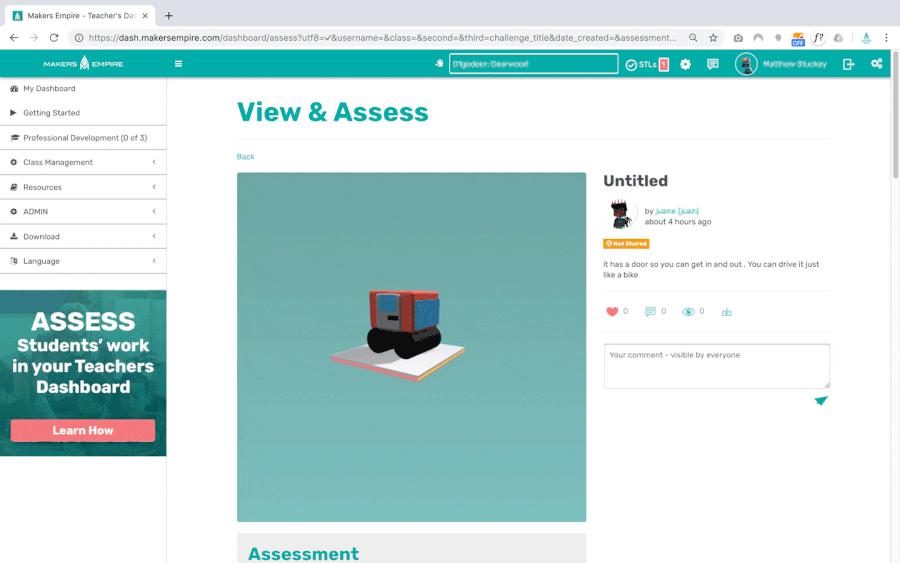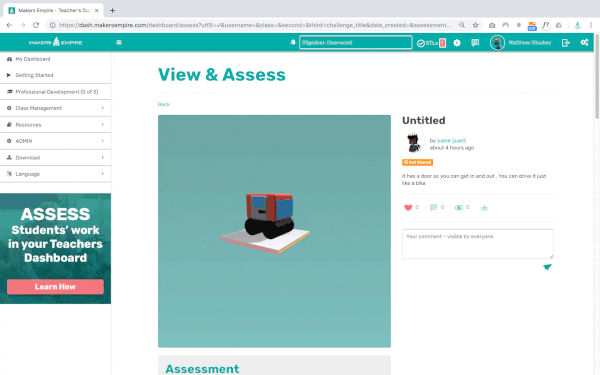 2. In the assessment tools, teachers can see the Challenge Title, Design Brief and Curriculum points.
Teachers can choose an achievement level: Satisfactory, Above Satisfactory or Below Satisfactory.
Learn more about individual assessment.
Feedback? Questions
Help us make Makers Empire better for everyone. We'd love to hear your feedback, suggestions or comments.