We are happy to introduce our first Makers Empire Legend: year four student Angus Copley from St Michaels School in Australia. Angus was nominated for the Makers Empire Legend program by Kate Trywhitt, his Arts & Design Teacher. She nominated Angus because "he makes really complex designs that are fun and eye catching. He has a really good sense of shape, form and scale and makes Pop Art and Industrial Design type objects."
Hello, Angus. What is your Makers Empire username so people can check out your designs?
What do you like about Makers Empire?
"You can create cool designs of anything you want. You can take real life things and create 3D images."
Do you use Makers Empire at school, at home, or both?
"I use Makers Empire at school. I use it mostly in my art classes but I (also) like to use it at home to work on my school designs and create new ones."
What kinds of projects have you done with it?
"Our art teacher Mrs T. (Mrs Tyrwhitt) shows us pictures and images of real life things and then we get to design them in our own way. I have built ships, a pizza box and have even made Mrs Truchbull. I love to see the models from the 3D printer. I (also) like to design things that are in my room or around our house."
Which of your designs are your favourites?
My Tic-Tac Gum (see below) – I have had this gum before and it tastes really good so I wanted to create it. Makers Empire had the exact green, just like the real one.
My Bike (see below) – This one is just like my BMX except I decided to make it red. I drew the seat with pencil liner.
My Robot – This is a lego man with a lego man head. He is wearing lots of armour with spikes on his hands and decoration shoulder wings.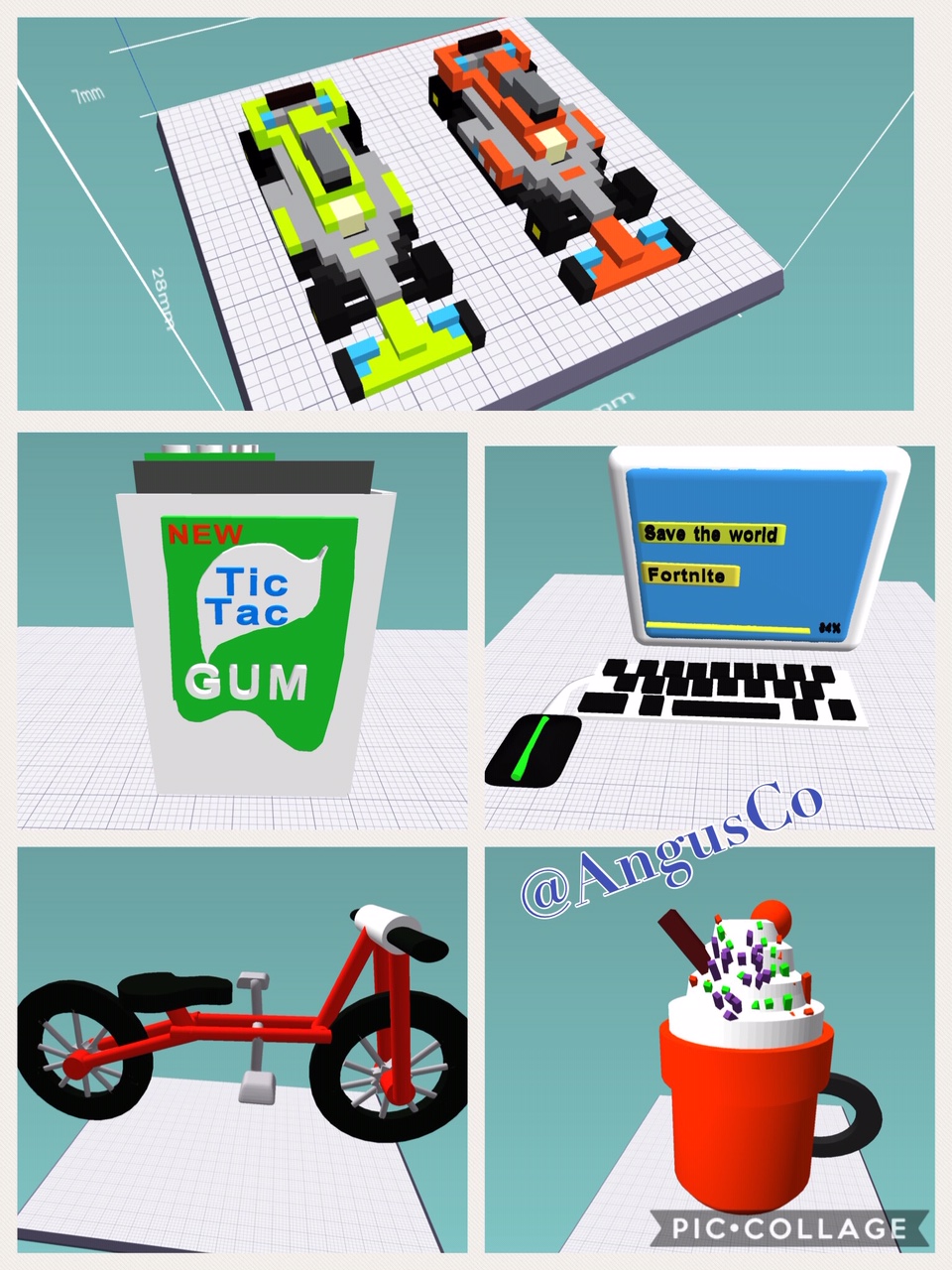 Which Makers Empire designers and designs inspire you?
"I love Mrs T's (designs). They are really interesting with lots of detail. The Sydney Opera House is my favourite.
A boy from my school, Dylan. I find his designs really creative. Who will win 1to2 is a good one.
The Macdonald's Cheeseburger by @hubstadog77 is great. I love cheeseburgers."
Do you have any suggestions for new features?
"I would love to see some new shapes and have a bigger space area to make designs. Also, a "rainbow" colour button in the colour palette selection."
What advice would you give to kids just starting out with Makers Empire?
"Make whatever you want to make. You can do anything. Start with simple pictures and use basic shapes until you get used to it then try harder designs."
Thanks for chatting with us, Angus, and keep up the awesome design work!
Are you a teacher? Do you have a student who is an inspiration and resource for other students within your school? Nominate your student for the Makers Empire Legends program today.
MAKERS EMPIRE: BETTER LEARNING BY DESIGN
Makers Empire helps K-8 teachers teach Design Thinking and STEM/STEAM concepts and implement maker pedagogy in the classroom using 3D design and 3D printing. Our pioneering 3D solutions for schools include 3D modelling software, over 130 curriculum-aligned lesson plans, a teacher's dashboard for easy class management, professional development for teachers and ongoing support. Makers Empire is used by thousands of teachers and hundreds of thousands of students in Australia, the USA, Asia and Europe. Join us.