Following a successful pilot with nine South Australian (SA) schools, South Australian Premier Marshall announced on Friday that The Andy Thomas Foundation and Makers Empire will be partnering again in 2022 on a program to deliver education and awareness of the opportunities in space careers to more primary school-aged children in SA. 
This new program builds on previous investment and support for Makers Empire from the South Australian government including $350,000 made available through the Research, Commercialisation and Startup Fund (RCSF) and matched by the business, to support the roll-out of Makers Empire's Makeshop project.
Over terms 3 and 4 in 2021, The Andy Thomas Foundation and Makers Empire delivered an enhanced, space-themed version of Makers Empire's Learning by Design course to nine SA schools: Clovelly Park Primary School, Gilles Street Primary School, Flaxmill P-6 School, Mercedes College, Tenison Woods Catholic School, Concordia College, Streaky Bay Area School, Port Broughton Area School and Ardrossan Area School.
The pilot included face-to-face professional development days for teachers, teachers designing and teaching a unit of work related to the UN Sustainable Development Goals and space, and students learning to identify and solve related real-world problems. 
The program concluded with a showcase day last Friday at the StartUp Hub at Lot Fourteen and the Space Discovery Centre to celebrate and share their learning. The showcase day featured an expo style display of stands showcasing projects, around 100 students and teachers, and speeches from Premier Marshall, Enrico Palermo, Head of the Australian Space Agency and Nicola Sasanelli, CEO of The Andy Thomas Space Foundation. 
Students alternated between hosting their stands and sharing their learning with their peers, visiting other stands to learn about their projects, and visiting the Space Discovery Centre.
After carefully considering all the other schools' projects, students then cast their votes for the best school display of the day. To encourage fair competition, students were not allowed to vote for their own school.
Next, Premier Marshall announced that plans have begun to deliver the same space-themed program to nine more schools across South Australia in 2022. Premier Marshall said that he was impressed and excited by the space-themed projects he'd been introduced to and that the learning exhibited by students boded well for the future of SA's space industry.
"There are so many good ideas that I've already seen today… I can't believe the work of these schools and their teachers and everybody who's been involved with bringing these ideas here through this process," Premier Marshall said.
Enrico Palermo, Head of the Australian Space Agency, shared his his own career journey and having to move abroad to advance his education and work experience. He spoke passionately about the need for Australia to provide education and training opportunities for students that would enable Australia to build a world-class space industry. 
Nicola Sasanelli, CEO of The Andy Thomas Space Foundation, said that the Foundation was delighted to be teaming up with Makers Empire again in 2022.
"At The Andy Thomas Space Foundation, we aim to build an ecosystem that promotes and supports the highest quality space activities in Australia to drive progress in education and innovation. We've been excited to see the space-themed projects and learning opportunities achieved by this year's schools, and look forward to seeing what next year's schools do." 
Jon Soong, co-CEO and co-Founder of Makers Empire, said that the partnership was a wonderful example of the way the company teams up with industry experts to deliver pioneering programs for SA schools. 
"By teaming up with partners like The Andy Thomas Space Foundation, we can put learning opportunities on the table for South Australian children that simply weren't possible before. We're excited to help more SA children learn about space and how they may play a future role in Australia's space program."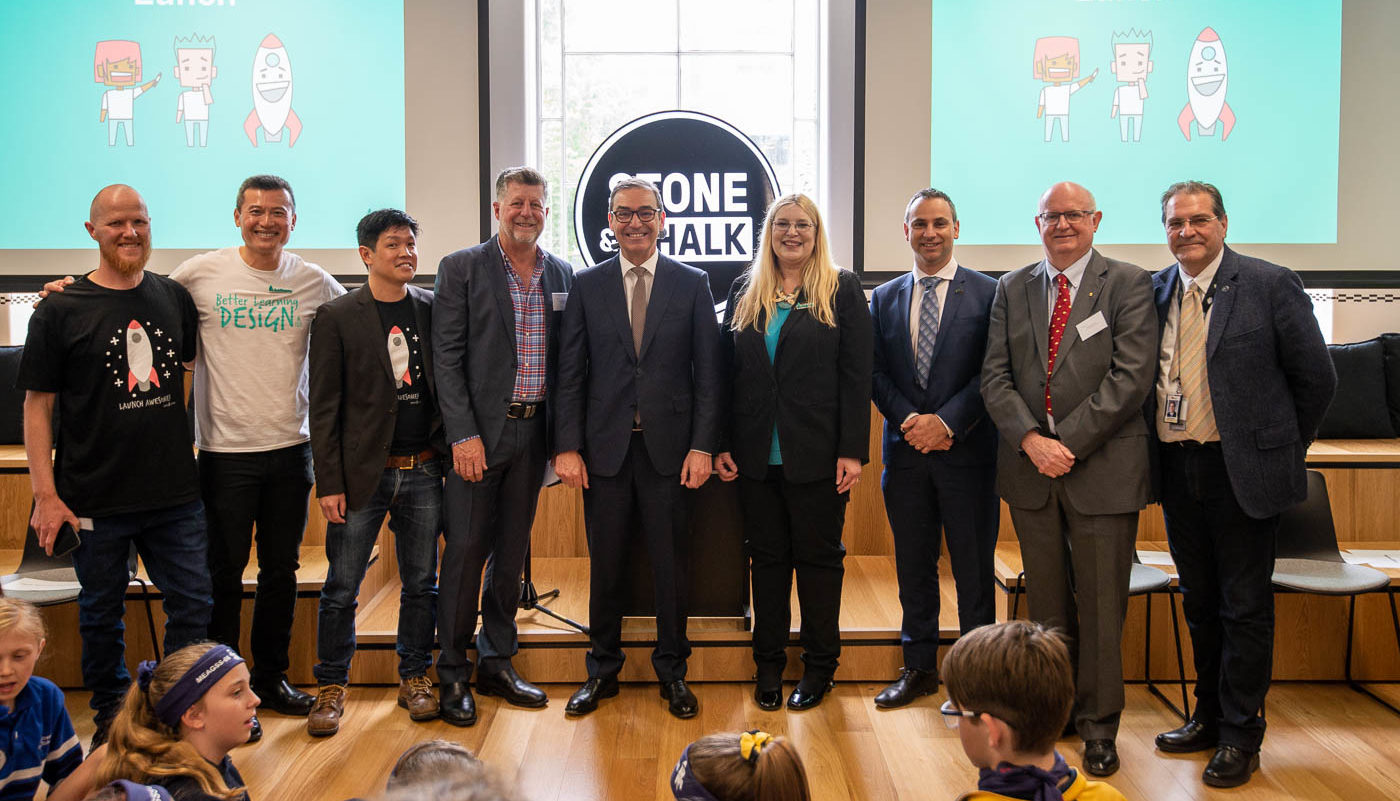 To conclude the event's formal proceedings, Premier Marshall announced the winners of the showcase day as voted on by the students — Streaky Bay Area School — and presented the students from Streaky Bay with a 3D printed winners' trophy.
Congratulations to all the teachers and students who participated in this pioneering pilot program, and thank you to all our partners and supporters. We're excited to be continuing the partnership with The Andy Thomas Space Foundation in 2022.