Gilles Street Primary School staff and students were recently introduced to the world of 3D printing and design via a Makers Empire Learning Program worshop.
The teachers analysed 3D printed objects up close, observed the surface of the objects and discussed the different materials used. They then got hands on with Makers Empire 3D design app exploring the different design modules – the "Character" module was definitely a crowd favourite.
The staff also brought along selected students to begin the journey into the world of design and 3D printing. The students were able to select, drag, rotate and re-size their very first 3D objects and set in motion the ability to now communicate their ideas in 3D – no longer constrained by drawings and pictures on paper.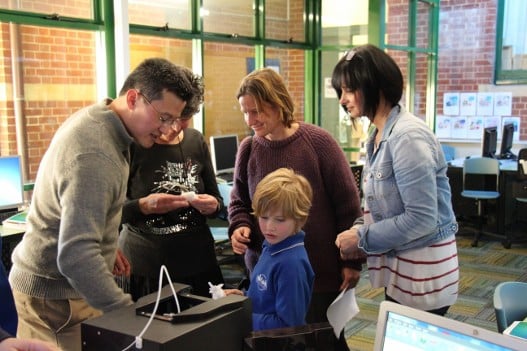 Jon Soong, Makers Empire CEO, commented, "In hosting this workshop, Gilles St Primary School has demonstrated their commitment to world education trends, such as design and 3D printing, to prepare their students for the jobs of tomorrow."
Val Zogopoulos from Gilles St Primary School said, "Teachers and parents commented that the training was authentic as we had a combination of parents, teachers, support staff and students all learning at the same time. Year 5s plan to design and make furniture for a house plan they have made using balsa wood. There has been a very positive response to the program."
At the end of the session one student already asked their parent for a 3D printer for Christmas. Now that's what we call a student on the path to success!

Makers Empire helps K-8 teachers teach Design Thinking, STEM and 21st-century learning skills using 3D printing. Our pioneering 3D solutions for schools include 3D modelling software, over 150 lesson plans aligned with international standards and professional development. With Makers Empire, engaged students learn how to solve real-world problems and make their world better.