At Makers Empire, we have tried many different 3D printers over the years. Given that our 3D printing app and software is designed for schools works, all our testing has been focused on finding the answer to this question: what is the best 3D printer for elementary/primary/middle schools?
With this in mind, here's our review of the Up Mini 2. Please note that this is the identical printer as the Afinia H400 as it is known in the USA.
Auto-leveling – no more calibration with a piece of paper!
Enclosed – great for safety as well as helping keep ABS prints flat (passively heated chamber)
LCD – easier to control
Air filter – important for K-8 schools where proper exhaust may not be available
PLA – recommended for schools
Temperature control – a big problem with earlier Up's was the lack of temperature control which led to all sorts of mods and hacks by those wanting to use non-proprietary filament
On-board memory – saves last few prints (although firmware appears buggy at the moment)
The price ~$599 USD or ~$900 AUD
Design feels good and solid
Wireless – I initially didn't think this would be that great, and i'm still a little skeptical in a managed/school environment where corporate wifi policies can be a pain. That being said, sending prints directly from the program to the printer (no cloud etc) has been quite good and I really like being able to check to see if a print has finished without leaving my chair!
Perforated board – annoying and dangerous (you need to remove prints with what amounts to a sharpened paint scraper)
New UPStudio software feels reasonably buggy and doesn't always 'sync' with the LCD properly. This feels like a problem that will be fixed with new software/firmware.
No SD card
Enclosed heated chamber – would have been nice if it was actively heated!
No camera on board to monitor prints
The spool holder – seems unnecessary would have preferred a simple 'turntable' and cheaper price. Ours was broken in the first two weeks and I'm not sure I can be bothered getting it fixed.
Would have been nice if the bottom of the printer was easy to clean out (see the Cubicon Single)
Quite a lot of language that could be improved in the app (it reads like it has been translated by a non-native English speaker)
The front top cover of the printer comes off so you can get to the extruder better – this feels a little 'plasticky' and unfinished
The Hardware:
The Up Mini 2 / Afinia H400 feels solid and looks great. It is a step in the right direction from the Up Box/Afinia H800 which felt a little 'plasticky' – this feels a little more like a BMW.
What's in the Box?:
Up Mini 2
Filament caddy
Tools
The Software:
The software has been upgraded from the 90s looking old Up software. It is an improvement and looks similar to the Zortrax software. Good features:
Online accounts
Convert photo to lithograph print
Monitor printer wireless
Change printer temperature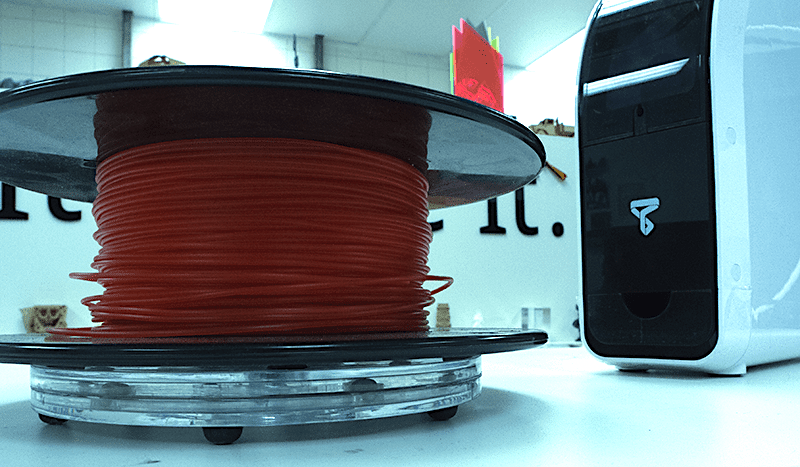 Filament caddy in the background – actual filament on a simple turntable that we find much easier to use.
Anyone who has used an older Up/Afinia printer will know that they are capable of excellent quality prints and this printer is no different.
Prints made using the Mini Up 2 are consistently of a high quality as you can see above. Surfaces are nice and smooth, and there's no sign of wobble within straight surfaces. The build volume is a little small, but I think that lends itself to the good print quality.
The short answer: Whilst not perfect, we believe that the Up Mini 2/Afinia H400 is currently as good as it gets. This 3D printer represents great value and performance for schools looking for a "plug 'n' play" experience. It's our expert opinion that it would be almost impossible to have a bad experience with this printer. Put simply, you can't go wrong.
The longer answer: Over the years, one of our favorite 3D printer manufacturers has been Up (also known as Afinia) – they have been around for years now and their printers are well known for their durability and reliability. We have literally carried an Up Plus 2 / Afinia H480 around the world in a shopping bag as we meet with clients and watched it perform admirably and consistently.
The Up Mini 2, which is Up's cheapest printer, represents a significant upgrade to their older models. It has more features than its 'big brother', the Up Box.
Print quality is not that much different from earlier Up/Afinia printers – the improvements we've noted are mainly around its ease of use and safety features. However, as mentioned, this printer produces excellent quality prints.
Other resources:
Best 3D Printers for Schools
To read more about our experiences with school printers, read our guide to the best 3D printers for American schools and best 3D printers for Australian schools.