Makers Empire is launching new custom avatar parts in its popular 3D design app, Makers Empire 3D. This update to the popular 3D modelling app is expected to be available from app stores and the Makers Empire site by mid-July, 2019.
This new feature means students can create their own unique body parts and outfits, hats and accessories so that their avatar is truly one-of-a-kind!
We expect that students are going to love the unlimited creativity offered by this new feature, and spend endless hours creating new parts and outfits for their heroes.
Wondering how to make custom parts for your Makers Empire avatar? Check out this video and step-by-step instructions.
Mandi Dimitriadis, Director of Learning at Makers Empire, says, "This new feature brings a whole new level of engagement and creativity to Makers Empire. I can't wait to see students expressing their ideas with new costume designs. I think this also allows for authentic spatial problem-solving. For example, if a student wants to make a superhero costume of an animal mask, they won't find ready-made parts but will have to think creatively about how they can put shapes together to create the look they are going after."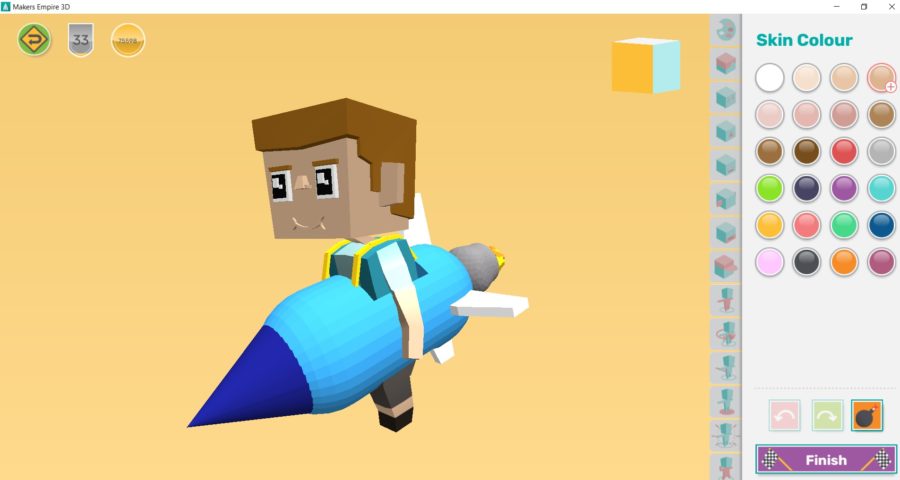 So how can teachers use the new custom hero parts feature to teach across the curriculum, strengthen student engagement and deepen student learning? Here are our top ten ideas for lessons using 3D design:
Top Ten 3D Design Lesson Ideas Using Custom Avatar Parts in Makers Empire
1. Research traditional masks of an indigenous culture. Design your own mask inspired by that culture.
2. Imagine you are going on a mission to another planet. Think about what type of dangers you'd encounter, and design a spacesuit that will protect you on your mission.
3. Choose a country that you'd like to visit. Research the traditional clothing of people from that country. Create a costume for your Hero in the traditional style of that country.
4. What is your favourite book? Who is your favourite character in that book? Design a costume to make your Hero look like that character.
5. Research an ancient civilisation and find pictures of what they wore. Create a costume for your Hero in the style of that civilisation.
6. Imagine you are researching wildlife in your country. Think about the habitat you will be working in, and design an outfit that will help you camouflage in that environment.
7. What is your favourite sport? Which is your favourite team? What equipment do the players use? Create a uniform for your Hero in your team's colours.
8. Think about your favourite animals. What special features do they have? Create a new mutant animal by combining parts from your favourite animals.
9. Choose any historical figure and create a costume so your Hero looks like that person.
10. Who is your hero? Who inspires you? Do you have a sportsperson, scientist, family member or another famous person that you particularly admire? Dress your Makers Empire Hero to look like your real-life hero.
This should be enough to get you started and show you the possibilities for learning by using the new custom hero parts in Makers Empire 3D. We can't wait to see the outfits that you and your students come up with!
Please note that heroes (avatars) cannot currently be downloaded as .STL files for 3D printing. We aim to make this possible very soon.