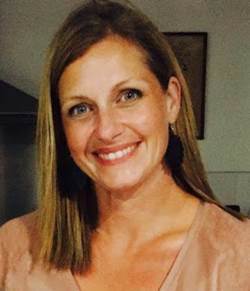 Fiona Graff is a Year 7 Homeroom Teacher at Cabra Dominican College in South Australia. She has been using Makers Empire with her students for one term. Some of her students designs created using Makers Empire were recently accepted in the Waging Peace exhibition currently on at the MOD. MOD. is Australia's leading future-focused museum, provoking new ideas at the intersection of science, art and innovation. We recently spoke with Fiona about her students' involvement in the exhibition and how she is using Makers Empire in the classroom.
How did your students involvement in this exhibition come about?
I had recently explored the MOD. Museum with my own children to determine if it was a suitable excursion venue that would support our learning in year 7.
How did this project connect with what you're working on in the classroom?
A central theme within our own home class has been a focus on the Common Good. The students understand Common Good as something that is reached when we work together to improve the wellbeing of people in our society and the wider world.
This concept aligns with the Catholic Social Teaching Values where every person should have sufficient access to the goods and resources of society so that they can completely and easily live fulfilling lives. The students explored the idea of the rights of the individual to personal possessions and community resources being balanced with the needs of the disadvantaged and dispossessed. This was particularly evident in our research into countries deeply affected by water scarcity. Designing a machine of peace reinforced this theme perfectly.
Tell us about your experience using Makers Empire for this project.
We were able to have a cross curricular approach when using Makers Empire to design a Peace machine in the once a week topic Personal Learning/Genius Hour lesson. It fit into our RE lessons as well as our current topic in HASS- Investigating Water Scarcity in Northern African countries. Some children chose to make a Peace Machine to prevent water scarcity.
The first project was allowing the class time to complete the Makers Empire Challenges. We worked through several of the designs in the Resource Section of Maker's Empire and in particular focused on the Resource of '10 Ideas To Get Started'. This allowed myself, and the students, time to focus on the tools and the possibilities in Makers Empire.
Time spent exploring and creating, supported our ability to think laterally and innovatively when designing a Machine of Peace for the MOD Museums new exhibition – 'Waging Peace' .
As a class we spent several lessons unpacking and consolidating our understanding of Peace and the functions of a Machine. Then Makers Empire was used to create the prototype of a Peace Machine.
Some children chose to work independently and some collaboratively on this task. Regardless of children working independently or in small groups, there was a focus on the ACARA General Capabilities of Social and Personal Capabilities in all our lessons.
Children were encouraged to share ideas and apply constructive feedback to enhance their design. They supported each other to manage their project and ensure it met the set criteria within a time frame. They considered the impact of the peace machine on local and wider communities creating a stronger sense of what it means to be socially and ethically responsible.
The prototype of the Peace Machine was accompanied by a 150 word description of the design and how it supported the Common Good of all humanity to bring about peace. The students printed their designs they had created using the 3D printer.
This slideshow requires JavaScript.
How much guidance or help did you provide the students with their designs?
Students worked in Makers Empire competently and rarely needed my support in the design process. They were self-sufficient.
The initial planning of how a peace machine could create peace was when some students needed assistance refining a credible idea into a prospective machine that sustained or created the Common Good.
How did the students decide on a final design? What was the process?
I adapted suggested planning/information provided by the MOD. Museum to support the cohort of Year 7s to design the peace machine. We used a design process to work through our ideas and experimented with descriptive words to describe the machine.
It was important students had opportunities to share their designs with each other, ensuring their learning progress was visible to one another. This approach placed emphasis on solving problems through social interaction. Through investigating this problem — how to design a machine of peace –students were required to ask questions and use a variety of resources to find solutions and answers.
My role in creating this collaborative workspace was to promote discussion by presenting specific concepts and ideas, problems or scenarios to support the development of their thinking in order to solve the problem. Through effective directed questions and the introduction and clarification of concepts, students were able to refine their designs.
What skills, interests and mindsets have your students developed through this project?
Solving a problem with the intent of improving the Common Good of humanity within a collaborative framework.
The design process itself required a creative and innovative mindset, rather than following a prepared set of instructions (e.g. painting by numbers approach).
Using the Makers Empire program further strengthened their ICT and problem solving capabilities.
Building spatial thinking to create products and services to support individuals and families.
Developing project outlines.
Listening, talking, questioning and evaluating decisions
So what's next for you?
Currently, I am using Maker's Empire with my two Year 8 Maths Essentials classes. Their task is to design a three dimensional symmetrical bubble blower or a tessellating biscuit cutter. This design process will consolidate their investigating into three dimensional shape properties.
View the Waging Peace exhibition until April 2019 at MOD. on North Terrace, Adelaide, South Australia.
MAKERS EMPIRE: BETTER LEARNING BY DESIGN
Makers Empire helps K-8 teachers teach Design Thinking and STEM/STEAM concepts and implement maker pedagogy in the classroom using 3D design and 3D printing. Our pioneering 3D solutions for schools include 3D modelling software, over 130 curriculum-aligned lesson plans, a teacher's dashboard for easy class management, professional development for teachers and ongoing support. Makers Empire is used by thousands of teachers and hundreds of thousands of students in Australia, the USA, Asia and Europe. Join us.