The next update of Makers Empire (version 4.3) will introduce some brand new features:
Game Zone / Maze Mania -a super fun new design tool
Welcome to the World – a more engaging way to get started with Makers Empire
View Cube – improved rotate view tool
1. Game Zone / Maze Mania
Game Zone (see above) has been carefully designed by our team to complement and accentuate student's learning, drawing heavily on the principle of 'hard fun'. Students will love the opportunity for creative, immersive play, while teachers can be confident that they are actually learning and thinking – a lot!
On entering Game Zone, users see one active machine – Maze Mania (more machines will become active as new mini games, like 카지노사이트, are added.) Maze Mania is an extremely engaging and interactive design experience. Users can both play and make 3D mazes, which provides a great opportunity for teaching Design Thinking, especially highlighting the importance of testing and iteration.
Using simple blocks, students build their maze from the ground up. They must consider the physical constraints of a maze, and how they are going to make their maze fun and interesting for other users. Before they can share their maze, users must test it to make sure it is actually finishable (and fun). This instant feedback loop provides students with direct and compelling motivation to iterate on their maze.
Once they are happy with their design, students can invite their friends to play their maze. A leaderboard of finish times encourages users to replay mazes to beat their best times, and maybe even get a world record! In doing so, students are formulating connections, predicting outcomes and exercising their spatial memory.
Interested to learn more? Check out a help article we have written about the Game Zone.
We understand that there will be times when a teacher wants to focus their classes' attention, so it is possible to limit students' access to Game Zone during school time – check out this help article..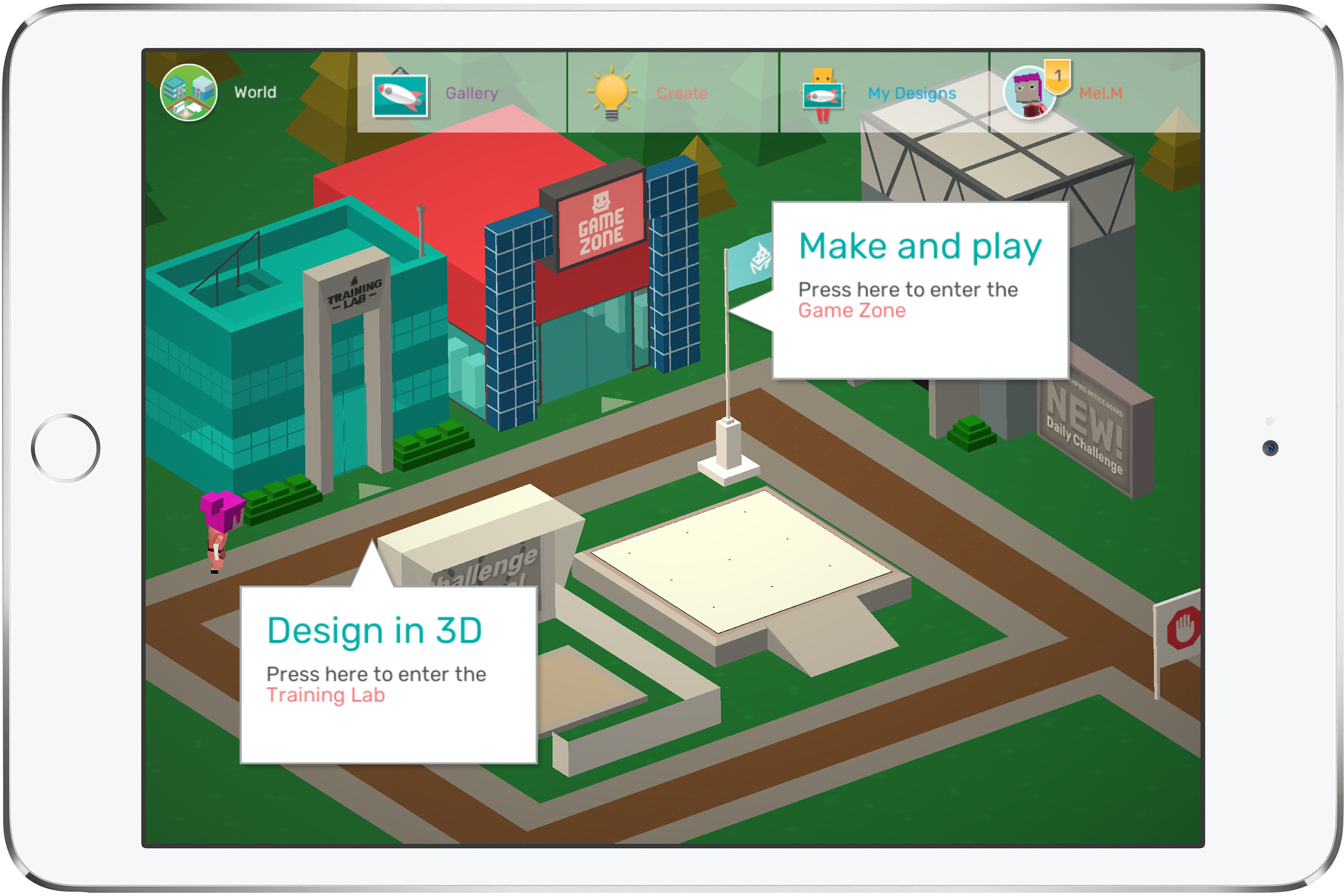 2. Welcome to Maker World
Maker World (see above) was introduced in version 4.1, and it continues to grow and improve with every update.
Previously the World was unlocked once a user reached Level 3 (a new user can reach level 3 by creating their account, making their 'hero' and completing four "Training Lab" tutorial challenges). Our research indicated that a significant number of users weren't finding the world easily enough, and hence were missing out on some of the best features of Makers Empire 3D. To remove this barrier, we've modified the process so once a user has created their account and made their hero they will now land directly in the World.
For new users only two areas will be available, Training Lab and Game Zone. To unlock the other areas, Challenge Central, Mission Maker, Daily Challenges and Competition Area, we recommend new users complete tutorials in the Training Lab. Once users reach Level 3 and have learned the basics of using Makers Empire's design tools, as before, the entire Maker World will be accessible to them.
3. View Cube
In Shaper, Blocker and Maze Mania, users will notice a new, colourful cube on the top right of their work area (see above). This cube is a 3D rotation tool which makes it a lot easier to adjust the view angle on a design while working at any zoom level.
To freely rotate the cube, just drag on any face of the cube with your mouse or finger. Clicking (or tapping) the face of the cube will spin the work platform to a perfectly level view of that angle. The coloured faces of the cube correspond to the coloured bars on the work platform, so it's always easy to get your bearings.
We expect these updates will be ready for you later this week via the App Store, Google Play and the Makers Empire website. If you have any issues installing Version 4.3 please let us know.
MAKERS EMPIRE: BETTER LEARNING BY DESIGN
Makers Empire helps K-8 teachers teach Design Thinking and STEM/STEAM concepts and implement maker pedagogy in the classroom using 3D design and 3D printing. Our pioneering 3D solutions for schools include 3D modelling software, over 130 curriculum-aligned lesson plans, a teacher's dashboard for easy class management, professional development for teachers and ongoing support. Makers Empire is used by thousands of teachers and hundreds of thousands of students in Australia, the USA, Asia and Europe. Join us.