One of the world's greatest aviation feats – the 1919 flight from England to Australia by SA brothers Sir Ross and Sir Keith Smith – is being celebrated this year to inspire a new generation.
The Smith brothers, with their mechanics Wally Shiers (SA) and James Bennett (Vic), made the pioneering 28-day journey in a Vickers Vimy biplane of spruce wood lined with lacquered fabric, with open cockpits and little more than a compass and maps for navigation.
Under the auspice of the History Trust of South Australia, a new program has been developed by state and local government, key cultural institutions, veterans' organisations, RAAF and Adelaide Airport to present centenary events and an education program for schools. As part of the celebrations, Makers Empire's August Design Thinking competition will be themed around Marmaduke, the mascot the brothers took with them on their historic flight.
Check out this video made by the History Trust of SA:
The Idea Behind the Original Flight
In 1919, Australian Prime Minister Billy Hughes was flying between England and France for the Paris peace talks and realised the potential of aviation to link his young nation to the world. Knowing it would also build pride after a devastating war that claimed 60,000 Australian lives, he announced a £10,000 prize for the first Australians to fly from London to Darwin in a British-made plane.
The planes were rudimentary, with open cockpits and only basic navigation (it was still just 16 years after the Wright brothers made the first powered flight!) Aerodromes along parts of the route were non-existent. Yet six Australians crews took up the challenge: two were killed; two crashed out. A French pilot made it all the way to Asia before he crashed out, too. Only one crew made it home inside the required 30 days – the Smith brothers and their mechanics.
This slideshow requires JavaScript.
The Makers Empire Marmaduke Competition
Each month, Makers Empire runs an in-app competition for students to test their Design Thinking skills against their peers all over the world. Competitions can attract up to 24,000 entries and they're a great way to engage students in Design Thinking and 3D design.
For our August competition, students need to create a new Marmaduke mascot using Makers Empire. Thanks to the Royal Australian Air Force, our winning Marmaduke mascot will go on an epic mission to the Middle East aboard a C-17A Globemaster III strategic transport plane. The winner and his/her family will also be invited to the RAAF Base Edinburgh Air Show in November to meet a crew from No. 36 Squadron RAAF and tour a C-17!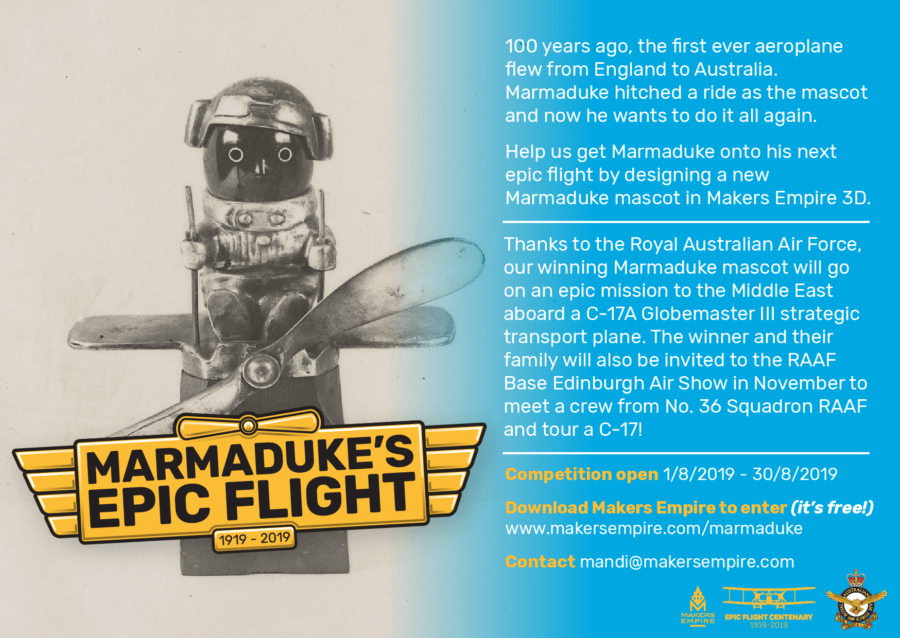 How to Enter the Competition
From August 1st, students can view the Marmaduke competition information inside the Competitions module within the Makers Empire 3D design app.
Don't have Makers Empire 3D yet? Simply download the app. Makers Empire is free for individual users; schools can purchase a school subscription or package.
Follow the instructions and design a new Marmaduke mascot. Don't forget to submit your entry. Good luck!