Garfield's Sail Away Challenge
Professor Garfield, NYIT TBLS and Makers Empire 3D design and printing competition
FREE to enter – enter email for teacher resources
Starts: 1st October 2016 – Ends: 18th of November 2016

Competition details
Professor Garfield has heard that the world's sweetest tomatoes grow on a remote tropical island. He wants to get some of those sweet, sweet tomatoes for his lasagne sauce.
He needs a boat! We are calling all nautical engineers to design a 3D boat to help Professor Garfield out.
Professor Garfield has been analysing the situation. He has considered the weather conditions, his own weight and the amount of tomatoes he will need. He has determined the criteria his boat will need to meet:
1. The boat will need to be able to travel a distance of 26 inches (66 cm) in as short a time as possible (using a fan)
2. The boat needs to stay afloat when loaded with 5 marbles
Encourage your students to enter Professor Garfield's Sail Away Challenge for their chance to be named 'Professor Garfield's Nautical Engineer of the Year' and have their designs featured on the Professor Garfield and Makers Empire websites.
Enter one of these exciting categories:
– Nautical Designer: Design a boat using Makers Empire's 3D design app and submit the design through the app
– Nautical Engineer: Design a boat using any 3D design software. 3D print the boat and submit a short video of the boat in action showing how it meets Professor Garfield's design criteria.
Starts: 1st October 2016 – Ends: 18th of November 2016
Prizes to be won:
Garfield T-shirt + signed Jim Davis Artwork
Categories:
Category: K – Grade 2
a. nautical designer
b. nautical engineer
Category: Grade 3 – Grade 5
a. nautical designer
b. nautical engineer
Category: Grade 6 – Grade 8
a. nautical designer
b. nautical engineer
Category: Grade 9 and above
a. nautical designer
b. nautical engineer
Download teacher and student resources
Teaching Resources
First name
Last name
Email
School
School type
Country
How to enter via Makers Empire Free 3D application
Note: this competition will not be LIVE until October 1
– 1. Download the Makers Empire app
Via Apple iTunes, Google Play, Mac and Windows
– 2. Create your design
– 3. Select your design
– 4. Press the "Win with this design" button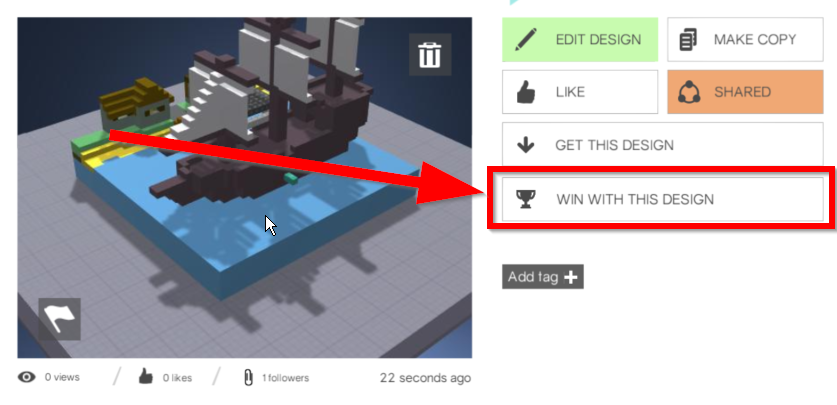 – 5. Enter details about your entry
– 6. Select your age and submit design
Enter via other 3D application
– Create your 3D design entry
– Export an .STL version of the design
– Save an image of your entry (512px by 512px)
– Enter here
More about 3D printing in your school
– See previous competitions: here
– How to get started 3D printing in your elementary or primary school: here
– 3D design inspiration: here

Sponsors
Special thanks to:
– Jim Davis
– Professor Garfield
– NYIT TBLS
– Makers Empire