Following a successful pilot program last year with ten primary schools from the Adelaide Hills, Port Lincoln, and metropolitan Adelaide, Makers Empire teamed up again with community organisation, Bushfire Kids Connect, in 2022 to deliver Bushfire Brave to a further six schools.
Bushfire Kids Connect is a child-led organisation founded by nine-year-old Sebastian Ascott and his mother Carly after their home was impacted by the 2019 Cudlee Creek bushfires in South Australia. After identifying a gap in the mental health support for children after the fires, Bushfire Kids Connect focuses on injecting fun back into the lives of children impacted by fires through events building community connection and resilience.
Bushfire Brave aims to help students feel well informed about bushfires and to build emotional wellbeing and empathy for managing fears and supporting recovery for bushfire impacted families. The program aims to support teachers to empower their students as problem-solvers, and design-thinkers using 3D design and printing to develop innovative designs to help families in bushfire affected areas.
Over terms two and three in 2022, six primary schools from the southeast regions of South Australia completed the Bushfire Brave program, which includes Makers Empire's Learning by Design course and professional development days for teachers and students completing the Bushfire Brave Challenge Course. Participating schools were Kalangadoo Primary School, Kongorong Primary School, Naracoorte Primary School, Richmond Primary School, Suttontown Primary School, and Tenison Woods College.
Participants engaged in a modified version of the Makers Empire's Learning by Design course. Based on effective professional learning models, the professional learning program was offered as a blend of three types of learning, experiential, social and formal. The program was tailored to meet the learning needs of participants.
The face-to-face session were well received by participants with strong attendance and participation. The face-to-face professional learning day was held at the Commodore Function Centre in Mount Gambier.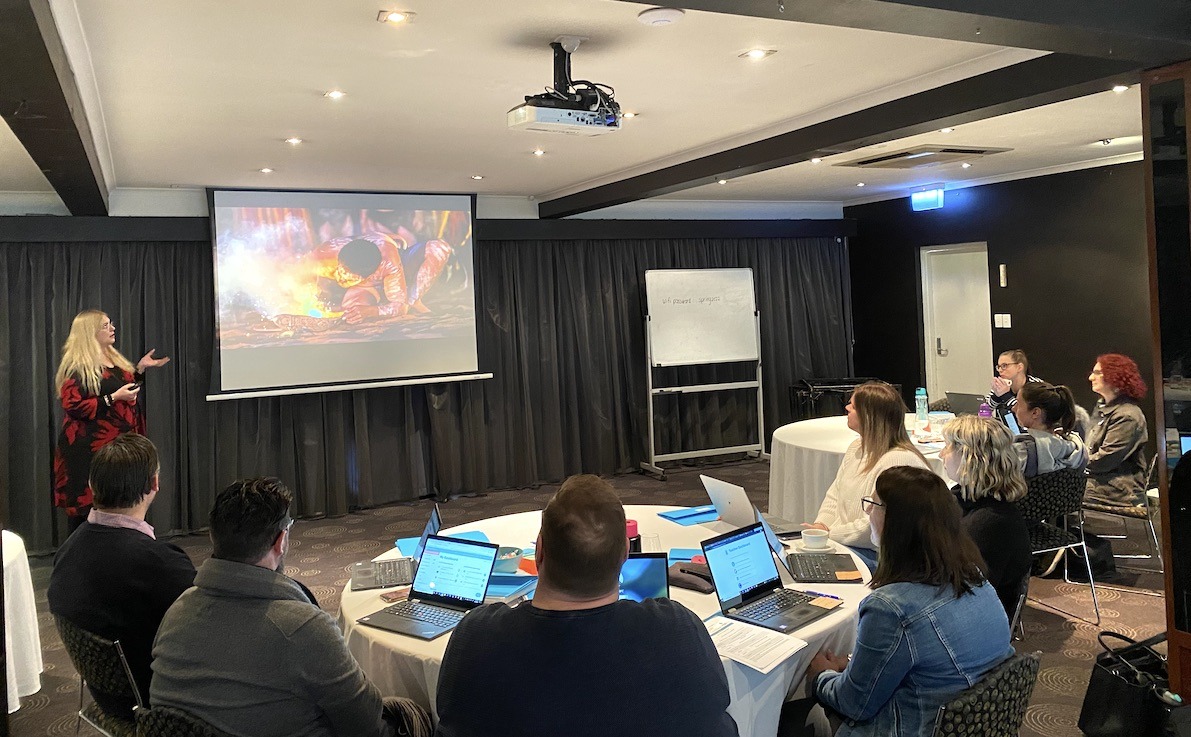 In November 2022, the schools came together for a showcase event at Tenison Woods College in Mount Gambier to celebrate their learning and share their projects with each other.  The showcase event was attended by over 50 students, teachers, representatives from Bushfire Kids Connect, Australian Red Cross, and Makers Empire team members. 
The showcase day was opened by Makers Empire's Director of Learning, Mandi Dimitriadis, who introduced Boandik Elder, Aunty Michelle Jacquelin Furr. She provided a Welcome to Country and shared insights into traditional knowledge, history and relationships with fire.
Here are the founders of Bushfire Kids Connect, Carly and Sebastian Ascott, with Anthony Chhoy, co-CEO and co-founder of Makers Empire.  
Students then alternated between hosting their stands and sharing their learning with their peers and visiting other stands to learn about their projects and collect stamps on a specially designed passport. Students from Richmond Primary School provided a static display of their projects and also joined the event virtually to learn about other students' project ideas. 
Below are examples of the innovative ideas by students:
A survival kit that has everything a family might need if they are required to evacuate during a bushfire.
A super-hydrater that attaches to firefighting belts with a carabiner clip allowing access to clean, filtered water.
The Ultimate Air Refresher that keeps air clean and fresh during a bushfire.
A drone that carries water and drops it where needed.
A truck that has water tanks on it so that it can travel to where firefighters are if they run out of water.
The TorchSaver that has a strong light that defends fire and makes it clear to see at night and also in daytime when it is smoky. If you were stuck in a room you can press the yellow arrow and the room will be protected and will not be destroyed. This torch saver is very helpful.
To conclude the event's formal proceedings, each student was presented with a certificate. Sebastian Ascott from Bushfire Kids Connect then announced the winners of the showcase day as voted on by the students — Tenison Woods College, Girls Group — and presented the winning students with a 3D printed winners' trophy.
"I nearly pulled out of the project because a student in my class had recently lost his home in a house fire. After speaking with his parents, I decided to go ahead and I'm so glad that I did. The Challenge Course and the videos were so sensitively and carefully put together that the student felt safe and comfortable with sharing his own experiences. I think being able to be creative and think of ways to help has been empowering for this student in particular as well as the other students in my class. This student now wants to be a firefighter!"
"It was great being supported to design a unit of work that I could implement with my class across the term. This project helped me see how I can integrate ICT in all learning areas."
"It was amazing watching the kids question each other and give great feedback on designs. They really warmed up and were so confident interacting with students from other schools."
"The showcase day was so well organised. A great celebration of student-led learning. The whole learning program has been engaging, relevant, and for my students."
"This is such a relevant topic in our area and this project gave me the resources and confidence to go more deeply with my students."
"The content of the Challenge Course was really great. My kids loved the quizzes and design challenges. They kept trying to improve their scores on both of these activities- great for resilience!"
Anthony Chhoy, co-CEO and co-founder of Makers Empire, said, "we're delighted to continue our partnership with Bushfire Kids Connect and help more South Australian students understand more about bushfire management, being prepared for bushfires and how they can help families affected by bushfires. Congratulations to all the teachers and students involved this year – it was fantastic to see all the innovative designs students created using Design Thinking and Makers Empire."
Carly Ascott, co-founder of Bushfire Kids Connect, said, "The continuation of the Bushfire Brave project into regional SA was a heart-warming experience. The innovative ideas of the students and empathetic designs were so impressive! The children involved in the project shared many stories and experiences around exposure to fires, highlighting the necessity of this program to foster the wellbeing of children in bushfire prone regions. Sebastian made a connection with the students, which has continued beyond this day. Connection through shared experience is the reason for Bushfire Kids Connect."