Benefits of a Makers Empire Subscription for Schools
Made for Schools
If you're an educator at a primary, elementary or middle school, you'll know that products made for individuals aren't always suitable for use in schools. Managing the work of classes of students can be frustratingly laborious if you don't have a product designed for teachers and students. Fortunately, Makers Empire includes helpful class management tools and built-in student assessment.
Designed For and By Teachers
Makers Empire has been designed for and by teachers working together with technology and user experience experts to ensure that it is a genuinely powerful and transformative complete learning solution for schools. We firmly believe that you shouldn't have to be a technology expert to use 3D technology effectively in the classroom. So we've done the hard work putting together everything you need so you can concentrate on doing what you do best – teaching!
Aligned to International Teaching Standards
Makers Empire's 150+ lesson plans are aligned to American, Australian and international teaching standards and curriculum, so you know what your students will learn and how they will learn it. The built-in challenges within the app provide endless opportunities for learning for your students, while the built-in assessment will save you time at the end of term when you are preparing student reports.
World's Easiest to Use Software for Students
Makers Empire is the world's easiest to use 3D modeling software. It's intuitive, engaging design and built-in challenges mean that anyone can start designing in 3D in minutes. Makers Empire 3D is especially popular with younger students, who often prefer an app that can be used on a touch screen device (eg. iPad) rather than apps that require the use of a mouse.
Tools, Resources & Support for Teachers
Just as students need intuitive 3D modelling software, teachers need appropriate tools, resources and support to become confident teachers of 3D technology. Without this, schools are unlikely to achieve the full educational benefit that can be gained with this type of hands-on, creative learning. Luckily, Makers Empire provides educators with all the tools, curriculum, professional development, resources and support you need to succeed in the classroom.
Ongoing, Timely Support
There's nothing more frustrating than having a class of students ready to learn and not being able to move forward because of an unexpected glitch or problem that you can't resolve. Fortunately, all Makers Empire's School Subscriptions and Printer Packages come with ongoing, 24/7 expert support, so you can always reach out for help when you need it.
Comparing Makers Empire 3D to a School Subscription
[go_pricing id="comparebuysoft_5cae8ac0ef8f3″]
[go_pricing id="comparebuy_5cae8f1c36661″]
[go_pricing id="comparebuy_5cae8f1c36661″]
The Makers Empire Difference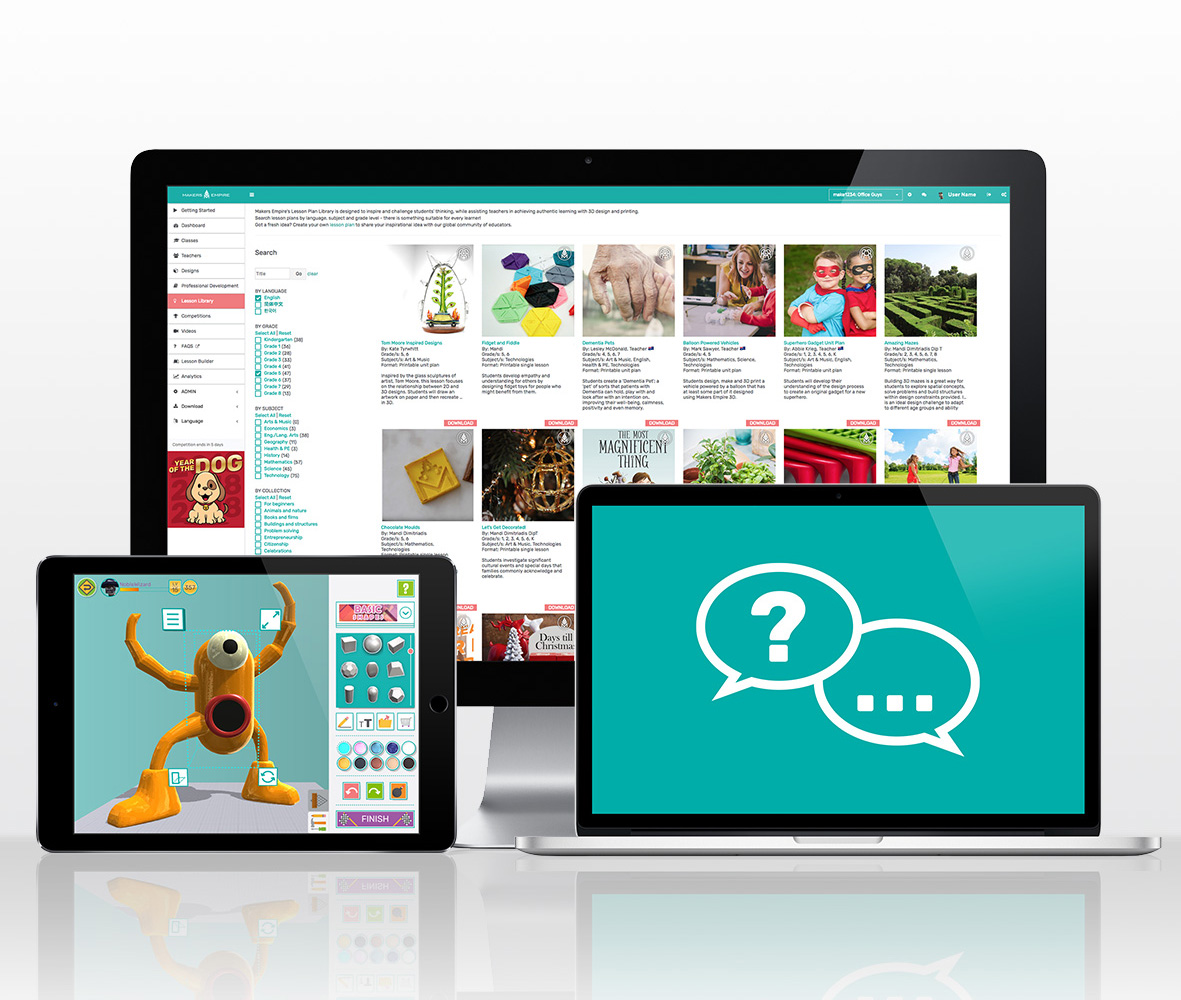 The Makers Empire 3D app is just one component of our innovative 3D solutions for schools. But don't just take our word for it: Common Sense Education recently awarded Makers Empire School Subscription a 2018 Top Pick for Learning.
"This has been a wonderful new way to teach and motivate my students…The overall enthusiasm towards school and learning has increased tremendously. Students who are typically reluctant learners have come to life,"
Robin McGinnis, Teacher
North Elementary School, USA
Tell us a little more about your school or group of schools so we can generate your personalized quotation.
We promise never to share your information – see our privacy policy.