Our students are living and learning in an increasingly digital society. Internet search engines, apps, social media and other online environments are important aspects of our everyday lives. Digital tools and spaces can provide powerful learning experiences and tools for teaching and learning. 
The current global pandemic has seen most of us spending more time than ever before online. With all the benefits that come with online learning and digital tools there are also inherent dangers and pitfalls to be aware of. 
The Washington Post recently highlighted the need to help young people know what to do online, rather than always telling them what they can't do. It is now more important than ever that our young people learn to be responsible digital citizens who know how to stay safe in online environments and digital spaces. 
Whether you use Makers Empire in an online or offline capacity, there are many opportunities to emphasise e-safety and provide authentic opportunities for students to practice safe and responsible digital behaviours in a protected, child-friendly environment. Here are our top 6 teachable moments for using Makers Empire to help students become responsible, safe and effective digital citizens.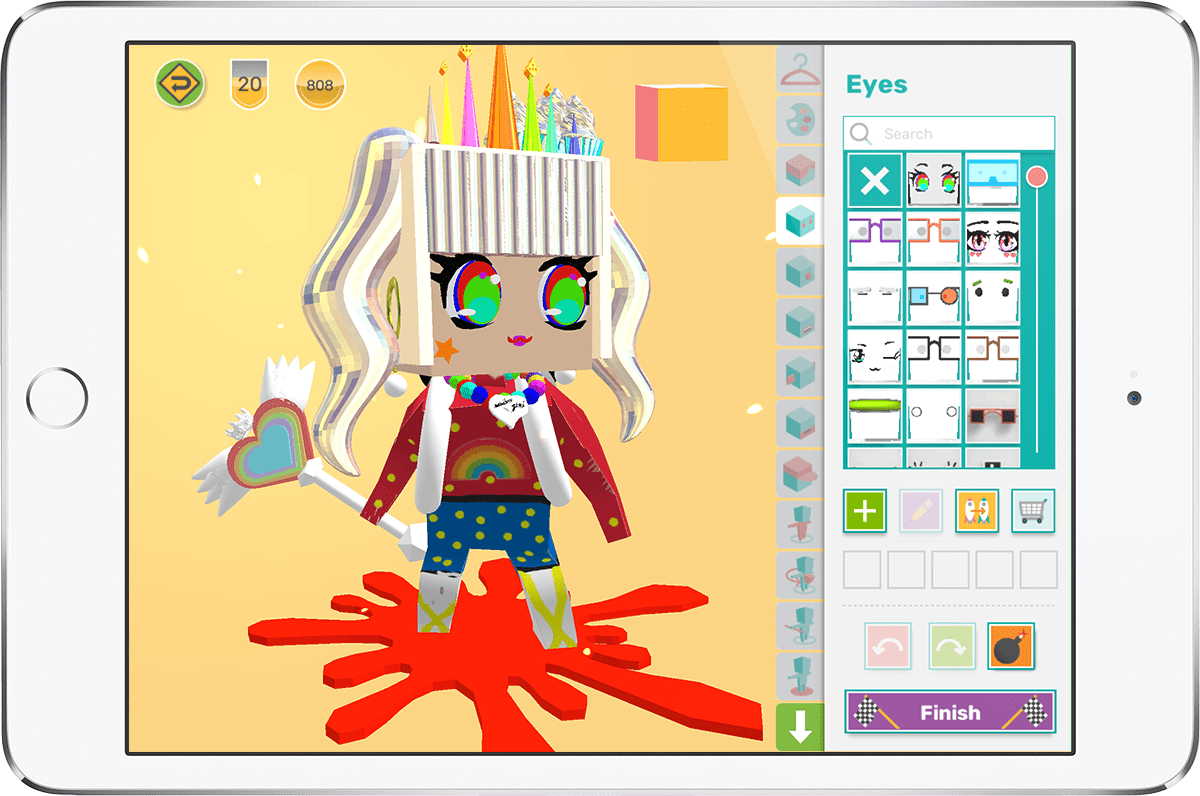 When a student logs on to Makers Empire for the first time, they are asked to design their avatar. We want students to get creative and start designing straight away. Most importantly we want students to design an avatar to represent themselves in the app right from the start. Avatars are a common and useful way for us to protect our identities in digital environments. Cyber security expert, Theresa M. Payton says that avatars are a great way to prevent children inadvertently sharing personal information online. 
While your students are having fun choosing colourful outfits, goofy facial features and funny poses, it's also a great time to talk to them about why they are creating an avatar. Using an avatar to represent yourself protects you from revealing your identity or sharing personal information. This is a teachable moment that keeps on giving, as students can update their avatar whenever they wish and even create a collection of different looks for their avatar to wear.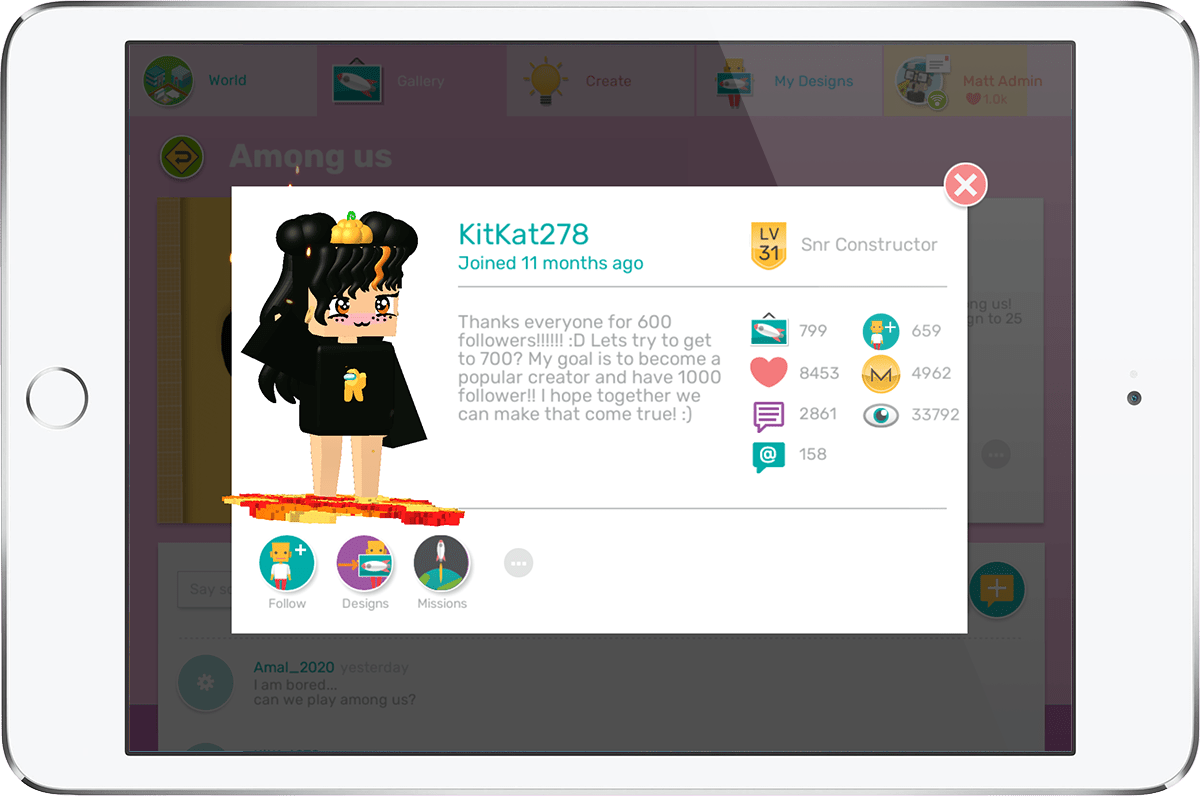 Another important conversation to have with students is about how to create usernames that protect their identity while allowing them to access fun and educational apps and programs. Like avatars, usernames are a useful tool for helping students stay anonymous in digital spaces. A good username is easy to remember but not easy for others to associate with a specific user. Whether teachers ask students to create their own usernames or provide them with pre-prepared ones this is a good time to emphasise the importance of protecting our digital identities. 
Makers Empire's Teacher Dashboard helps teachers manage students' usernames while also being able to identify students' real names within a protected portal. You can also change a student's username if they inadvertently choose a name that is too close to their real-life identity.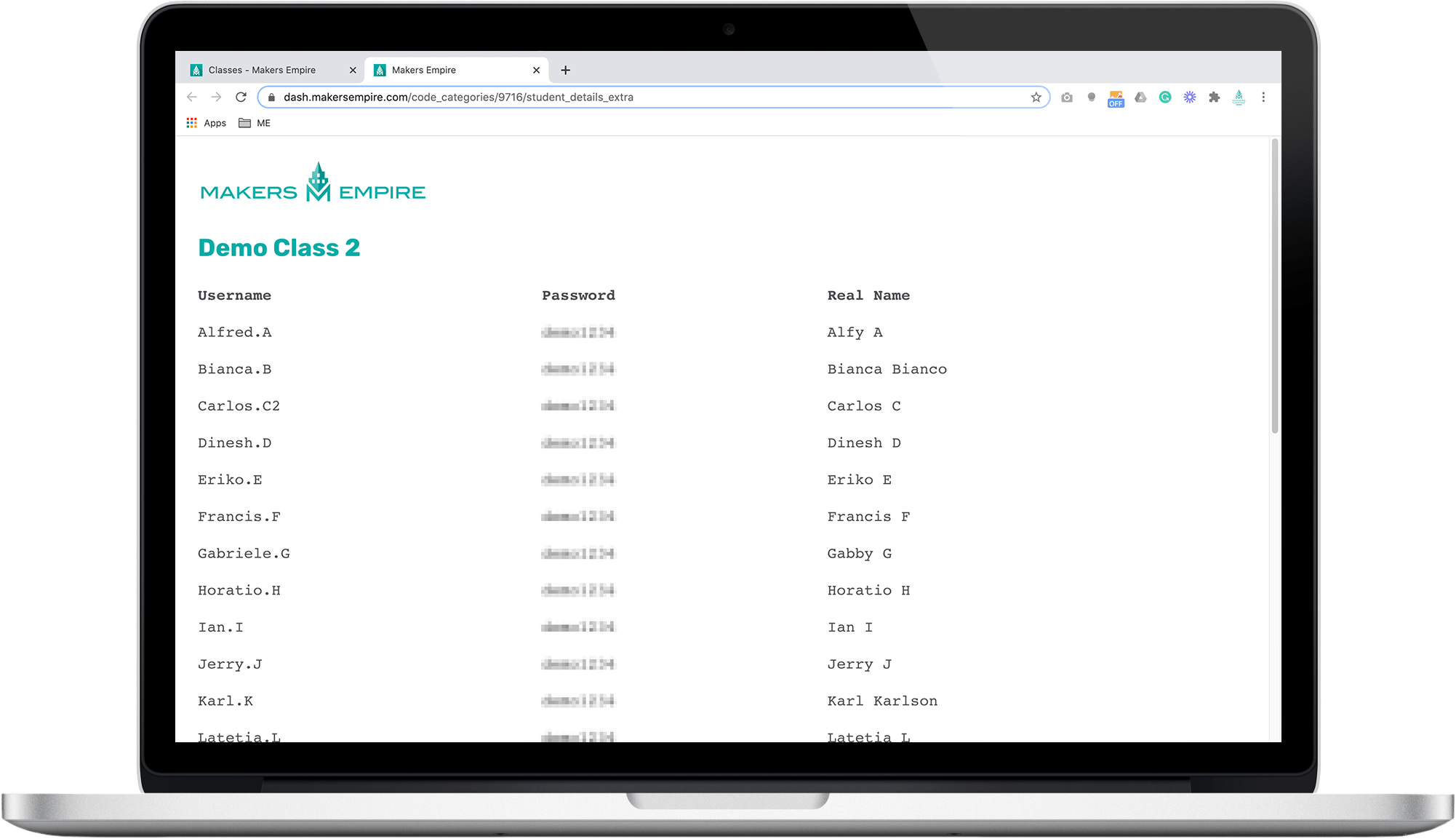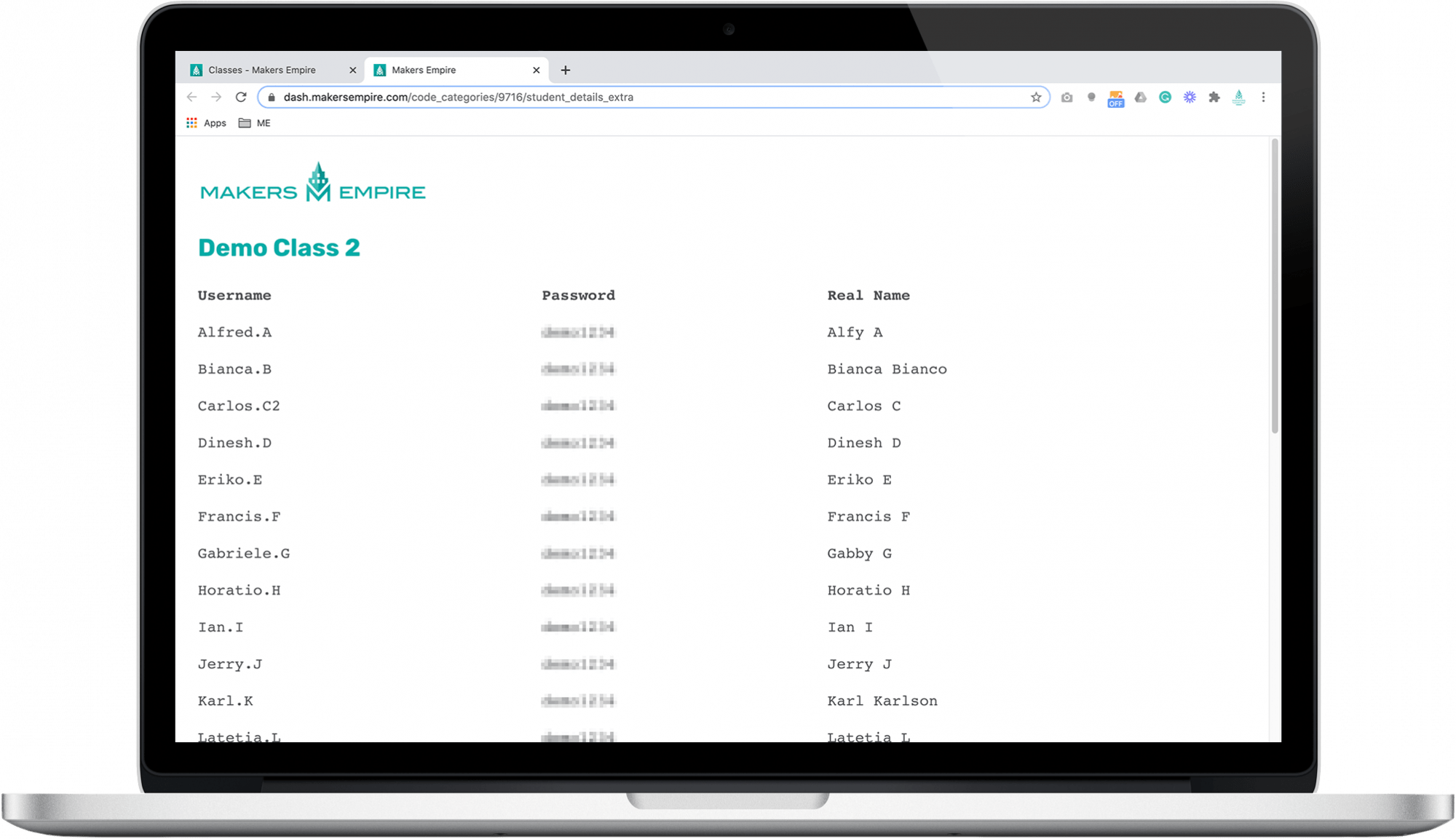 A recent research study published by the Journal of Cyber Security found that 'we should deliberately nurture the development of good password hygiene habits as and when children are first learning to use their passwords' Similarly, The Wall Street Journal recently published advice on how to teach kids how to use passwords safely and efficiently. 
Makers Empire accounts are usually accessed by a username and a password. We all know how important passwords are in keeping our information, activities, and identities safe online. We also know how hard it is to keep track of a growing number of passwords and how annoying it is to be constantly resetting or racking our brains to remember a forgotten password. Be sure to talk to students about creating a password that is easy for them to remember but not easy for others to guess. It is important that they don't give their passwords to anyone else and that they keep their passwords safe. If your student forgets their password, you can always reset it in the Teacher Dashboard. 
Our youngest students can understand that passwords are 'good secrets that keep us safe', while older students will be ready for more in-depth conversations about cyber-safety such as the risks of hacking, two-step authentication, and regular password updates.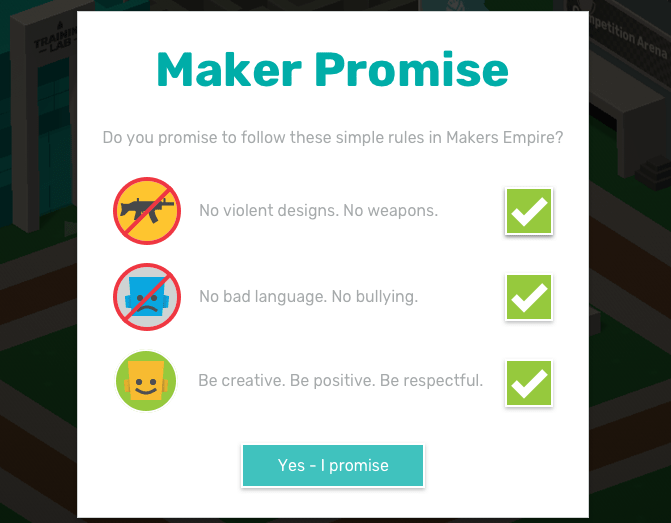 When students are using Makers Empire for the first time, they are now asked to agree to our Maker Promise. The Maker Promise reminds students to be creative, respectful and positive when they are using the Makers Empire app. It also makes it clear that violent designs such as weapons, and any bad language or bullying behaviours are not acceptable.
The Maker Promise can be a useful tool for setting up class expectations for appropriate behaviour when using Makers Empire and other apps. It's also a great opportunity for class discussions about being a responsible digital citizen and keeping yourself safe online. If we are explicit about what appropriate digital behaviour looks like, it is easier for our students to identify and report anything that concerns them, and make responsible choices about how they operate in digital spaces. 
5. Think before you comment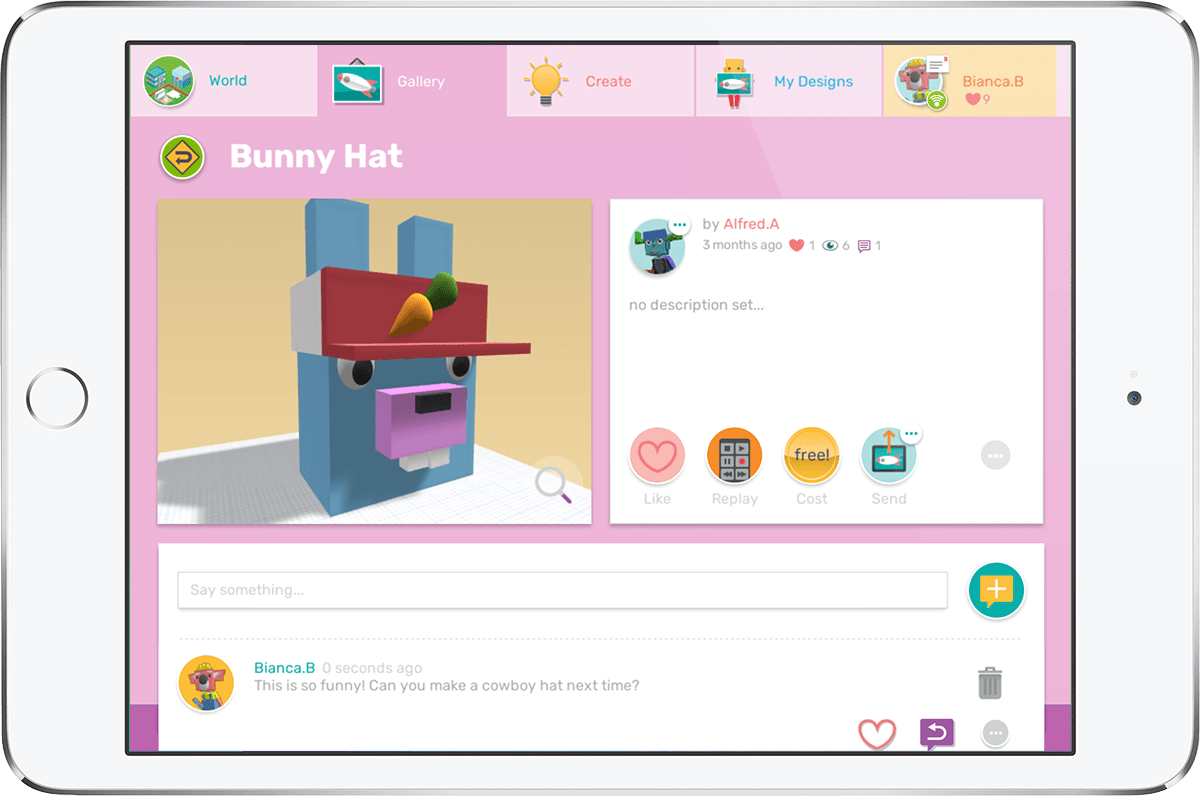 Makers Empire is a great way for students to collaborate and communicate with others as they solve problems, create 3D designs and develop their design thinking skills. Our commenting feature allows students to give and receive feedback, learn from each other, and develop positive learning relationships. It is important to establish classroom guidelines or protocols for using the commenting feature in Makers Empire.
For example, before students comment, they can ask themselves:


Is this comment helpful?
Is this comment kind?
Would I like to see a comment like this on my designs?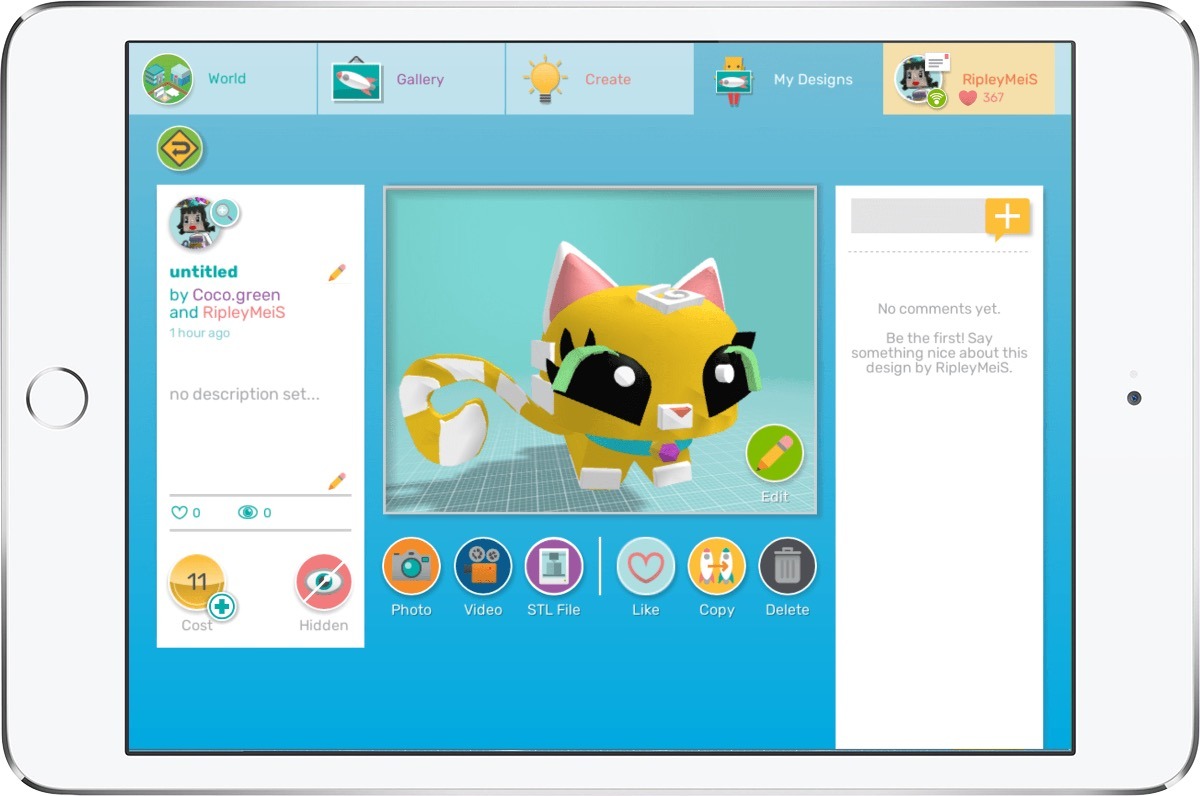 Over 100,000 designs are created in Makers Empire every day. The Makers Empire gallery is full of inspiring, interesting and creative designs. We encourage students to learn from each other and share their work as part of our collaborative, global design community. 
Whenever we take inspiration from the work of others, it is important to acknowledge where the original work came from. Students are able to make copies of designs they find in the gallery and use them as a starting point for their own designs.
This is a great opportunity to talk to students about copyright and intellectual property. If they make a copy of another design, they will see a 'sheep' icon in the corner of the design to show that it is a clone or copy. The original designer's username will also be permanently attached to the design. 
These simple actions provide a powerful reminder to students that if they borrow a design from someone else, they cannot claim it as their own. This also provides a clear visual prompt for teachers as they guide their young students along to road to responsible digital citizenship.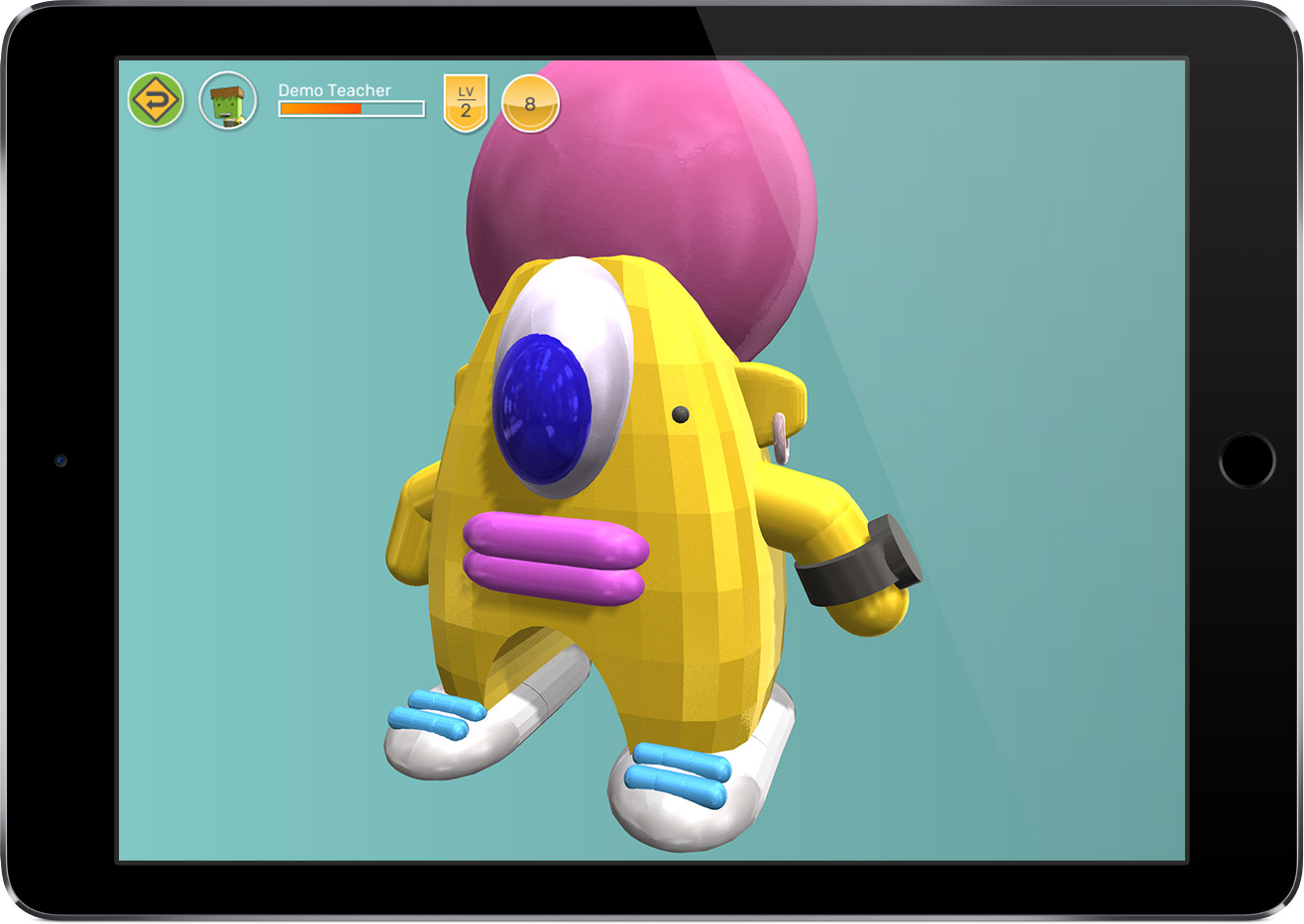 As your students are learning to become Responsible Online Citizens why not ask them to take on the Pet ROC challenge? Can they design a pet character or mascot that reminds others how to be safe online and while engaging in digital activities? They might use a traditional pet rock for inspiration or design a new, original character with special qualities that champion digital citizenship. Perhaps the best design could be 3D printed and displayed in the classroom as a friendly reminder for the class to be ROCs themselves.
We hope you continue to enjoy using Makers Empire to support your students' design and technology learning, while helping them become aware of their digital footprints as they develop into successful, responsible, and global citizens.