3D Design Challenge | West Coast School Students
Competition: May 19th to October 7th
Welcome to the West Coast schools 3D design competition. (Washington, Oregon and California)
Teachers and students are invited to participate in this FREE challenge to test out their 3D design skills and enter the draw to win a Makers Empire 3D printing learning program and 3D printer package for their school (see below).
This challenge is ideal for students aged 5 to 14 years old. It's a great and fun way to get involved in STEAM learning. Plus, no 3D design or 3D printing experience is necessary!
Once students are set up, they can do this challenge by themselves over the holidays.
Please follow the instructions below for the chance to win a 3D printer and 3D learning program package:
HOW TO ENTER
STEP 1 – Teachers register for the competition
Get all the details on how to enter the competition, and help your students.
**Once you have registered, please allow us some time to create your Makers Empire account, and process your information. You will then receive a series of emails to help you get started.
STEP 2 – Students design a 3D Maze
1. Download the Makers Empire app (iOS, Android, Mac and Windows)
2. Create your design using one of the Makers Empire design modules. Follow the instructions (below) and watch the video (further below) for best results.
Learn how to 3D design a 3D Maze- Step by step instructions
Students are encouraged to be as creative as possible when creating their mazes. Use this guide just to get started.
STEP 3 – Students submit entries via Makers Empire Free 3D application
1. Select your design
2. Press the "Win with this design" button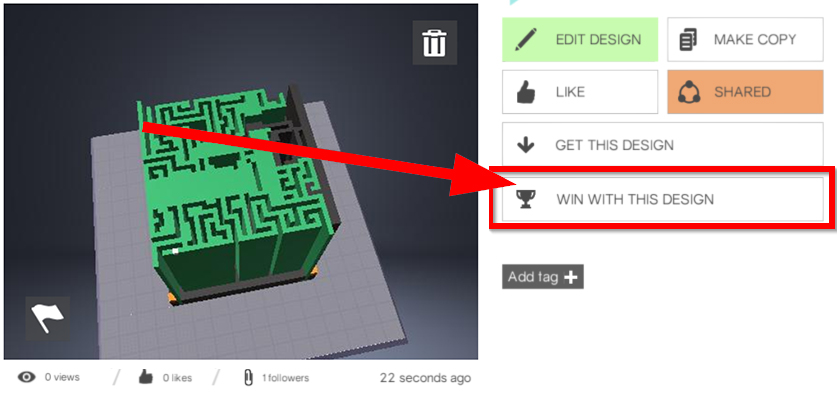 DEADLINE
7th October, 2017. Enter today!
PRIZES
Grand Prize: Up Mini 2 3D Printer & Makers Empire 3D for Schools
(school licence for 1 year)
Other Prizes: Makers Empire Class Package / Free 3D print outs
SPONSORS