Makers Empire transforms education with 3D design and printing
The Makers Empire Learning Program utilizes 3D printing technology to promote design thinking and help students become better real-world problem solvers. We transform 3D printing in the K-8 classroom, helping you successfully integrate it into the curriculum and provide all the tools you need. In this
on-demand webinar series
you will learn about:
What is the Makers Empire 3D Learning Program?
See classroom examples integrating 3D printing into the curriculum
Pricing options for Makers Empire solutions.
What is the Toshiba grant, and instructions to apply?
C
1. MAKERS EMPIRE?
Makers Empire helps schools successfully integrate 3D printing and design into the curriculum. We provide all the tools a K-8 school needs, including extremely easy to use 3D design software, curriculum aligned lesson plans, professional development, teacher management tools, and 3D printers if you require it. Half the schools we work with already have 3D printers, and want to make the most of their existing technology! Don't let your resources sit underutilized. The other half of schools we help have never used a 3D printer before and need careful guidance and support to harness the power of this technology.
What type of K-8 schools are looking at Makers Empire?
Schools that have a 3D printer, looking to successfully integrate and use it in their classroom
Schools looking to develop a Makerspace and wanting to add a 3D printer
Schools looking to integrate more STEM and STEAM into their curriculum
Schools utilizing more project based learning
Schools that have one to one or a high percentage of devices. And looking to better utilize existing technology.
Any of these sound familiar? Great! At Makers Empire, we really like to see 3D printing integrated into the curriculum. Even if you are planning to only start with one teacher or one class, we would like to help more of your teachers bring it into their classroom experience. For example, we work with students as young as 5. In Kindergarten students can do a Hungry Caterpillar lesson plan, looking at the life cycle of a caterpillar, and then a 5 year old can desig their own 3D caterpillar at the end.
WATCH THE MAKERS EMPIRE VIDEO (3min)
GIVING STUDENTS A 21st CENTURY EDUCATION
2. WHAT DO WE LIKE ABOUT 3D PRINTING?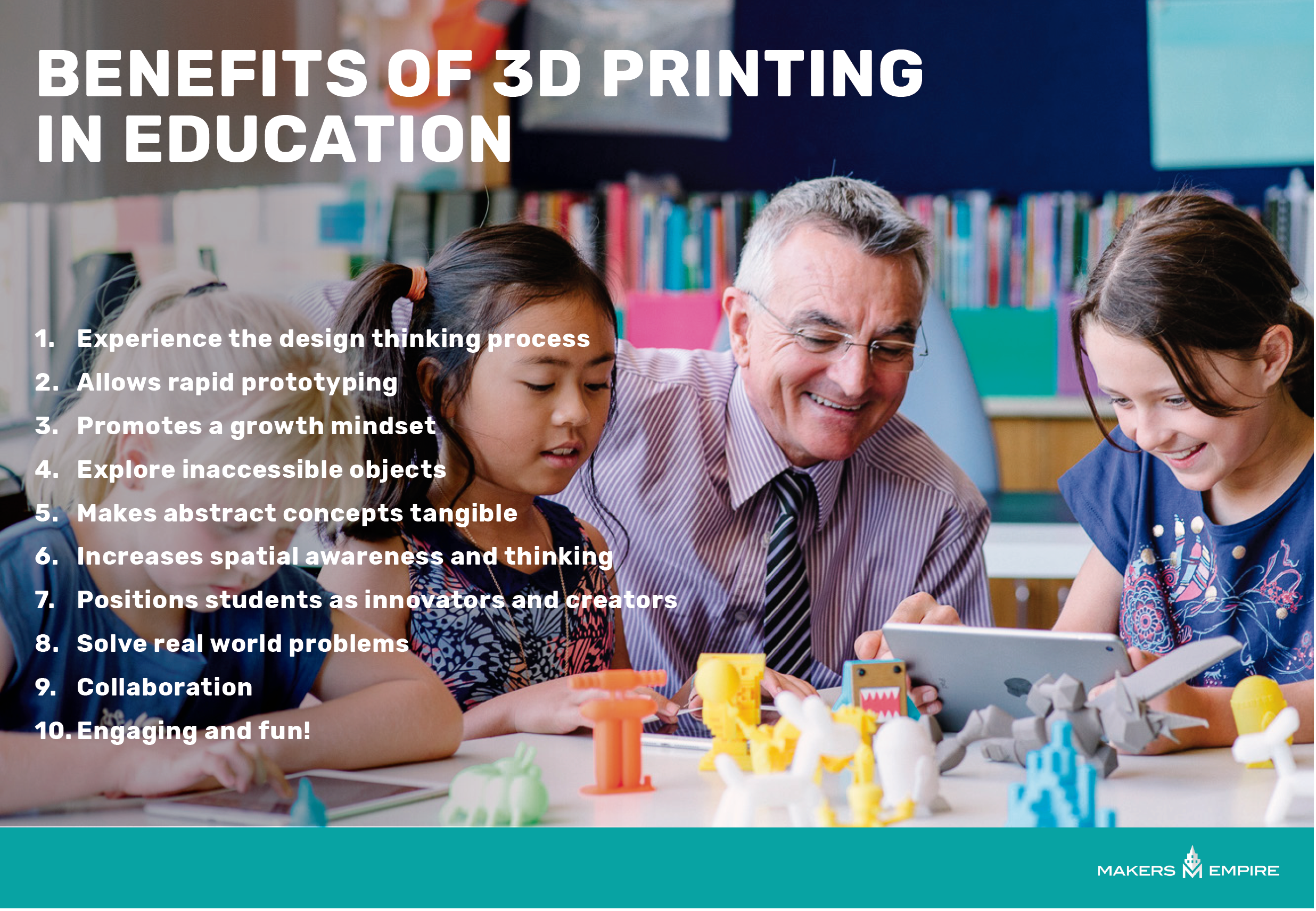 Here are some of the reasons why we like 3D printing and design for schools. Especially getting students engaged in the design thinking process to solve real-world problems. We don't want students to just print a keychain, but be the drivers behind coming up with problems to solve. In this video example, we see students looking at people who face physical difficulties in the community, and what they can do to help? This is a great example of seeing the design thinking process in action.
MAKERS EMPIRE IN ACTION (2min)
REAL WORLD PROBLEM SOLVING AND INTEGRATING 3D PRINTING INTO THE CLASSROOM
sdsss

sds

sssssds

sds

sds

Hopefully, you saw some of the benefits in action! This video is a great example of how 3D printing and design in the classroom can work. You can see that all the students came up with their own design idea for the clip. However, the students then picked the best 3 designs to print and test. Always encourage the students to analyze and think about their designs!

sds
3.MAKERS EMPIRE LESSONS
3D printing and design aren't just for science and technology class. We help teachers across all different subjects integrate 3D printing and desgin into their classroom experience. Whether it is art, history, english, there are lessons to help you!

EASY 3D LESSON TO GET STARTED
THE CHOCOLATE MOULD LESSON IS A GREAT EXAMPLE OF INTEGRATING MATHEMATICS AND 3D PRINTING AND DESIGN.
sds

sdssdsssss

TEACHERS HAVE ALSO INTEGRATED ENGLISH, WITH STUDENTS READING CHARLIE AND THE CHOCOLATE FACTORY!

sds
Hopefully, you can see the
value of introducing the Makers Empire 3D learning program into your school.
Makers Empire includes everything you need to successfully integrate 3D printing into the classroom.
4. PRICING – MAKERS EMPIRE SOLUTIONS
MAKERS EMPIRE PACKAGES WITH AND WITHOUT 3D PRINTERS
Makers Empire for Schools Solution is compatible with all 3D printers if you already have one.
Makers Empire recommended 3D printers are tested for the classroom environment and have important safety features.
Makers Empire software is cross compatible and works on Ipads, Macs, Windows, Android devices, and Chromebooks(2017+ and some older models)
Makers Empire Learning program includes unlimited student and teacher access. So students can load the software on their own personal device, with access not just limited to school devices
Professional development includes 2 hour self paced video training and a 2 hour real time webinar (with one of our learning experts). During that time, they will walk you through the program, and work out a plan for best implementation.
OTHER OPTIONS AVAILABLE
OTHER OPTIONS AVAILABLE
5. WHAT IS THE TOSHIBA GRANT? (5min)
$5K FUNDING FOR SCHOOLS WITH GRADE 6+
Still, have questions?
You can speak to our
live chat, or send an email (info@makersempire.com)
to find out more.
I have been teaching 3D printing for the past 3 years in my elementary science methods course. I was awarded a small grant that was enough to purchase a 3D Printer (Makerbot Mini Replicator). Recently, I discovered Makers Empire and started the free trial. I was amazed at the results! Here are my main take-aways after using Makers Empire.
1. User-friendly for elementary-age children! I offered very little training compared to other 3D printing software and it was super easy for children to navigate, design, and begin creating. I also like that Makers Empire offers a student-friendly app – perfect for young children.
2. Teacher Dashboard- The teacher Dashboard is perfect for setting up and managing a class of students. It's easy to assess their designs and works well with my Makerbot Software. Downloading files was quick, easy, and problem-free.
3. Fabulous customer service! I have been impressed with the follow-up emails and genuine desire for feedback. A big part of the design process is 'improvement' and Makers Empire seems to be committed to improving their product to meet the needs of educators and children. "
Jennifer Troncale, Lecturer, Jacksonville State University
Florida, USA
"The ability to integrate Makers Empire into many curriculum areas is a huge benefit"
Teresa Shepherdson, Teacher
Walkerville Primary School, South Australia
"Makers Empire is the only kid-friendly 3D modelling software that I can easily use on tablets. it is fun and easy to use for me and for my students."
Makers Empire In the Classroom