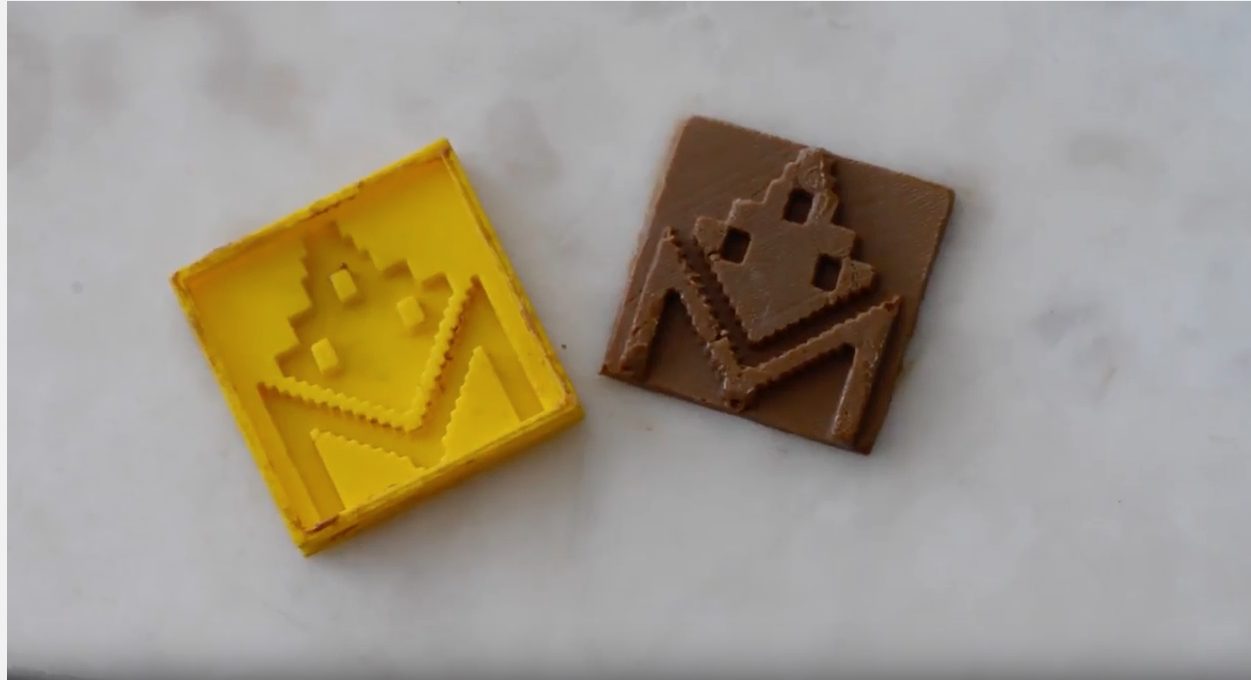 ---
Chocolate Moulds
---
| Grade Level/s: | Subject/s: | Type: | Author: |
| --- | --- | --- | --- |
| 5, 6 | Mathematics,Technologies | Lesson Plan | Mandi Dimitriadis |
---
---
Students learn about measuring volumes and capacity by designing and printing a chocolate mould.
In this lesson, students will apply their understanding of measuring the capacity of vessels and converting between common units of measurement.
They will design moulds for making individual chocolates and calculate the capacity of their chocolate moulds.
Single Lesson Plan
Chocolate moulds
Task:
Step 1. Generating ideas
Activity:
Explain to students, that will be making their own personalised chocolates to sell at the school fair. They will be making moulds for their chocolates using Makers Empire's Blocker Module. Ask students to think about different ideas for chocolate shapes that could be made using blocks. They need to sketch at least 3 different ideas.
Resources:
Paper and pencils for sketching.
Step 2. Designing a chocolate mould
Students open the Blocker Module and create 3 different chocolate moulds. Open the Blocker Module. Select the size blocks you will use to create your chocolate mould. Note that the block sizes in this module range for 1mm cubed to 5mm cubed. The grid on the design plate is marked in 1mm squares. This will be important when students are calculating the capacity of their moulds. Build the mould design by creating a base and then adding sides to create the cavity that will hold the melted chocolate.
Devices with Makers Empire 3d design software installed.
Step 3. Calculating capacity
Students choose one of their 3 designs to be 3d printed. They need to calculate the capacity of the cavity they have made in their design. How much chocolate will it hold? Ask students to show how they have made their calculations and to represent the capacity of their chocolate mould as mm3
paper and pencils for recording calculations
Step 4. Printing the moulds
Print each student's final chocolate mould design
3d printer
Step 5 How much chocolate?
In small groups give students a quantity of chocolate buds and explain how to melt the chocolate safely and hygienically. Students need to calculate how much chocolate they will need to fill their chocolate moulds. Explain that 1mm cubed = 1ml cubed Students use a measuring or medicine cup to measure out the exact amount of melted chocolate each student needs to fill their mould. Place the moulds in the refrigerator to set the chocolate.
Stove top/microwave saucepan/bowl spoons chocolate buds measuring/medicine cup refrigerator
Step 6 Taking it further
The chocolates could be eaten straight away or they could be sold at the school fair or similar fundraising event. Students could calculate how much to sell each chocolate for in order to make a profit.
Curriculum
---
Australian Curriculum:
---
Common Core/NGSS:
MD.1 "Convert among different-sized standard measurement units within a given measurement system (e.g., convert 5 cm to 0.05 m), and use these conversions in solving multi-step, real world problems."
Convert Like Measurement Units Within A Given Measurement System.
---